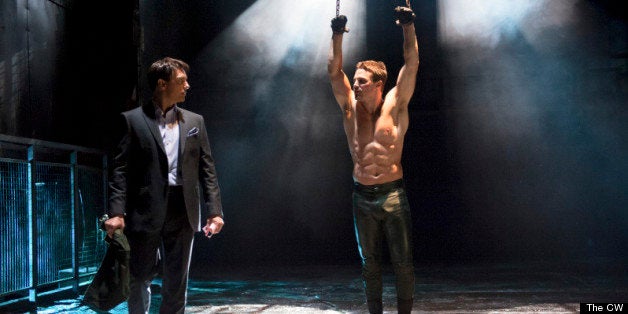 "I haven't been able to bring myself to watch it because Colin is like one of my best friends. It's been the most morbid two months ever," Colton Haynes told The Huffington Post at The CW 2013 upfront red carpet, noting he's gone to almost every Broadway show Donnell has been in. "He's going to be missed."
Even worse, Haynes received news that he was being promoted to a series regular in Season 2 at almost just before Donnell found out about Tommy's exit. "I called him with my good news that I was going to be joining the cast full time. We celebrated and within two days, he found out his news," Haynes said. "It's sad. That's why I haven't brought myself to watch the finale yet, 'cause for me, it's not over."
Moira Queen may have inadvertently been responsible for Tommy's death, but actress Susanna Thompson was similarly heartbroken when she heard of Donnell's departure. "[I'm] devastated. Not only for the show, but as a personal devastation. I love Colin Donnell. He's a kindred spirit ... We come from theater backgrounds," she said. "He's a very philosophical person, as am I, and after we cried about it, we both know that it's not going to stop his career. He's already moving on to wonderful things. It's just unfortunate that we're not going to share more of him. He's an amazing talent."
Star Stephen Amell admitted that the news was painful, but that objectively, he understood the writers' reasoning. "I found out I think four or five episodes before we finished our season. After the producers told him, they told me. Then, he and I chatted and, you know, purely from a creative standpoint, from a story-telling standpoint, it's fascinating," he said on the red carpet. "It changes everything on the show, but man, personally, it was a tough pill to swallow ... Everyone loves Colin. Seeing the crew's reaction after we shot our last scene -- it was just sad."
Still, one of "Arrow's" most admirable traits is its desire to keep things grounded in reality, which means no supernatural resurrections that could undermine the high stakes. The season has already seen Oliver's island mentor, Yao Fei (Byron Mann) mercilessly killed, but no death could've had more impact than Tommy's, as executive producer Marc Guggenheim pointed out in our post-finale interview.
"You can't be afraid to go there. You have to present real danger when people are watching. If everything always works out at the eleventh hour, that's not dynamic," Amell reasoned.
As for where the characters will go from here, Haynes previewed that, since they're picking up Season 2 after a time-jump, "The characters you've grown to love over this season, there's a few that could turn into the characters that you hate right off the bat. I think it's going to be a really big shock to people."
As well as teasing that "the world's getting bigger" in Season 2, Amell observed that "[Oliver and Laurel] had Sarah and that was a wedge and now they have Tommy [being gone] and that's a wedge as well. We're going to find everybody in a very different place -- I mean, literally, figuratively and emotionally in a different place."
Thompson also had a couple of teases to tantalize fans until October: "Oliver and Moira will be in a much more honest place and communicating. I do know that I'll probably start in an orange jumpsuit. Hopefully it will be couture. I'm curious about the various relationships because they've all been broken now ... I have a feeling that where we find Oliver at the beginning [of Season 2] is at a devastatingly low, low place -- withdrawn from his whole life."
Thankfully, even when he's down, Oliver will still have his trusty partners Diggle (David Ramsey) and Felicity (Emily Bett Rickards) by his side -- and certain fans are definitely rooting to see a little more from Oliver and Felicity's relationship ... "If Oliver has the gumption to suit up, I see her again -- and even more so -- as an important part of the team," Amell said of Felicity. "And there might be some aspects of Oliver Queen, not the Arrow, where I might need Felicity's help."
And he might even add another sidekick to the roster -- as fans of the comics know, Roy Harper has a very important role to play in the mythology of Green Arrow. Haynes wouldn't say too much, merely admittting, "Roy's obsession with The Hood has obviously forced him to go a little crazy, but then obviously with The Glades going under, he's had to take a different route. But, you never know ... Roy could be something that he's not ... I know that I'm going back into working out ... I think that Roy is going to be faced with something really hard right off the bat ... Something's going to be thrown at him -- possibly from Oliver, possibly from Thea -- that's going to make him have to choose in a way."
What did you think of the "Arrow" finale, and what are your hopes for Season 2? Weigh in below!
BEFORE YOU GO