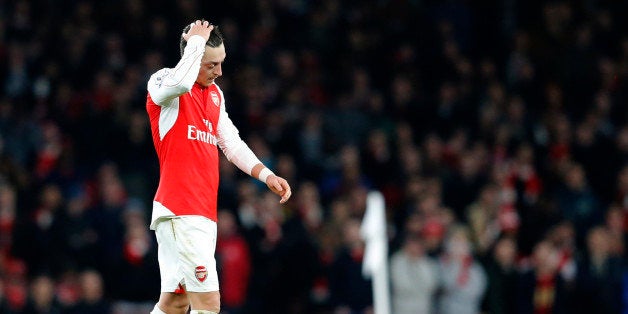 With this year's Premier League season being marked as one of the most unpredictable seasons ever, Arsenal have been tipped somewhat more than usual to lift the title come May but will this be decided in the next six weeks?
Another strange weekend of Premier League football has come to an end which saw Leicester pull ahead at the front by three points as Manchester City and Arsenal both faltered against West Ham and Chelsea respectively. West Ham's impressive record against the big teams goes on whilst Arsenal continue to struggle to find a win (or a goal) against Chelsea in the league.
Although against tricky opposition, this meant that it was just two points taken from the last three games for Arsenal who are looking for their first title since the unbeaten season of 2003/2004. A point at both Stoke and Liverpool can be seen as positives but they will almost certainly need to bounce back in the next league game against Southampton. Whilst all Premier League games seem to offer up a hurdle to overcome this year, there is no doubt that January and February could prove to be the most important for the Gunners. Arsenal have come through January with 5 Premier League points from a possible 12 and have more tough games ahead in the next six weeks.
January will be rounded off with a home cup tie against Burnley and provides a welcome break from the Premier League. Although you can never count your chickens with the FA Cup being as it is and with Burnley in form, this could be (dare I say it) a confidence booster for the team from North London. February begins with a home game against Southampton who beat Arsenal 4-0 on Boxing Day so it goes without saying that this isn't going to be taken lightly. A sticky away tie then follows at Bournemouth who have caused upsets this season including a 2-1 victory over Manchester United just a week after beating Chelsea at Stamford Bridge.
Things then heat up for the Gunners with table-toppers Leicester City visiting the Emirates Stadium on February 14th in a game that isn't quite must-win but can surely be described as a game that Arsenal cannot lose. Arsenal will feel as though they can win this one as they are one of just two teams to beat Leicester this season with a 5-2 victory back in September. This is then followed by the first leg of the huge Champions League tie against Barcelona. Although the first leg is at home and Arsenal do not have a game on the weekend before the match, however the game turns out there is no doubt that the players will be tired afterwards and so could then affect the next game which sees them travel to Manchester United just 5 days later. Again, they should have confidence in this one as they have beaten Van Gaal's team once already this season but this fixture can often throw form and everything else for that matter, straight out the window. To round off the next six weeks, Arsenal welcome Swansea and then make the short trip to their North London rivals, Tottenham, with just two points separating them at this moment in time.
So are the next six weeks pivotal to Arsenal's season? Quite possibly; if they make it to the beginning/middle of March still at or near the top then you can't help but wonder whether this really is Arsenal's year. However, if the unpredictability continues then we could well see Leicester as Champions or failing that, the mouth-watering prospect of Manchester City hosting Arsenal in the penultimate game of the season in what could be a title decider. In truth, it seems that anything can happen in a league where anyone really can beat anyone. All we have to do is sit back and enjoy it (or watch nervously whilst slowly biting back our nails)!
REAL LIFE. REAL NEWS. REAL VOICES.
Help us tell more of the stories that matter from voices that too often remain unheard.