The wines, which include the Trader Joe's Charles Shaw White Zinfandel known as "Two Buck Chuck," Menage a Trois Moscato and Franzia White Grenache, had arsenic levels more than three, four and fives times the Environmental Protection Agency's limit for drinking water, respectively.

The research that makes up the bulk of the lawsuit was conducted by Kevin Hicks, a former wine distributor who created the company BeverageGrades to test wine. He analyzed more than 1,300 bottles of wine and found that about one-quarter of them had higher levels of arsenic that exceeded the EPA's standards for drinking water, which is 10 parts per billion (ppb).
Attorneys who filed the suit said Hicks tried going straight to the winemakers with the information, but was turned away. The lawsuit, which is based on Hicks' work but is filed on behalf of consumers against the winemakers, is the only way to get their attention, a lawyer told CBS News.
The Wine Institute, a business association that represents 1,000 wineries, said in a statement that arsenic is a naturally occurring element in air, soil, water, and food, and that the allegations in the lawsuit were misleading.
"As an agricultural product, wines from throughout the world contain trace amounts of arsenic as do juices, vegetables, grains and other alcohol beverages," the statement said. "There is no research that shows that the amounts found in wine pose a health risk to consumers."
There's a fair amount of evidence that a glass of wine can help promote heart health in some people. But if the allegations of this lawsuit prove true, it should be a warning to regular wine drinkers that frequent quaffs of an arsenic-heavy wine may hurt over the long term, says Prof. Bruce Stanton, director of the Darmouth Center for the Environmental Health Sciences.
Stanton wasn't involved in the lawsuit or Hicks' report, but in reaction to the news, he told The Huffington Post that it "would be prudent" to avoid any wines that have reported arsenic levels above 10 ppb because there are trace amounts of arsenic in many different kinds of foods.
"We do know that arsenic in food does have adverse health effects," Stanton wrote in an email. "In an abundance of caution it seems prudent to me to keep arsenic exposure as low as possible from all sources, including water, wine, apple and orange juice and rice."
Adverse health effects can include skin damage and various cancers of the skin, liver, bladder and lung. Still, Stanton acknowledged that while too much arsenic in water has been shown to damage health, there aren't very many studies demonstrating the effects of arsenic in wine. Plus, of course, health authorities don't encourage people to drink eight to ten cups of wine every day the way they do water.
"A number of studies have shown that arsenic in water, even at levels as low as 5 ppb ... have adverse effects on children in the U.S. (reduced IQ, for example)," he explained. "To my knowledge no one has studied the effect of arsenic in wine on humans, so we don't know if the same amount of arsenic in wine would have the same effect as arsenic in water."
A Trader Joe's spokeswoman told HuffPost that while the company can't comment on pending litigation, they are conducting their own investigation with several of their wine suppliers. They also pointed to varying global standards of arsenic in wine -- 100 ppb in Canada, and 200 ppb set by the Paris-based International Organization of Vine and Wine -- and said that their wines are within those standards.
"We will not offer any product we feel is unsafe. Ever," wrote spokeswoman Rachel Broderick. "We have no reason to believe the wines we offer are unsafe, including Charles Shaw White Zinfandel."
"While there are no established limits in the U.S., several countries, including the European Union, have established limits of 100 parts per billion or higher for wine," it reads. "California wine exports are tested by these governments and are below the established limits."
CORRECTION: A previous version of this article stated that Kevin Hicks was a party in the class action lawsuit, but in fact attorneys filed it on behalf of consumers. Hicks' research provided the groundwork needed to file the lawsuit.
Support HuffPost
A No-B.S. Guide To Life
Related
Before You Go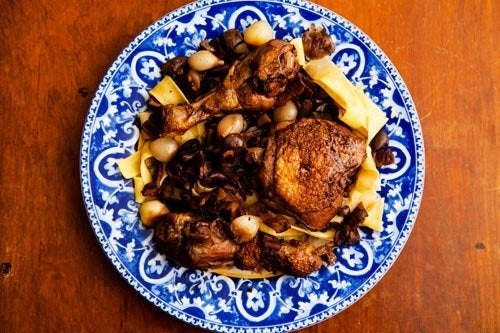 Don't Waste That Wine -- Cook With It
Popular in the Community