By Pavel Polityuk and Alastair Macdonald
KIEV, April 25 (Reuters) - Ukrainian Prime Minister Arseny Yatseniuk accused Russia on Friday of wanting to start World War Three by occupying Ukraine "militarily and politically".
"The world has not yet forgotten World War Two, but Russia already wants to start World War Three," Yatseniuk told the interim cabinet in remarks broadcast live. "Attempts at military conflict in Ukraine will lead to a military conflict in Europe."
In some of the strongest language he has yet used in a war of words between the former Soviet neighbours, as both sides have deployed troops close to their frontier, Yatseniuk accused Moscow of acting like a "gangster" supporting "terrorists".
"It is clear that Russia's goal is to wreck the election in Ukraine, remove the pro-Western and pro-Ukrainian government and occupy Ukraine politically as well as military," added the premier.
Yatseniuk took office in February after pro-European protests prompted the Kremlin-backed president to flee to Russia.
Ukraine plans to hold an election to replace Viktor Yanukovich on May 25, but the Russian-speaking east of the country has been disrupted by pro-Moscow militants who have taken over the city of Slaviansk and public buildings elsewhere, demanding to follow Crimea into being annexed by Russia.
Russia denies involvement but has denounced the Ukrainian government, which it says is illegitimate and backed by "fascist" Ukrainian nationalists, and has threatened to move in to protect ethnic Russians and Russian-speakers in Ukraine.
Yatseniuk called on Moscow to fulfil obligations to persuade activists in eastern Ukraine to lay down arms under a four-way agreement signed last week in Geneva by the two governments, as well as Ukraine's U.S. and EU allies.
"Russia's support for terrorists and bandits who torture peaceful citizens is an international crime. It is a crime against humanity," added the prime minister.
Ukraine's state security service has accused Russian military intelligence officers in Ukraine, and the separatist leader in Slaviansk, of involvement in the torture and murder of a local councillor from Yatseniuk's Batkivshchyna (Fatherland) party.
The prime minister said Kiev was still waiting for a response to an official request for details of Russian military exercises on the border. It made the request through mechanisms of Europe's OSCE security body and set a deadline of Saturday.
The defence minister, quoted by Interfax-Ukraine news agency, said Russian troops on manoeuvres had come within one kilometre (1,100 yards) of the border but had not crossed.
Yatseniuk said: "If the United States, the European Union and the entire international community continues to be united and act together to compel Russia to fulful its obligations, then we will maintain the peace, stability and international security system that Russia wants to destroy." (Reporting by Pavel Polityuk; Writing by Alastair Macdonald; Editing by Richard Balmforth)

Related
Before You Go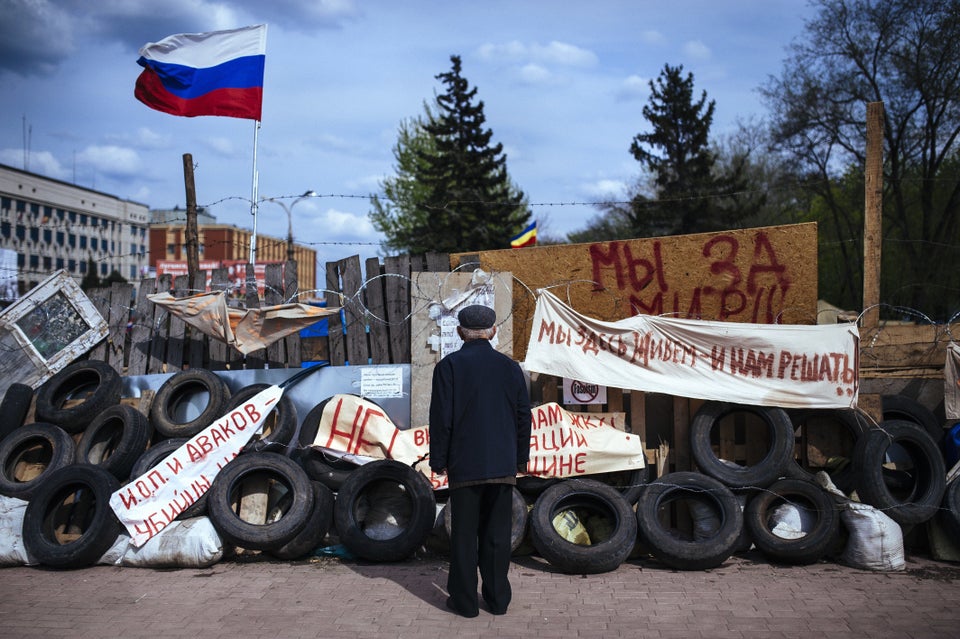 Separatists Tighten Control On East Ukraine
Popular in the Community