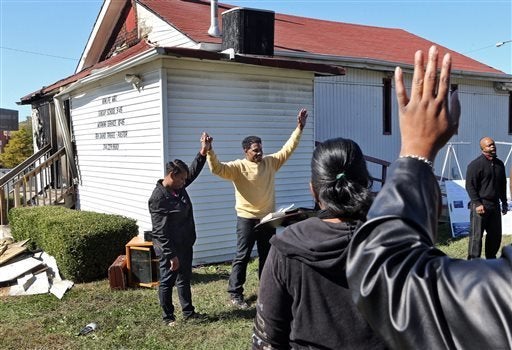 "Churches are a place of worship and a place for sanctuary. Why someone would set fire to a place like that is beyond comprehension," St. Louis Mayor Frances Slay said in a statement. "Someone knows who is responsible, and our partners have put together a sizable reward to entice information."
No suspects have been identified, and none of the churches were occupied at the time of the fires.
The first suspicious fire burned Bethel Nondenominational Church in Jennings, Missouri, a St. Louis suburb. The second fire, on Oct. 10, was also in Jennings. The four fires after that struck places of worship in St. Louis. Baptist, Catholic and Lutheran congregations were among those targeted. 
In at least five of the cases, the fires were set near the front door of the church, according to KMOV-TV.
At St. Augustine Catholic Church, a fire set around 4 p.m. on Oct. 14 damaged the two large wooden doors at the entrance.
"Luckily it was caught pretty quick," said Gabe Jones, a spokesman for the Archdiocese of St. Louis. "The damage was pretty limited." The church must cover a $2,500 insurance deductible to replace the doors, he said.
Before the attacks around St. Louis, authorities classified five other church fires at African-American churches this year as arsons, according to a count by The Huffington Post.
The Bureau of Alcohol, Tobacco, Firearms and Explosives, the St. Louis Metropolitan Police and the St. Louis Fire Department are investigating the fires in St. Louis. Investigators believe that the suspect or suspects might be committing the fires because of stress, according to a statement released Wednesday by authorities.
The reward for info is now up to $9,000 from combination of sources, the bureau told HuffPost.
Calling all HuffPost superfans!
Sign up for membership to become a founding member and help shape HuffPost's next chapter