The Millennial generation's growing social power is evident: politicians are increasingly working to attract younger voters, corporations are marketing to attract a younger demographic. And across the country, artists and arts administrators stare out into the ocean of gray hair in their theaters and galleries, and wonder - how do we attract a younger audience too?
The New York Times has recently highlighted the work arts organizations are doing to mobilize a younger demographic (a couple good reads: "Lincoln Center Works to Attract a Younger Audience" and "Wooing a New Generation of Museum Patrons"). There is obvious reason to worry; arts patrons are getting older and not being replaced with a new rising generation of philanthropists dedicated to ensuring the sustainability of a vibrant arts community. In the following years as the Millennial generation matures and gains affluence, how are arts organizations developing the next generation of arts leaders and philanthropists within this demographic?
Opera companies, dance troupes, and theater presenters alike have developed social groups aimed at attracting younger audiences. For a growing number of Millennials, membership to a Young Professional group serves not only as an introduction to an arts organization's programming, but also as a way to diversify their professional and personal network with other like-minded individuals. These groups may also have a emphasis on fundraising - but are they really building the arts audiences of tomorrow?
According to When Going Gets Tough, a study out last year by the National Endowment of the Arts (NEA), barriers to arts attendance are motived by a handful of factors, identified as Time, Cost, Access, and No One To Go With. If these barriers identified in the NEA's study are the same ones that prevent Millennials from engaging with arts organizations, how are Young Professional programs overcoming each of these hurdles to engagement?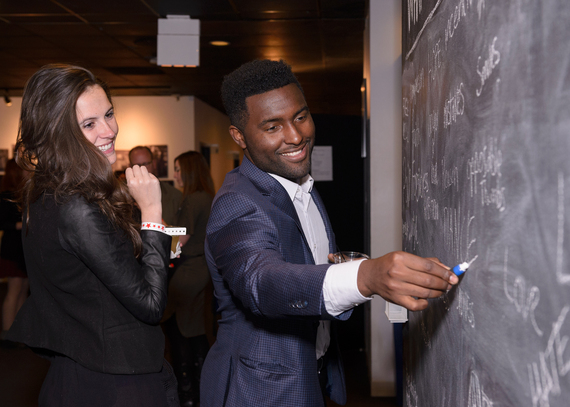 Steppenwolf Associates Amanda Signorelli and Greg Almonord chime in on a chalkboard wall in the Steppenwolf theater lobby that invited audience members to answer the question, "What does it mean to be human?" (Photo by Michael Courier Photography)
Having grown up overstimulated by sugary cereal and Saturday morning cartoons, Millennials find that the bombardment continues as they enter the professional workforce. With smart phones increasingly becoming critical physical appendages, the Millennial receives a diverse and endless stream of competing and distracting demands for attention. Because of an unstable job climate, work commitments for Millennials can often be unpredictable. It becomes hard for Millennials to make plans, and even harder to keep them. Why risk buying a ticket in advance to a show, which can often cost more than a nice dinner? The subscription model, once a guaranteed source of revenue for arts organizations, is no longer the Millennial's method of choice for accessing arts programming. The majority of ticket sales are single ticket orders, and they happen more frequently at the last minute. Young Professional groups help combat a hectic lifestyle by setting concrete dates for special events and outings for the busy Millennial.
The Art Institute of Chicago's Young Professional group, the Evening Associates, balances leadership opportunities with social events to create a community of stewardship. "Like many boards, the Evening Associates are comprised of young professionals, with high demanding jobs, and extremely active social lives." says Shannon Burke, Assistant Director of Evening Associates. "They serve an important role, not only as a place to germinate the future philanthropists and leaders of the Institution, but to also offer entry points and access for all young professionals looking for a way to enjoy the museum in a new way, to grow and develop a community of their own. While the members would like to do it all and and be at everything, time constraints and commitments are often the biggest challenges that we see when working with the board. Though it is a working board, they are all still volunteers. The EA board, and our full membership base represent people that are keyed into what is going on in the city, they have wide interests and are naturally curious people looking for ways to contribute and expand their social circles."
Young Professional groups satisfy several Millennial needs that attending a performance or exhibition alone would not. Organized events satisfy the need to socialize, network, and meet other Millennials with similar interests. For those looking for love, enjoying a cocktail after-hours in an art museum is a increasingly preferred alternative to meeting a stranger at a loud bar or online. Combining social elements to an art experience gives critical added value for the Millennial: the expected social return on the evening becomes the tipping point between showing up and...not.
A combination of student loan debt and the weak job market that greeted many recent graduates are being felt by arts organizations. Millennials just doesn't have as much disposable income as previous generations, making attendance with a cultural institution a rare luxury as opposed to a way of life. As the NEA study confirms, "Adults ages 25 to 34 are also often motivated to attend exhibits that have low cost or free admission."
Many arts organizations struggle with dilemma of keeping tickets costs low to allow more people access to their programs; there is so much pressure on arts organizations to deliver ticket sales revenue that younger, lower-income audience members are often priced out. Arts organizations, while running lean operations, are still expensive to maintain and rely heavily on subsidizations to programming from grants and donors alike.
Carnegie Hall's Director of Development Susan Brady describes how their young professional program, the Notables, has adopted a slightly different strategy. "We are able to sustain this model thanks to the generosity and foresight of Carnegie Hall Trustees who have underwritten Notables events. For example, Nicola Bulgari believes in sharing his passion for Carnegie Hall and classical music by hosting a special evening that includes a private concert and party. Mr. Bulgari understands the importance of inspiring the next generation of young arts goers and philanthropists. The event has grown tenfold over the past twelve years." Similar programs in place include the Metropolitan Opera's Fridays Under 40, the New World Symphony's WALLCAST Concerts and the New York Philharmonic's Free Fridays - and all involve significant foresight from the organizations' senior leadership to invest real dollars into the next generation.
The NEA's definition of "Access" means "ability to get to the performance/exhibition." To engage Millennials however, access should also involve thoughtful entry points to the art itself - whether through exclusive rehearsals, backstage, studio, or after-hour tours, and engagement with the artists themselves.
"Young Partners receive unique opportunities to expand their engagement with Boston Ballet beyond the theater." Boston Ballet's Megan Maffucci, who works with the company's Young Partner program, describes the level of access given to their members, "throughout the season they receive invitations to select social, networking, and behind-the-scenes gatherings with fellow Young Partners and Company dancers. These events are designed exclusively for Young Partners and range from intimate salon-style talks with members of the Ballet's artistic staff, one-night ballet workshops taught by a Company dancer, post-performance meet-ups downtown following the second Thursday night's performance of each ballet, and Young Partners signature events, including Season Kickoff, Holiday, and End of Season parties."
The Perez Art Museum Miami Director of Corporate and Foundation Relations Leann Standish, who works with the PAMM Contemporaries, stresses a focus on innovative programming, "It takes a lot of time and attention to keep the programming fresh and relevant for a group that is on the cutting edge. You have to keep evolving. If the programing gets stagnant, you will lose members. One of the most popular events on the PAMM Contemporaries calendar is the annual 'PAMM Contemporaries Art Crawl: Graffiti by Bike' tour of the latest murals in Miami's Wynwood neighborhood (world famous for its street art by artists around the globe). Every year in December, the murals are refreshed in time for Miami Art Week, so the tour generally takes place early in the new year. The bike tour is led by some of the street artists and curators who specialize in street art, and ends with a post-ride reception at a local restaurant or bar."
Additional programming that allows added access is a costly expense of staff time, but is it worth it? "At PAMM, we mark success by watching our young professionals mature with the museum, deepen their love of art, and become vested in the museum's future and success," Pastor adds. "Patrons who hear about the museum through the PAMM Contemporaries and join at that level have gone on to become involved with our corporate programming, serving as chairs for museum fundraisers, joining upper level membership groups, and even contributing to the museum's capital campaign."
The NEA's study showed that importance of socializing with friends and family as part of an arts experience was 5 points higher in the Millennial age group. But it can be hard to find someone else who likes opera as much as you do - or maybe you just have the wrong friends? Young Professional groups bring people who like the arts together.
The Steppenwolf Associates help one of Chicago's top theater companies grow their audience and support base while making new introductions. "If you can launch with a committed group of members, their enthusiasm and dedication will help the program grow." says Megan McGuane, Director of Corporate Relations at Steppenwolf Theatre Company. "Our goal is to share with our members how live theater created by the Steppenwolf ensemble can start dynamic conversations with the community. We help cultivate a group who has a passion for performance, an appreciation for the value of arts education, and the desire to give back."
The added sense of community leads to a desire for greater involvement. McGuane adds, "Providing opportunities to contribute in non-monetary ways is essential - the young professionals of today want to not only write a check, but also give back through applying their skills, sharing experiences, and providing guidance. The most successful Young Professional programs take the time to get to know all of their members and find opportunities to connect them to the group's mission and cause. This can mean a large amount of time spent on relationship building, thinking outside the box, and listening to your members to ensure you build programming that aligns with their needs and fulfills your organization's goals."
Educational opportunities can also be a catalyst for meeting new people. Miami City Ballet's Upper Room program brings together the best behind-the-scenes ballet experiences with great social opportunities. "What I hear most in Miami is young professionals who are so happy they were able to make friends through their Young Professional group while connecting with the organization in a way that truly surprised them," says Andrea Arauz, membership manager at Miami City Ballet. "We have people who have never been to a ballet in their lives who join the group and finish the season with so much excitement for the next ballet. Young Professional events should be fun and educational. Our Open Barre series allows patrons to get up close and personal dancers in our 200-seat studio theater, and features an interactive discussion, Q & A with choreographers and dancers, and an excerpt from our repertoire. Mixing a cocktail party with a lecture leaves young patrons feeling connected and inspired!"
At some point in time, probably sooner than we think, Millennials will inevitably take the reins of art organizations nationwide. To minimize barriers to the arts for Millennials to ensure that strong leadership is maintained, Young Professional groups must consider commitments to:
- Keeping general membership inexpensive, while accommodating an individual's growing capacity as a patron and cultivating a spirit of giving.
- Underwriting experiences and offsetting ticket prices when possible.
- Making it easy for audience members to bring a friend, and creating a social component to the experience.
- Sharing another side of the artform and creating new opportunities to learn.
This rising generation will make up the performers, artists, audiences members, directors, curators, board members, and donors of our country's great creative institutions. The work we do now to minimize barriers to arts engagement and invite this generation in will be critical to the sustainability of the arts in America.
Popular in the Community