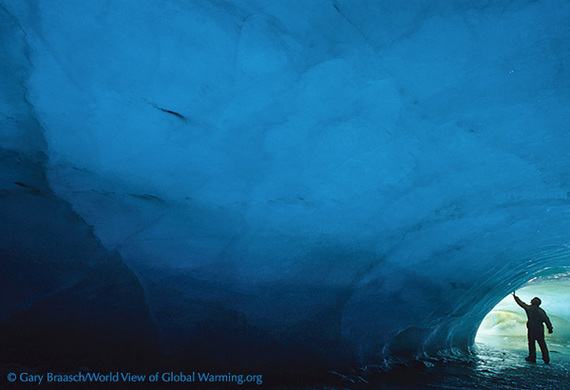 Photographer Gary Braasch inspects the smooth wall of an ice cave inside Marr Glacier on Anvers Island in Antarctica. This cave melted away several years after the photograph was made.

"Huh?" That was my initial reaction when I heard about the idea of art inspired by climate change. After some reflection, however, I get it.
Art allows people to relate to vast and often unfathomable concepts by engaging the heart and the senses. Art can break down big issues, like climate change, into small, digestible pieces. Art compels thought, helps us feel and process emotion, starts conversation and sparks creativity. Artists can say difficult things to people through their medium, messages that might not go down as easily if they were conveyed only through words. Art also allows artists to communicate with speakers of other languages. An observer's reaction to art can translate into caring, determination, and action.
Eyes glaze over at clinical predictions about degrees of global temperature increase, parts per million of carbon dioxide in the air, and feet of sea level rise. Furthermore, climate change deniers reassure us, "Don't worry, be happy." How easy it would be to put our heads in the sand rather than confront climate change. However, we must act because, as President Obama said in his last State of the Union address, "No challenge poses a greater threat to future generations than climate change." We need an entry point. Could it be art?
Leaders of the charge on climate issues already recognize the potential of art to drive social change. In his article "What the World Needs Now is Art, Sweet Art," author and environmentalist Bill McKibben laments that though we know about climate change, "It hasn't registered in our gut; it isn't part of our culture." He contrasts the lack of art related to climate change to the "staggering outpouring of art" in response to AIDS that had "real political effect."
Since the 2005 release of McKibben's article, artists have increasingly addressed climate change in their work. The website www.artistsandclimatechange.com tracks and gathers such art. Some climate change art incorporates technology such as time-lapse photography and the internet, and some is interactive. Climate change art can provide access to far-flung parts of the world that most people would not normally visit.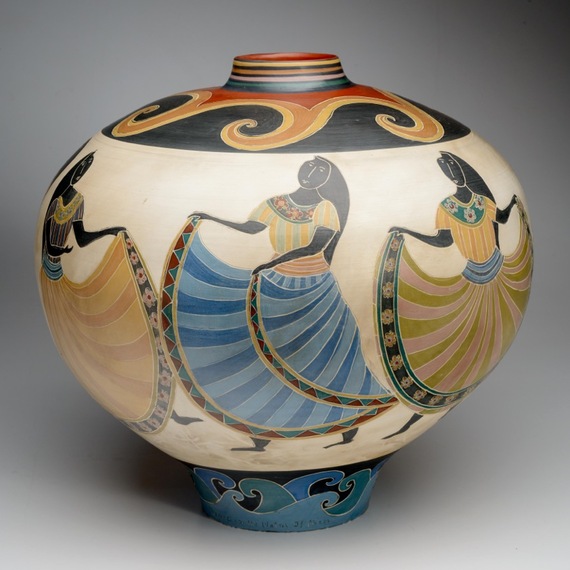 Melissa Greene's "Diakosmos," from the Greek meaning "Dance Over the Waters of Chaos," shows the rising seas produced by climate change and reflects the artist's belief that women have the power to change the world. Here, the women gather their skirts to whip things into shape. Greene is a contender for the 2015 Smithsonian Craft Show Sustainability Award.
Architect-designer Maya Lin has created what she calls her "last memorial," an interactive multimedia project highlighting the rapid loss of Earth's biodiversity. "What is Missing?" features more than 75 videos as well as scores of audio recordings of animals, photographs, and text. The public is invited to submit pieces for possible inclusion in the project. "I am going to try to wake you up to things that are missing that you are not even aware are disappearing," says Lin. "If I can get you to look at something afresh, maybe you will pay closer attention." For Lin, climate change and species extinction are moral issues. "We have absolutely no right to be taking out the rest of the planet. We basically had paradise--and in one hundred years look what we've done."
James Balog created the Extreme Ice Survey, a collaboration by artists and scientists who use time-lapse photography to document glacial retreat in the Arctic, creating a "visual voice" for the Earth's changing ecosystems. Balog and his team are featured in the Emmy award-winning documentary film Chasing Ice, which has screened in more than 172 countries. Viewers see powerful images such as a chunk of glacier the size of the lower tip of Manhattan, but 2.5 to 3 times higher, calving into the sea.
Artist Eve Mosher uses government maps and data to determine where the high water line will be as sea levels rise in heavily populated urban areas. For her HighWaterLine public art project in 2007 in New York City, Mosher applied a thick, blue line of chalk delineating 70 miles of flood zone, creating opportunities for "learning via curiosity." People who saw her laying down chalk in their neighborhoods asked her what she was doing, and conversations about climate change followed. Mosher writes that "Hurricane Sandy brought the HighWaterLine into stark reality. I saw images of water up to and past where I drew the line. The images are shocking. The storm itself was scary, but the inundation is what crippled the city: sewage treatment plants, power stations, schools, hospitals, nursing homes, and neighborhoods, inundated."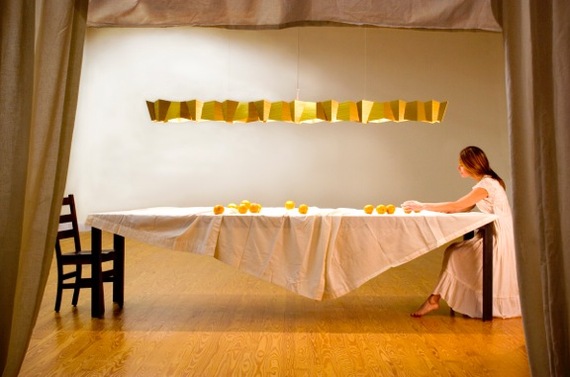 Sculptural, energy-efficient light emitting diode (LED) lighting by David D'Imperio illustrates how energy conservation can be beautiful. D'Imperio is a contender for the 2015 Smithsonian Craft Show Sustainability Award.

The nonprofit organization Honoring the Future was recently formed to harness the power of art to educate, empower, and engage the public on climate change. Last year, Honoring the Future partnered with the University of Pennsylvania's School of Social Policy and Practice and the Boston College Arts Council to co-create climate-change art exhibits and panel discussions with the artists. One attendee commented, "I had ripped out all the vegetation along the stream in my backyard. After the program, I put it back." An engineer asked, "What can I do to make our projects more sustainable?" A photographer said, "I can take photos of the places that will be under water when sea levels rise."
This year, Honoring the Future partners with the Smithsonian Women's Committee to present a Sustainability Award at the 33rd annual Smithsonian Craft Show, a prestigious juried show and sale. Scheduled for April 23-26 at the National Building Museum in Washington, D.C., the event will feature the work of 121 artists chosen from a pool of 1100 applicants. All of the chosen artists were invited to apply for the Sustainability Award. The award, which comes with a $1,000 prize, will recognize an artist whose work educates the public about climate change or inspires or models a sustainable response to climate change.
Art clearly has the power to educate, empower, and engage. By turning puzzled "Huhs" into enlightened "Ahas," art motivates more of us to work on solutions to our climate problem.
Ellen Moyer, Ph.D., P.E., is an independent consultant dedicated to remediating environmental problems and promoting green practices to prevent new problems. You can connect with her on LinkedIn and Facebook or find more information on her website.
Related