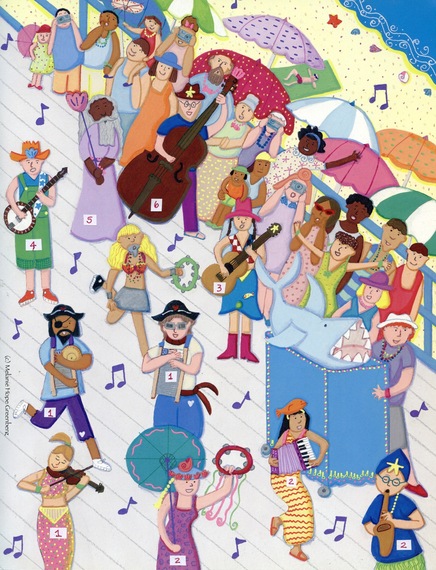 Art is doable was wisdom handed down by an acting teacher when I was 16 years old. I traveled from the South Bronx on Saturday mornings to study acting in the Teen Program at the Stella Adler Studio. This wisdom still impacts my art. Doable is action, feelings, a vitality, and a life force. Art as the channel for the expression of human emotions, energies, and experiences. These days my doable is channeled through vision and colors. Lucky me, the children who read my picture books are a highly sensitive audience and resonate to raw feelings.
Knowledge of my book audience was a way to understand how to illustrate a picture book manuscript I sold to Penguin called Mermaids on Parade. My book was based on an authentic 30+ year annual event, the Mermaid Parade in Coney Island, Brooklyn. I chose music as the jet plane to visceral empathic connection to colors, sounds, and feelings to capture the flavors of the largest art parade in the United States. My selections came mostly from the local indie musicians marinated and seasoned DUMBO, Brooklyn style.
The DUMBO indie musician scene is very friendly and they often play in each others rotating bands. I'd see live music mostly at Superfine, 68 Jar Bar, Freddy's, and Barbes. The eclectic music as well as independently produced CDs were wonderful resources of inspiration for my book. The Jug Addicts' uplifting old timey 1920s style blues brought me back to Betty Boop cartoons of my childhood; the perfect honky tonk to represent Coney Island. Listening to the avant-garde political psychedelic bands such as Les Sans Culottes and Gaijin A-Go-Go helped me to channel Coney Island's colorful atmosphere and history, the whirl and rush of the rides, the blinking lights, the never-ending spin of the ocean waves.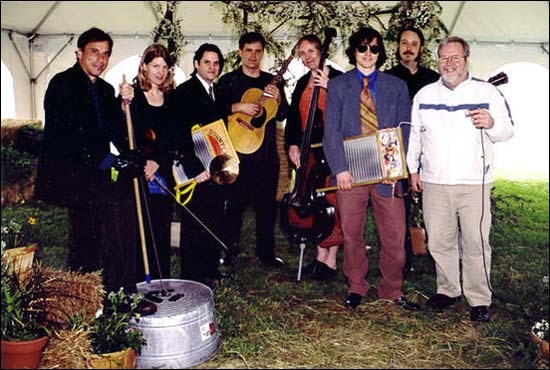 Many of these musicians have cameos in the illustrations of Mermaids On Parade including Jan Bell, originally from England, now steeped in Brooklyn indie music history. My book's Queen Mermaid is based on Gaijin A-Go-Go's lead singer Petra Hanson's colorful character, Kiko Kimonalisa.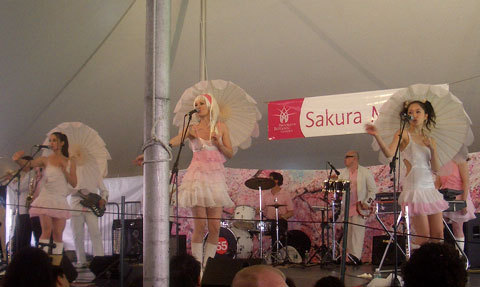 As an artist living in Brooklyn Heights, I never believed DUMBO would become an integral part of my picture book. I did know DUMBO was a gateway to bohemia in the mid 1980s when I received invites to parties and art shows there. Although 10 minutes away by foot, the industrial neighborhood along the East River seemed far away, not a place that felt inviting. Back in the day it was a wasteland. Desolate, rundown, with unadorned warehouses nestled along uneven cobblestone streets embedded with freight car rails from a century ago.
I'm always reminded about the doability of live art when I'm in DUMBO. We'd travel in packs to parties in the 1980s. Inside old warehouses we'd climb a gnarly staircase or walk through a dusty abandoned office space to enter gorgeous high end art studios, sculpture galleries, or palatial living spaces. My favorite party was at an actor's warehouse loft with live music; there were always drummers, singers, and dancing all night. However, gentrification started and the party invitations stopped when the artists were priced out of their lofts and studios.
It took a decade to rediscover that raw energy of DUMBO again via a place called Between the Bridges. The owners (now the owners of Superfine) held incredible parties. The outdoor parties underneath a ramp to the Brooklyn Bridge included jugglers twirling and eating fire, live music, and performance art. I'd find the doable walking the DUMBO Art Fest to view local artists and listen to bands such as Nervous Cabaret and The Luminescent Orchestrii playing in garages.
It was this environment, these waves of pure energy, live art, live music, and live performance that vibrates positively from my book, and hopefully right into the hearts of my young readers. As a wonderful epilogue to inspiration found with the indie musicians, one of the Brooklyn kindie rockers felt inspired by Mermaids On Parade and wrote a song for the book.
Illustration from Mermaids On Parade copyright Melanie Hope Greenberg
(1) Members of The Jug Addicts (2) Members of Gaijn A-Go-Go (3) Jan Bell (4) Alex Battles (5) Paranoid Larry and His Imaginary Band (6) Joe Bass of the Wiyos
Photo credit: Gaijin A Go-Go by Hine
REAL LIFE. REAL NEWS. REAL VOICES.
Help us tell more of the stories that matter from voices that too often remain unheard.