My husband Sabin Howard is a classical figurative sculptor who sculpts idealized human bodies. He's made art for 30 years, it's his passion and his livelihood, and he's developed a thoughtful ideology. His art, he says, is about rising to the occasion. It's about human potential. The perfect forms he creates are meant to inspire and uplift viewers. His art is meant to serve. Beauty is meant to serve.

Figurative art, and realist art in general, wasn't well-received when he began making art decades ago. It was dismissed by post-modernists. "I had to challenge all that, and question the negativity and limitations of post-modern thinking," Sabin says.

His words resonated when I visited the Adaptive Design Association's midtown storefront and discussed their upcoming reception and raffle with director Alex Truesdell.

The ADA is a small but noble organization that makes customized equipment for children with disabilities. This equipment gives special needs children the opportunity to achieve their fullest developmental, social and academic potential. The children's diagnoses include cerebral palsy, spina bifida, deafness, low vision and blindness, osteogenesis imperfecta, spinal muscular atrophy, autism, general developmental delays and many less common diagnoses. Whatever their needs, the ADA customizes equipment for them.

"The definition of disability is an acceptance of limitation and an absence of adaptation," Truesdell clarified. "Adaptation makes a world of difference."

ADA's adaptations include floor sitters that promote interactive play and cognitive and fine motor activities; scooters that promote gross motor skills and sensory alertness and strengthen leg muscles; chair inserts that promote self-righting responses; and straddle perches that stimulate trunk stability and balance.

"The little perches are useful for little kids during circle time in school and preschool," she noted. "There's a big problem with little ones and asthma. They need to get up off the carpet. The perches also help wiggly kids stay where they're supposed to."

The ADA uses materials at hand, like triple-ply corrugated cardboard and water-based polyurethane. They also use wood, textiles, metal and plastic, as appropriate. The devices are often made-to-measure, to maximize their usefulness to the individual child. Even with specificity, the ADA aims to work in ways that are affordable and sustainable and can be replicated all over the world.

They also train people in their methods. The ADA's good work is spreading to other countries, including Guatemala, Nicaragua and Ecuador. It's also firing enthusiasm closer to home. A group of NYC shop teachers visited while I was there. They came to learn the ADA's techniques so they can, in turn, teach them to students -- and make adaptive devices for students in the NYC public school system.

As Truesdell spoke, I was jotting in my Moleskine notebook. I reached for my own adaptation, necessary since my last birthday: my red-framed reading glasses. I certainly don't consider myself in any way disabled, but neither could I do everything I want to without them. I'm grateful for my glasses during long hours at the computer.

"There's a universal need for adaptation," Truesdell agreed. "The needs are everywhere. So are the ingredients for success."

She showed me a video of Tania Finlayson, whose advanced cerebral palsy hasn't prevented her from making a 300 mile wheelchair trip to raise money for Guide Dogs of America. Finlayson also mentors a young man with cerebral palsy. She communicates by typing Morse code with her head into a computer, and she wants to help people less fortunate than her.

I was overwhelmed and waxed eloquent about Finlayson's achievements. Taking a last look at the video, I vowed that I'd never again sell someone short by seeing their limitations and not their possibilities -- because then I'd miss the chance to behold their contributions.

While my husband sculpts external beauty, he states openly that it's meant to lead to true beauty, the inner beauty of hope, courage, grace, and strength that people like Finlayson embody, and that organizations like the ADA foster.

The ADA, as a small organization, only once had an operating budget exceed $500,000. In keeping with their focus on resourcefulness and ingenuity, they fundraise in fresh, community-oriented ways, reaffirming the creative human spirit.

Truesdell led me through the gallery of one-of-a-kind painted cardboard chairs that will be raffled on Thursday, October 24. There are 84 chairs made by 76 NYC artists, some of whom are well-known individuals, while others are a collective.

The "Matilda chair," for example, was painted by Daisy Troop 20127 of the Good Shepherd Academy in Nutley, NJ. It's based on the musical of the same name. The "AUsome" chair for autism awareness was decorated by the AUsome students of Great Kills High School/PS 37R, many of whose students are diagnosed with autism.

There's a "Genesis: Ramaz Collaboration" chair, whose artists wrote,
We are a group of parents, alumni, parents of alumni and educators affiliated with Ramaz, a Jewish day school... who have joined together to use art as a way of building community, providing an outlet for personal expression and creating visual pieces that generate dialogue... We want children with disabilities to be able to enjoy life to its fullest, as we would want to experience life.
Ceramics artist Mara Gross related her reasons for making a chair.
It's an artistic challenge. My chair is about patterns. Patterns are everywhere in the world.... Also, this is a wonderful means to get the word out that all kinds of people can be engaged in the process of making adaptive equipment for children of special needs.
All kinds of people includes eight-year-old Adele and friends, who painted a chair in honor of Adele's sister Hannah, who uses a wheelchair. Adele's girl scout troop, of which my own daughter is a member, donated their cookie sale proceeds to the ADA.

Truly, everyone can be involved in supporting a population that is regularly marginalized and neglected, but has so much to offer. In this country alone, about 18.7 percent of the population has some sort of disability. But those lives don't have to be defined by disability, as Finlayson and so many others prove every day. It takes a willingness to, as Truesdell said, "Question limitations. Challenge assumptions."

I've heard those words before, in the similar context of art, service and rising to the fullest expression of human potential. Art's most perfect forms are internal, whether they're found in a piece of sculpture or in a child with unique needs.
313 West 36th Street, NYC. Oct. 24 Open House 9 a.m. - 5p.m., Reception and Raffle 6 a.m. - 9 p.m.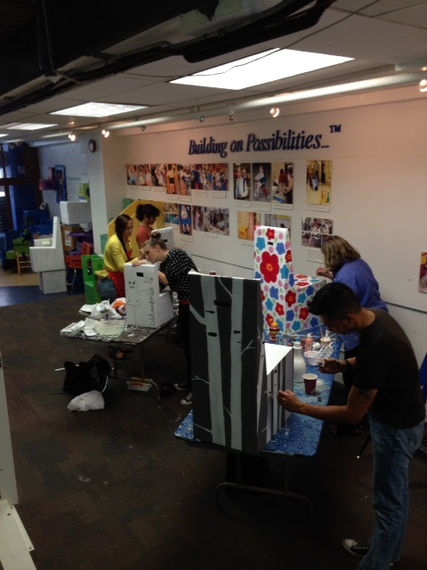 REAL LIFE. REAL NEWS. REAL VOICES.
Help us tell more of the stories that matter from voices that too often remain unheard.