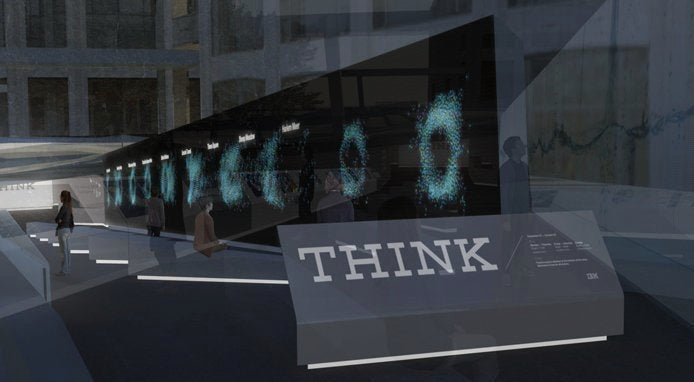 As if the development and implications of Watson weren't enough to win our affections for IBM, their new THINK exhibit at Lincoln Center may do the trick. It. Is. Awesome. I recently got to experience this fully-immersive ode to the collision of art and science, and it truly lives up to its name by inspiring one to ponder the possibilities of a world -- and body -- infused by technology.
Entrance to THINK takes place through a long corridor framed by an LED-animated wall tracking the Upper-West Side traffic patterns and corresponding air quality in real time. On the surface, it's a striking example of data-made-beautiful; a swirling and dynamic visual assault that injects the mundane with awe. The cars, thousands of them, each represented by a little red dot on an impressive 100-foot-long matrix, plod and pulsate through the streets to the circadian rhythm of the city. Descending from the sidewalk into the quietude of the subterranean theater that awaits, one can't help but imagine those little red dots representing something a little closer to home. Indeed, as technology advances and imaging resolutions catch up with the kinds of pixels that comprise our own bodies, the idea of one day tracking each individual cell so that we may preempt that culprit that clogs -- or even that single initial cancer cell -- doesn't seem so far-fetched.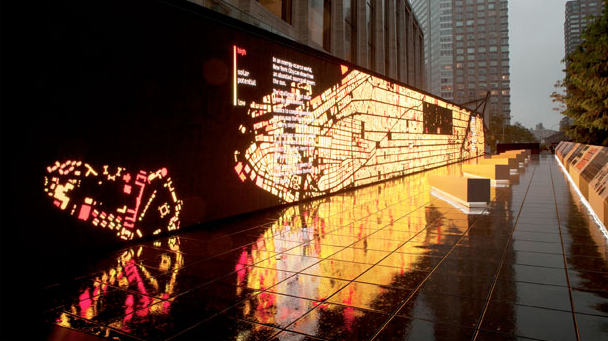 Proceed into a dark-room filled with 40 7-foot-tall monolithic screens -- surely a nod to the monolith of 2001: Space Odyssey fame, used in the film to signify an impending evolutionary leap -- the video presentation that ensues is nothing short of breathtaking. An ode to technology and the pattern of progress, the film plays out across all screens and is "a kaleidoscope of images and sound told through awe-inspiring stories of the past and present. [Visitors] are inspired to think about humankind's quest for progress, and about making our world work better, today." And indeed, that quest is boundless, as it should be. Over the course of 12 minutes, the film spans the far-reaches of outer space and back to the curiosities and potential surrounding our own physiology. It contrasts footage of the earliest Wright brothers prototypes -- fumbling and comical -- to the majestic jetliners of today. Then to a single grain of rice, genetically modified to withstand flooding, saving the livelihoods of thousands of south Asian farmers. The video ends and the monitors become interactive touch-screen experiences, each one focusing on what IBM deems to be a pillar of progress: Seeing, Mapping, Understanding, Believing, and Acting.
To quote IBM's website: "Change is easy. It happens by itself. Progress, on the other hand, is deliberate." It's pretty cool that IBM is so deliberately advancing science into mainstream conversation with initiatives like this. True, it is a form of public relations, but in an era when most advertising is either ineffective, uninspired, or both, this is the best kind of branded content. It makes us...
THINK will be on display through Oct. 23 at Lincoln Center.