When I was contacted by Cinthia Willaman about participating in an art exhibition envisioned by her and Gyunel Rustamova that would focus on conservation issues, and social justice, I responded with a resounding yes. My personal belief is that art should reflect the truths of the time it is created in. To me art is an incisive cultural weapon that should be wielded responsibly to raise public awareness and empathy toward marginalized concerns and insufficiently documented glocal realities. Art can empower collective welfare when it incites action. Naturally a show with a collective of contemporary creative minds who comprehended the arts as a medium for action and catalyst for change was right up my alley.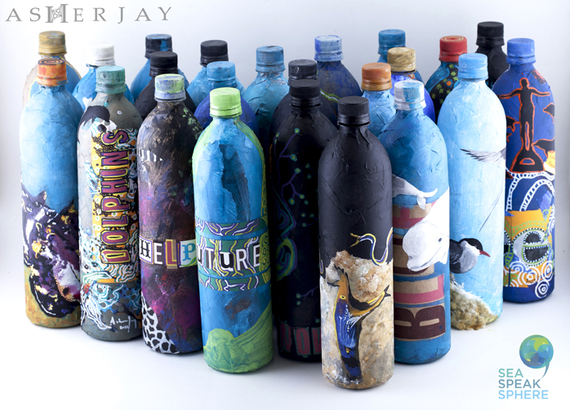 I decided to focus on the issue of 'plastic pollution.' Consequently I will be showcasing the Message in a Bottle installation and debuting a marine debris composed, mixed media painting at this collective.
The installation is composed of individual plastic bottles that have been collaged with waste paper and illustrated on to reflect the themes expressed in the messages dropped into the bottles by various crusaders for the ocean. These ocean voices include but are not limited to, recognizable visionaries like TED's Chris Anderson, and the director and explorer of the Deep Sea Challenger expedition, James Cameron to conservation greats like her Deepness Sylvia Earle and aquanaut, merman Jean-Michel Cousteau. The bottles are appended to the ceiling from where they will cascade down, offering a canopy of consumer impact on marine and terrestrial ecosystems, for visitors to stroll through.
The painting will be an original mixed media artwork entitled, "Fallen Night Sky" which is composed of marine debris, found shore-side litter, ink and paint. The dimensions of the piece are 40" x 60" and the piece appeals to viewers to contemplate the plight of these magnificent filter feeders, these gentle, giant fish that sieve out more plastic than plankton as part of their daily diet thanks to our ignorant consumerist ways.
The exhibition Art As a Medium For Action is part of an ongoing Relational art project by artist Gyunel Rustamova and curator Cinthia Willaman. The project asks a series of questions about how art might inspire social or political changes, and what those changes might be. The exhibition will be presented at Hoxton Arches from the 8th until the 10th of September and subsequently at Chris Adams House, Cambridge, from the 13th until the 17th of September. The exhibition places special emphasis on the links between art, activism, and charity work, and collaborators of the project include UK branches of major charities such as the Helen Bamber Foundation, Greenpeace, PETA, Oxfam, and Shelter.
The project has developed across three stages. The first stage, prior to the exhibition itself, consisted of a series of surveys and focus groups investigating the power of images, videos, and other art objects to inspire social, political, and ethical change. Over 100 members of the public were interviewed, before a number of more intimate panel sessions took place. There was an emphasis on popular media, including graphic novels, music videos, and charity advertising. Participants discussed the form and content of the works, and were asked whether they felt the motivation to take action or make a change in their lives as a response to the pieces. And, if they were motivated to take action, what caused this change? Were participants inspired by the aesthetics of the works, or by their messages? Was there something in the works themselves that inspired change? And did celebrity endorsements contribute meaningfully to their responses?
The second stage is the exhibition itself, which will present the results of the previous focus groups alongside new artistic works that designate, discuss, and dissect political and social issues. These include works by the renowned National Geographic activist Asher Jay, environmental artist Rachel Wooller, Hollywood designer and PETA activist Larry Torro, the artist and academic Willie Baronet, visual and performance artist and academic Suzanne Lacy, and fashion designer Gyunel Rustamova. The exhibition aims to put further pressure on the question of art's relation to action and to activism, by bringing together within an intimate space a diverse range of artists and media that reflect on topics including climate change, domestic violence, animal welfare, and the current European refugee crisis. Visitors will be led through a variety of displays, and will be invited to add comments around the works they saw, and to respond to and engage with the art in their own way.
The audience's participation in the exhibition constitutes constitutes the basis for the project's third and final stage: that of action. Visitors will be encouraged to make a pledge relating to a cause and charity of their choice. They will be given a token that represents a real financial donation made by the exhibition organizers to a charity of the visitor's choosing. They will also be invited to make a pledge of their own; to change their attitude, actions, or thinking in relation to their chosen cause.
This final, interactive element of the project is designed to explore the divide between monetary donation and activism. It aims, through participation, to draw visitors into the project, with the hopes that the parameters of the project will be broadened as visitors take their pledges with them to the world outside the gallery. The exhibition, and the project more broadly, represents a unique reflection on the role of art in charity work, art's power to communicate social and political ideas, and, ultimately, the power of art to affect real change.
Do attend the event, either in London or in Cambridge:
Hoxton Arches, London
8­10 September 2016
Opening Hours 1PM ­ 7PM
Admission free
Chris Adams House, Pembroke College, Cambridge
13­17 September 2016
Opening Hours 1PM ­ 7PM
Admission free
Join me in London at Hoxton Arches on Sept 9th 2016, Friday, at 8 pm where I will be giving a talk about the role of the arts in enabling conservation and sustainable development.
Popular in the Community