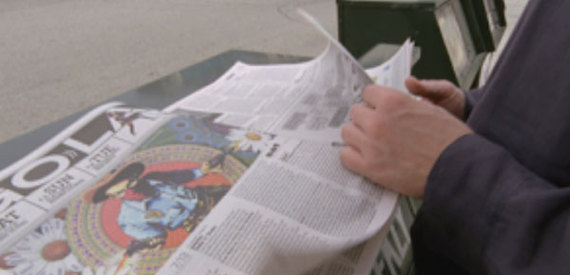 The movie theater in Kahala, on the backside of Diamond Head on Oahu, was fairly empty with only a handful of cineastes scattered about the small town cinema. The latest work, Knight of Cups, from auteur Terrence Malick, was in for a week. I doubt no longer.
Halfway through the edgy film, I pointed to the screen and freely shouted with pride, "There it is!" Then I nudged my friend; I think I woke her up. We had been waiting for the moment. Or at least, I was.
Halfway through the film, lead Christian Bale is jumping around, or at least the camera was. Then, the wide screen cuts to: Christian Bale's hand turns the page of the Los Angeles Weekly. The next page offers a wide, colorful banner of bright, exotic art that illustrates a well-written art review. The camera swoops in on the compelling and attention-grabbing artwork. Then, the camera cuts away to Bale or Natalie Portman or Cate Blanchett jumping around an urban L.A. without any traffic.
This shot in the film was of great interest and honor to me. In the Artist's Life, the rewards are few and light of weight. When something slightly good happens, it must be celebrated, on par with the Second Coming. Even if the prize is a Whoopie Cushion, a fine artist will gladly crawl through glass with gratitude in their heart and blood on the floor.
This key shot in Knight of Cups was meaningful as the artwork was mine. The beautifully composed article, a review of my art show, was written by arts journalist Shana Nys Dambrot. It is a shame that Malick didn't linger on the shot to let the audience read the review. It's much more interesting than the movie.
Every visual artist in Los Angeles will cross into Hollywoodland at some point in their sojourn. Paintings are needed on the walls of a drug lord, a society matron or a space capsule. Over the years, a few galleries and prop houses hawking fine art have popped up and faded. There's no way to corner the market; in Los Angeles, there are artists everywhere.
No one gets rich placing their artwork into Hollywood product. The payoff is generally a hearty handshake and maybe a name in the credits, though that honor is generally left to the Blue Chip artist or the producer's nephew who just graduated from CalArts.
In my career, I have had several pieces appear in movies, but for the life of me, I forget. Like all pleasures in life, glory is fleeting.
I read the reviews of the Terrence Malick film in the New Yorker, the LA Times, Variety and Cahiers du Cinéma. Not one mentioned my shot. Maybe journalism and thoughtful criticism are dead.
I have to agree with the general consensus of our international cultural elite. Terrence Malick has an amazing eye and a keen sensibility. Natch.

Calling all HuffPost superfans!
Sign up for membership to become a founding member and help shape HuffPost's next chapter