In honor of Art Basel Miami Beach week, we've reached out to some of our favorite artists to learn their hopes, worries and food cravings in relation to the art madness to come.
Samuel Borkson and Arturo Sandoval III are Friends With You, an artist collaboration that fights the good fight of spreading Magic, Luck, and Friendship through art. Known for experimental art experiences that are as spiritual as they are playful, the artist duo proves that serious art can make you giggle, and that's a good thing.
For this year's edition of Art Basel Miami Beach, the artists are bringing an interactive exhibition entitled "Somewhere Over the Rainbow." Described as a "physical manifestation of the Rainbow Spectrum -- transforming ideas and emotion into a colorful, translucent, toy-like inflatable world that will colorize the environment and its participants," this isn't exactly a piece you'd find at the main fair.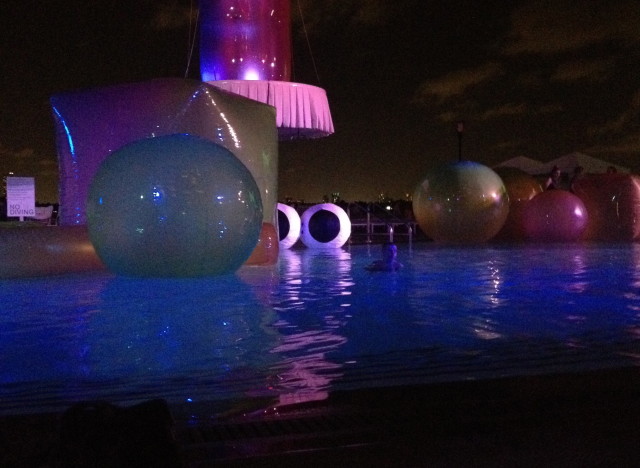 When we arrived at the Mondrian Hotel, unsure of just what this exhibition would actually look like, we were greeted by gigantic inflatable shapes that shimmered all the colors of the rainbow. Giant orbs were suspended atop massive pillows, on which viewers could rest and stare at the shapes overhead. Cubes and tubes and a mischievous pair of inflatable eyeballs floated through the pool with an ethereal power. It kind of reminded us of what it would look like if James Turrell and the Teletubbies ever collaborated on an artwork.
We reached out to the artists to hear more about their Miami hopes and dreams.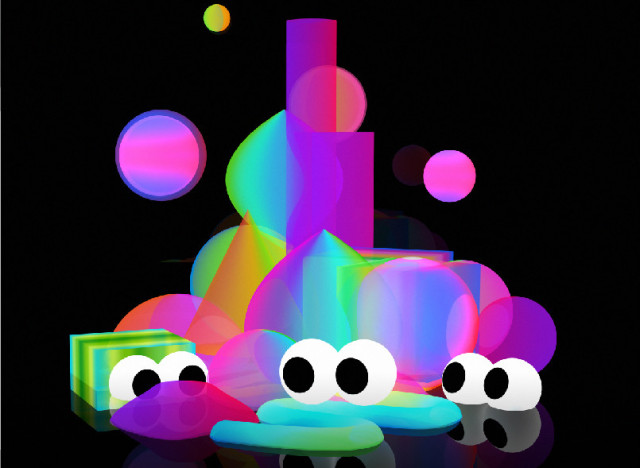 What work are you bringing this year to ABMB?
Our installation is an interactive experience called "Somewhere Over the Rainbow." Consistent with what we are most known for, this will be an interactive spectacle that deals with healing through light and colorful gradients in an environment created for an accessible spiritual connection. Large minimal shapes interact with the environment and the people as they instantly change as the day progresses.
Favorite artist, favorite food, favorite way to spend a Sunday morning:
Too many great artists to have a favorite. Too many great foods to pick one. Favorite way to spend Sunday morning would be taking it easy, something in nature or simply snuggling with friends.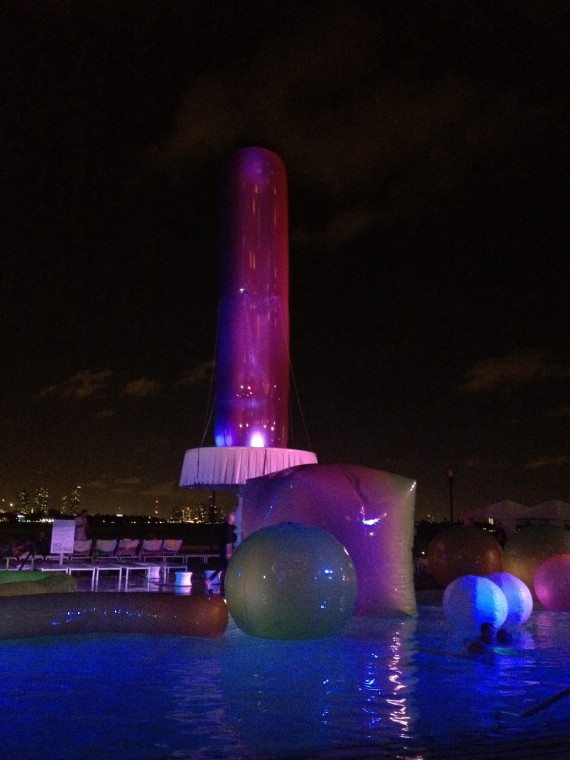 What are your thoughts on the scene surrounding the fair? What to you love about it and what are you wary of?

I love so many amazing people in town bringing their best. There is so much, it is tough to fit it all in. I wish here could be just one big party and one big art show that we could all hang together, collaborate, change the world. It would be amazing to combine all these great minds together.
What are you most excited for this week?
Playing with everyone and being inspired.
Love yourself and the rest will follow.
"Somewhere Over The Rainbow" runs poolside at Mondrian South Beach. Exhibition is on view until January 15.
Related