"I think the art market is very bullish right now," says Lisa Schiff, New York-based art adviser, minutes before the VVIP opening of the 44th edition of Art Basel on Tuesday morning. She is soon proven right: Strong sales began to be reported in the very first hours of the fair's preview. The Messe's two floors have been crackling with excitement since, as collectors including Don and Mera Rubell, Marty Margulies, Uli and Rita Sigg, and Eli and Edythe Broad make the rounds.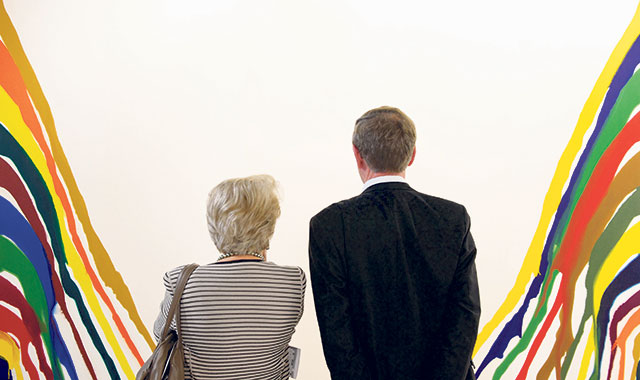 Morris Louis's "Beta Alpha," 1961, at the Mitchell-Innes & Nash gallery/Mch Messe Schweiz (Basel)

Unsurprisingly, works by artists currently featured in Venice are well represented. The London dealer Alison Jacques -- who has just entered the fair's main section, having previously shown at Statements and Feature -- sold a work by the late surrealist painter Dorothea Tanning (featured in Massimiliano Gioni's "Encyclopedic Palace" exhibition at the Arsenale in Venice) for $150,000. Jacques says she is glad to see an increasing interest in historical works by female artists (her gallery's particular area of expertise). She also sold work by the Viennese feminist Birgit Jürgenssen, and on Tuesday had a model by Brazilian legend Lygia Clark, priced at $1.5 million, on reserve.

Klosterfelde, the Berlin gallery, is both capitalizing on the success of Matt Mullican's installation in the Gioni show and breaking a new record: In the Unlimited section, dedicated to "outsized" works, the gallery is showing the artist's "Two into One becomes Three," 2011. Measuring 22 by 7 meters, it is the largest painting ever presented in this part of the fair.
Over at Hauser & Wirth, an anthropomorphic figure by the recently "rediscovered" Swiss sculptor Hans Josephsohn -- another hit at the Arsenale -- sold for 550,000 CHF to a European collector. The booth also features an expressionist "Samson" painting from 1983 by Maria Lassnig, winner (together with Marisa Merz) of a Golden Lion for lifetime achievement at this year's Biennale.
Three years ago, Hauser & Wirth moved from the upstairs section at Basel, dedicated to more contemporary galleries, to the ground floor, traditionally the turf of dealers focused on the modern. As Neil Wenman, its London director, explains, the shift made sense for a gallery so involved in the secondary market. It also made it easier for Hauser & Wirth to bridge different periods at Basel -- as in the booth's juxtaposition of Paul McCarthy's 2012 bronze sculpture "White Snow #3" (priced at $2.8 million) with Willem de Kooning's 1975 "Untitled III" (price undisclosed).
Others have now followed suit, with Lisson Gallery, White Cube, and Metro Pictures all joining the downstairs crew. The change -- the most significant in the fair's layout since 2007 -- seems to respond to buyers' current appetite for the safer investments represented by blue chip pieces. "Being on the ground floor, we have seen different types of collectors who are interested in works at a higher price point," says Alex Logsdail, the international director of the London-based Lisson Gallery.
A signature "mirror" piece by Anish Kapoor, "Parabolic Twist," 2013 (£700,000), was among the first to go at Lisson during the preview. Confirming the trend, a large sculpture by Anthony Caro sold at London's Annely Juda for £400,000, and Sprüth Magers of Berlin sold a Cindy Sherman "Untitled Film Still" from 1979, three George Condo paintings priced from $80,000 to $550,000, and a 2013 Barbara Kruger digital print on vinyl for $250,000.
The Kruger's message sums up how closely such works match the demand: "Made For You."
More of Today's News from BLOUIN ARTINFO:
Popular in the Community