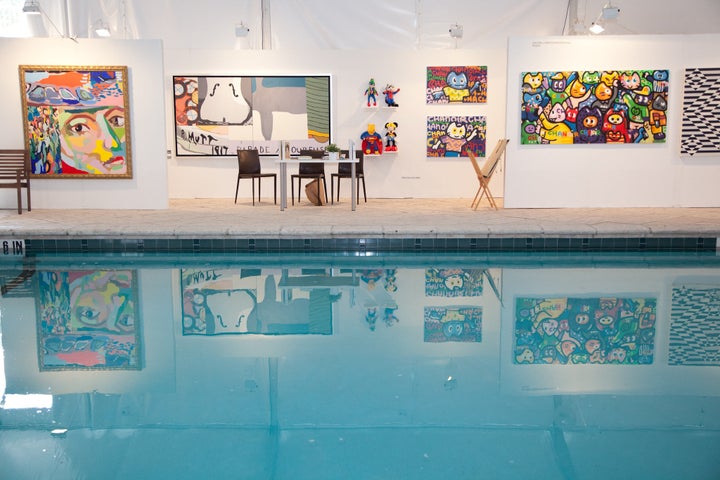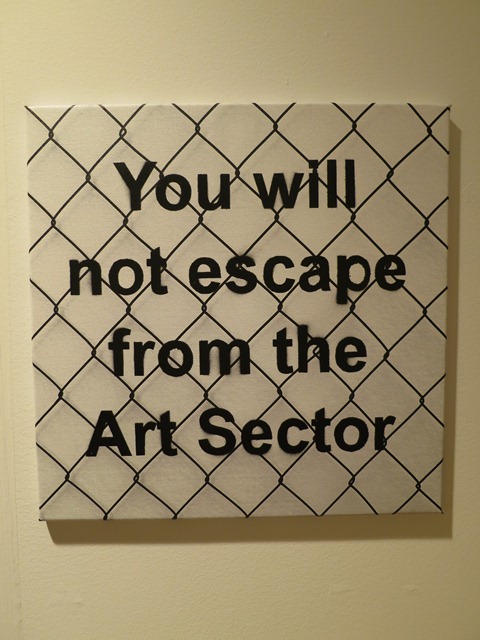 Peter Guermuer's "You Will Not Escape From the Art Sector" at SCOPE
Every year we have a love-hate relationship with Art Basel. Love it because it's fabulous; hate it because it gives us too many really good art events and parties (OK, mostly parties) all happening at the same time. Meaning, we invariably miss something amazing.
That something amazing that we missed last night was the White Cube Gallery party at Soho Beach House, the last stop on our dance card we neglected to check off due to being tired and whiny (and where everyone was except us, apparently).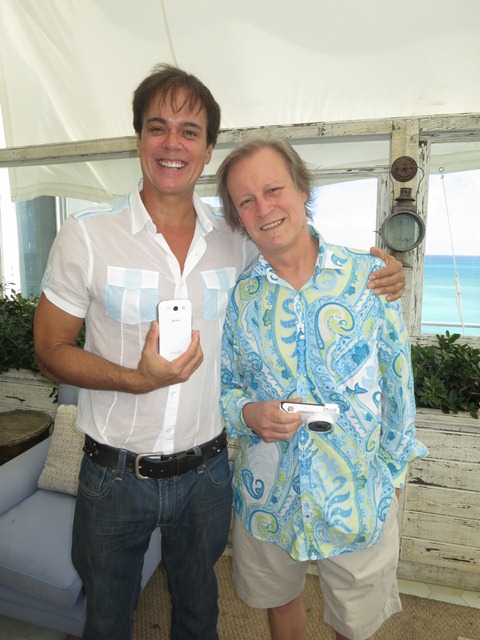 Brian Antoni and Patrick McMullan at Samsung Mobile Luncheon
The day was rather brilliant, however -- starting with a brunch in the penthouse of Soho Beach House hosted by photographer Patrick McMullan and Samsung Mobile, which introduced its Galaxy S III smartphone, so sleek it made influencers talk of defecting from iPhone. Guests included socialite Dana Shear, South Beach: The Novel author Brian Antoni and real estate glamazon Katrina Campins (in really big sunglasses we want to own).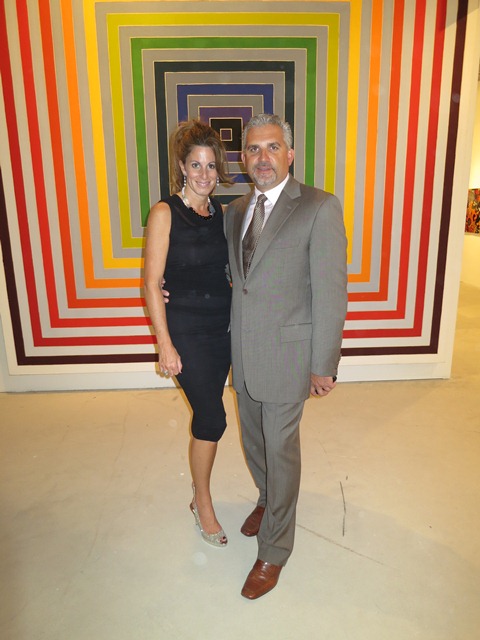 Pamela Cohen and Nicholas Korniloff at Art Miami
Art Miami, Miami Art Week's longest-running art fair at 23 years, held its VIP preview event in Wynwood, also launching CONTEXT, its sister fair devoted to emerging artists. Highlights included five Banksy murals that had been uprooted from British streets and mounted, a glorious Frank Stella from 1974, and a special appearance from artist James Rosenquist. We seriously considered spending our monthly mortgage payment on some fine pop-culture photographs by Alex Prager.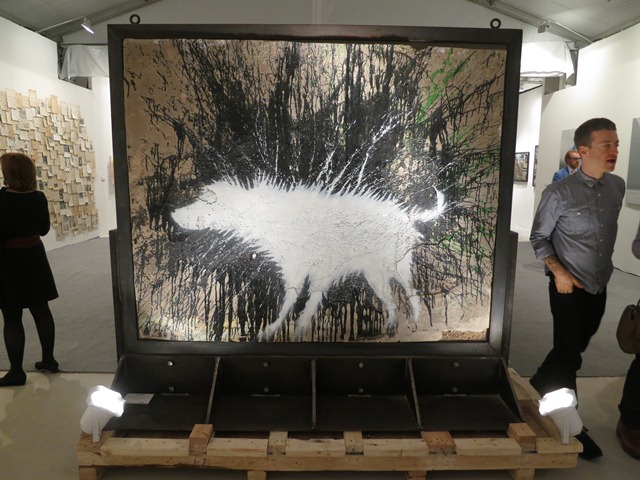 Banksy's "Wet Dog" at Art Miami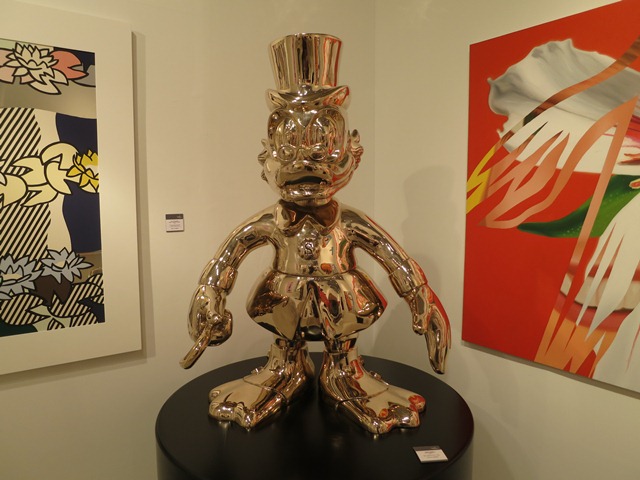 Heiner Meyer's $104,000 bronze Scrooge McDuck at Art Miami. To the left and right, a Lichtenstein and a Rosenquist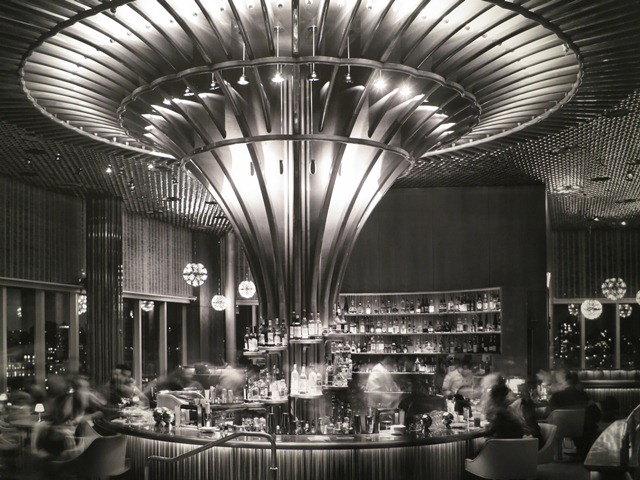 The Boom Boom Room, as portrayed in Matthew Pillsbury's "Top of the Standard"
Across the street was Peter Anton's super fun-looking "Sugar & Gomorrah" carny fair ride (takes an Art Miami ticket for entry, btw), which we swear we'll experience by Sunday. Of course, just as we were approaching the front of the line, the fiancé drove up, waving madly from the back seat, summoning us to leave for SCOPE and Design Miami.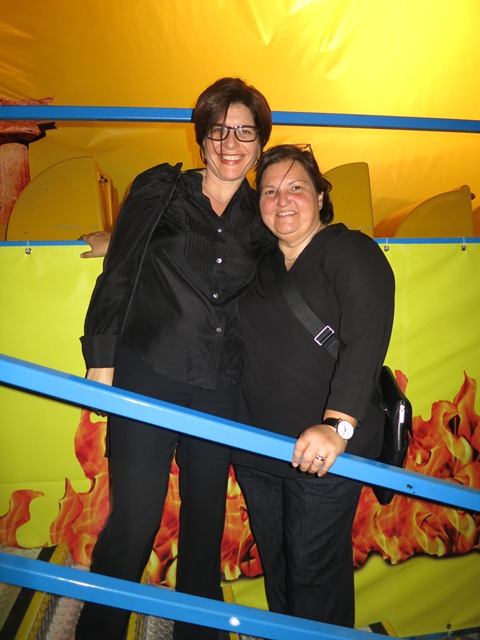 Liz Cohen and The Miami Herald's Lydia Martin in front of Peter Anton's "Sugar and Gomorrah" at CONTEXT Art Miami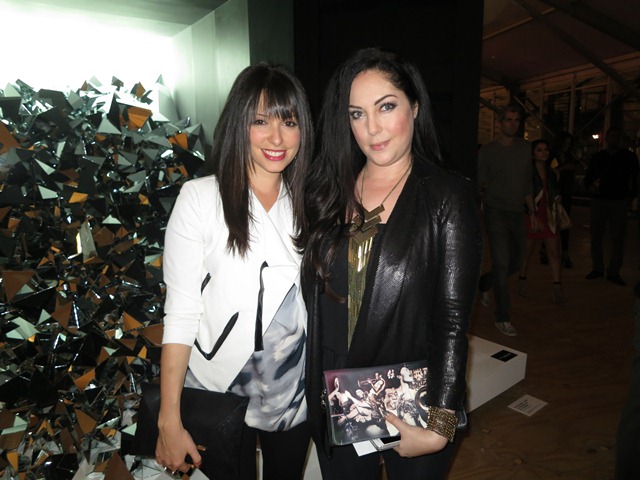 Kailey Magder and Sandirose Magder at SCOPE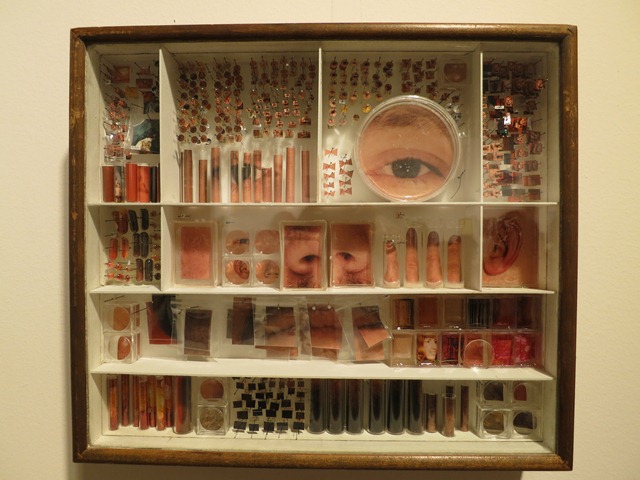 Scary-fun shadowbox at SCOPE
SCOPE, dedicated to emerging artists, is affordable and fresh, and attracts fun people you wouldn't mind having a drink with. We almost gave in to a cross-stitch portrait of Jon Hamm as Don Draper, which would look great in the powder room. The trendiest found their way to the Redbull Curates: The Canvas Cooler Project booth, showcasing the young artists featured in its six-city national tour that wraps at Art Basel.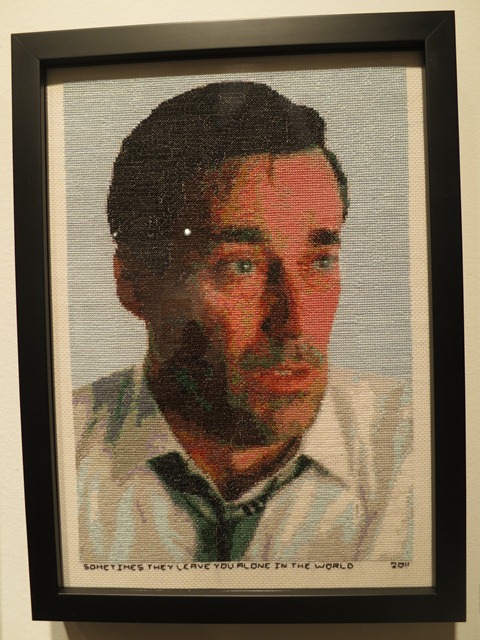 Don Draper cross-stitch by Stacia Yeapanis at SCOPE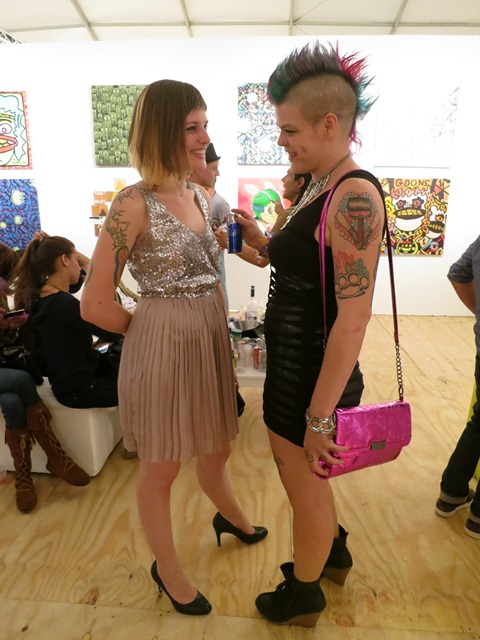 Kate Fire and Leah Matthews at SCOPE
After fueling with a Panther Coffee almond milk latte, we were off to Design Miami (which closed its doors before 9 p.m. for reasons unknown), the Shepard Fairey event at The Garage at Cooper Avenue (too early, there were only a handful of hipsters shooting pool) and the Interview magazine/Sotheby's party hosted by Peter Brant and Tobias Meyer at Florida Cookery at the new James Royal Palm Hotel, which was exactly what we needed to kick off Art Basel -- an intelligent party with the perfect mix of locals and New Yorkers, under the stars and swaying palms.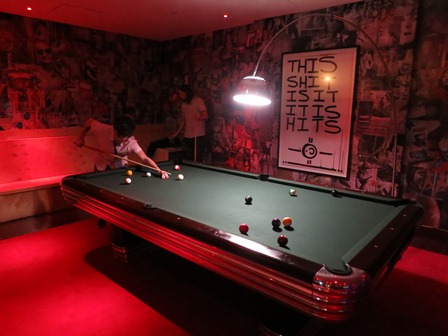 Hipsters shooting pool at The Garage at Cooper Ave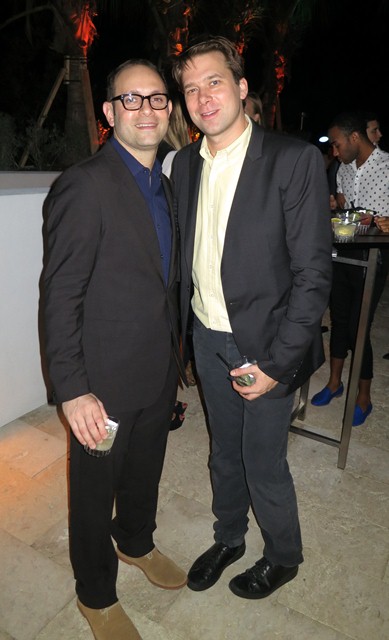 Steven Mooallem, editor in chief of Interview magazine, and Christopher Bollen, editor at large of Interview magazine, at Florida Cookery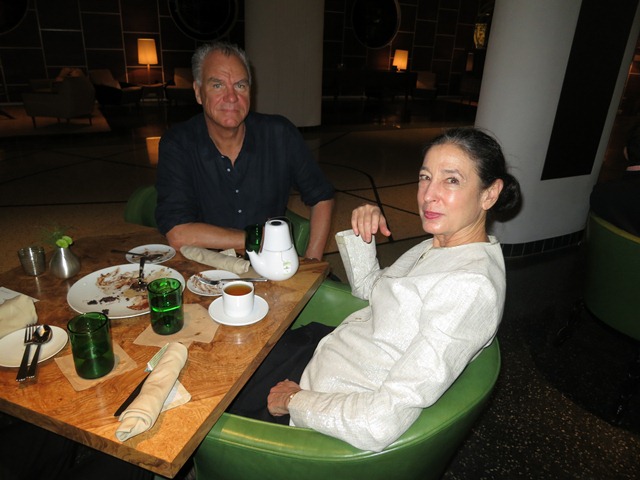 Alastair Gordon of Wall Street Journal with artist Michelle Oka Doner at Interview x Sotheby's event at Florida Cookery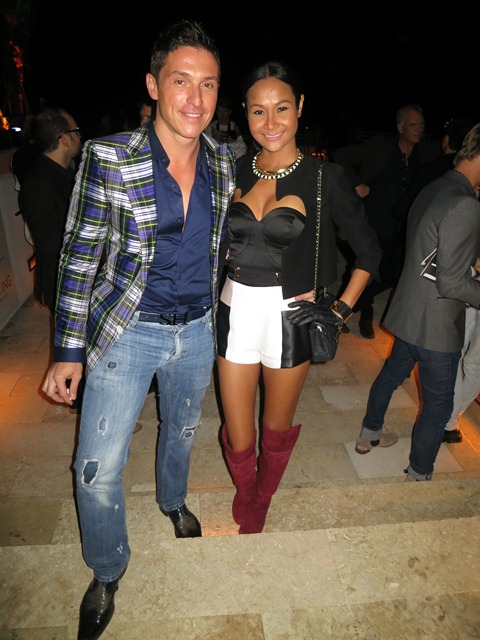 Fabian Graff and Jinnipan Akararungpradir at Interview x Sotheby's event at Florida Cookery

Stacy Engman at Interview x Sotheby's event at Florida Cookery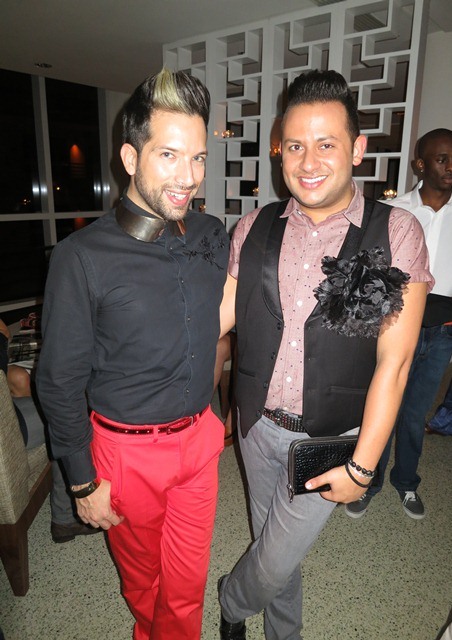 Gino Campondonico and Joseph Quinones at Interview x Sotheby's event at Florida Cookery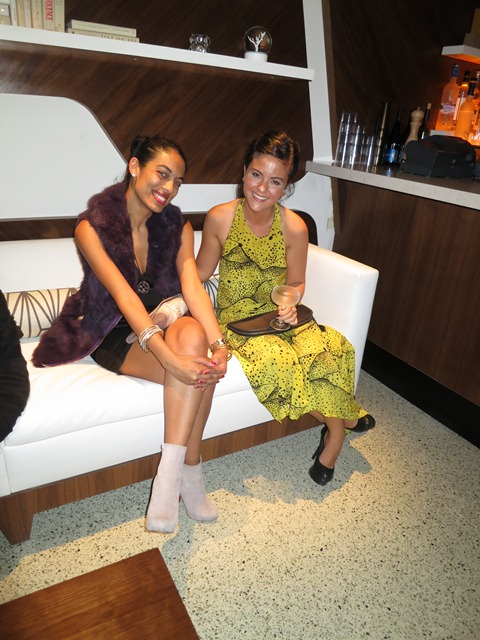 Nisha Bhatia and Erika Concetta Pagano at Interview x Sotheby's event at Florida Cookery
Related
Popular in the Community