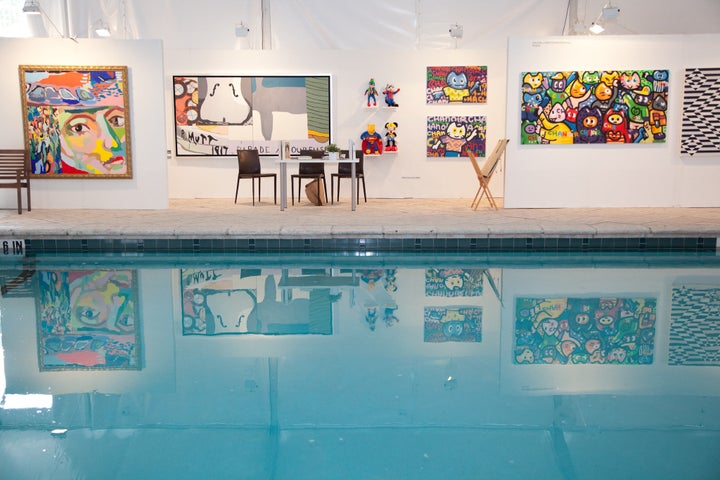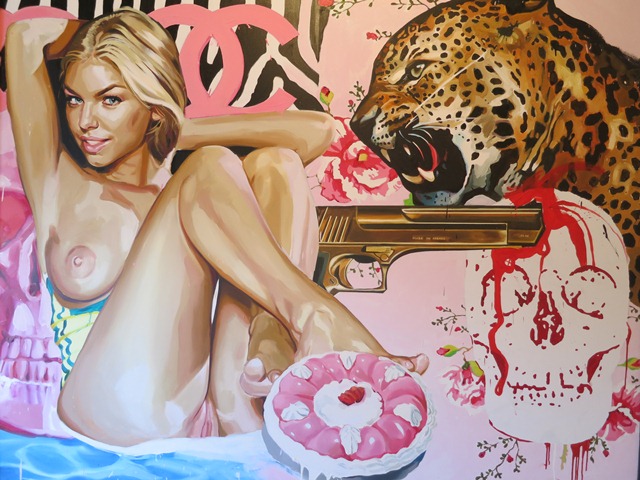 So Miami: "Game Over," by 22-year-old Cuban artist Rachel Valdes, at CONTEXT Art Miami (532 Gallery Thomas Jaeckel).
Every party, Art Basel has taught us, needs a live tiger and an alligator-head champagne fountain for décor. How much fun was the Scarface/Miami 1980s drug den theme of Le Pompon's pop-up club at Hotel Victor/Thompson Hotels on Friday night? A good party is all about the theme, we say, and the weekend wrapping up Miami's most indulgent art week to date gave us plenty to take in.

Designer Loree Rodkin at Moncler event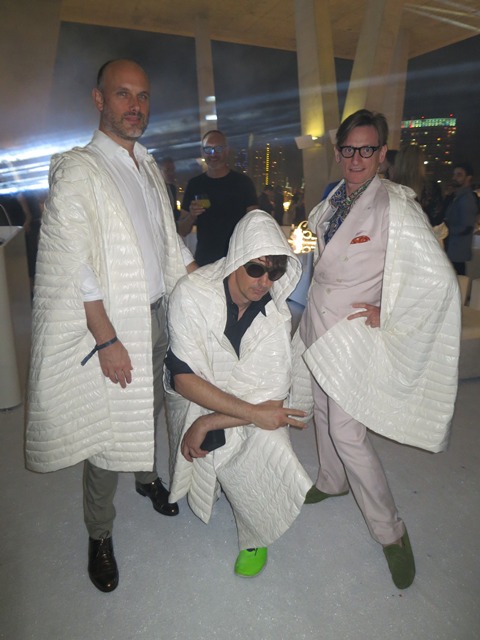 The Hollywood Reporter's Degen Pener, filmmaker Richard Phillips, and Vogue's Hamish Bowles at Moncler event
The Winter Wonderland theme of the Moncler dinner -- hands down the most beautifully executed event of Art Basel -- was impressive not only for its austere white-on-white set design, but for the fact it was held in a parking garage. Not just any parking garage, of course, but the Herzog & de Meuron-designed masterpiece that is 1111 Lincoln Road. The most beautiful party also featured the best swag -- a winter white, hooded Moncler parka made especially for the brand's 60th anniversary. Guests included Uma Thurman, Loree Rodkin, Richard Phillips, Jim Goldstein, Craig "Mr. Design District" Robins and Jackie Soffer, Fabian and Martina Basabe, and Ugo and Sara Colombo.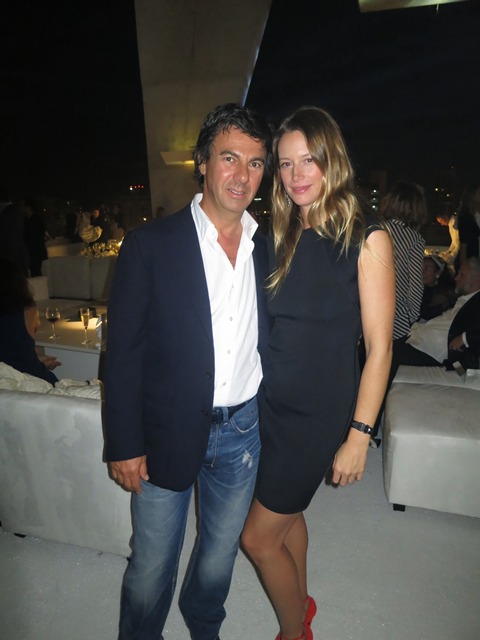 Ugo and Sara Colombo at Moncler event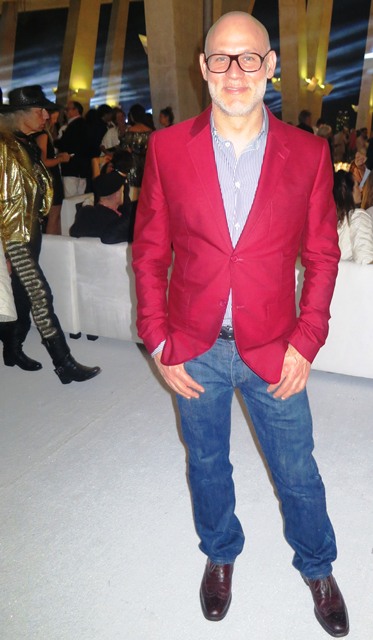 Craig Robins at Moncler event (and James Goldstein, left, in gold lame)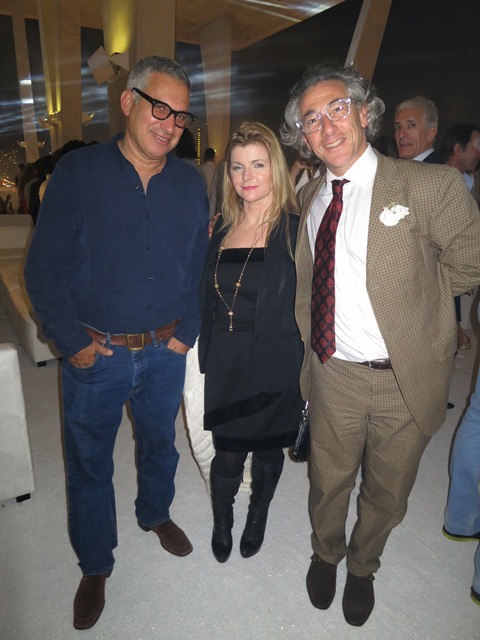 Author Bob Morris, New York Post's Emily Smith, and Ira Silverberg at Moncler event
Chloe, coincidentally, also celebrated its 60th anniverary during Art Basel, hosting a party with YoungArts in the penthouse of Soho Beach House, showcasing fashion-centric art, including pieces by YoungArts alumni.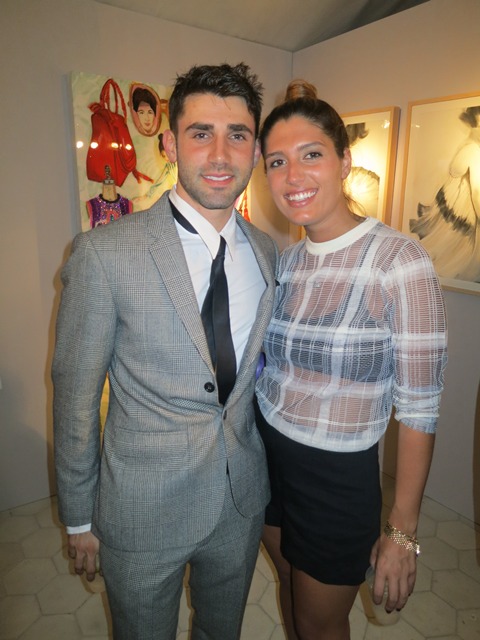 Designers Benjamin Jay Massing and Brianna De Rose at Chloe's 60th Anniversary event at Soho Beach House

Famed gallerist family Leon, David and Lillian Benrimon at Chloe's 60th Anniversary event at Soho Beach House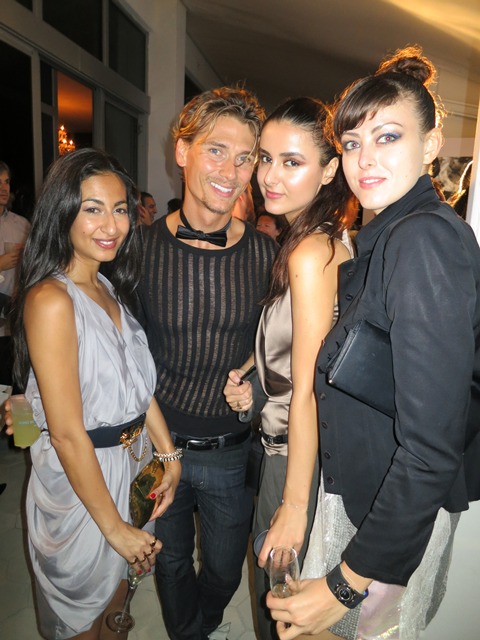 Nausheen Shah, Brent Tinsley, Aleksandra Sivokoneva and Liya Sheer at Chloe's 60th Anniversary event at Soho Beach House
A dinner party held at the spectacular waterfront estate of developer Ugo and wife Sara Colombo was all civilized glamour, with guests dining al fresco on Casa Tua's famous Italian fare, the home's majestic watchtower reflected in a swimming pool the size of a football field. Demi Moore, the most-wanted celebrity of Art Basel, was able to chill paparazzi-free, holding court on a day bed with Harry Brant, Derek Blasberg and Hamish Bowles.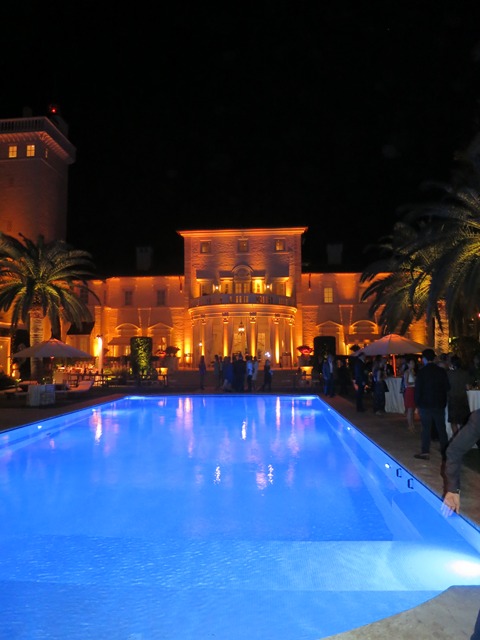 Every home needs a watchtower: The Colombo estate

Marita Stavrou at Ugo and Sara Colombo's house party
New York nightlife empress Amy Sacco christened her new Miami Beach club, The Rec Room, with a dinner party at the just-opened Gale hotel on Collins Avenue. The good-looking crowd grooving to the vintage vinyl LPs included Lady Victoria Hervey, Esteban Cortazar, Bertil Espegren and Nick D'Annunzio.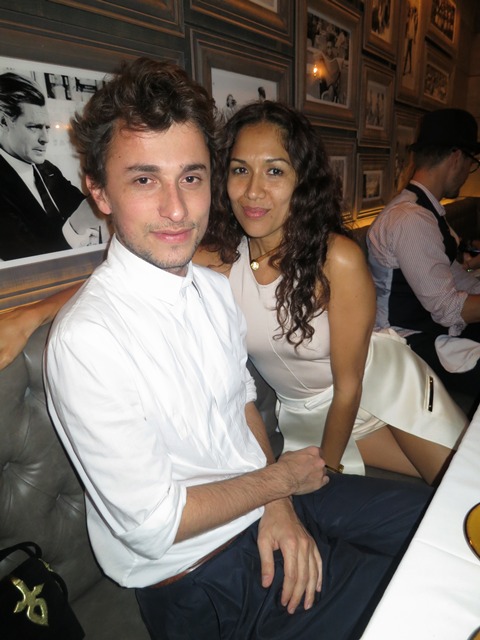 Designer Esteban Cortazar and Susana Salazar at Amy Sacco's dinner party at The Gale.

Amy Sacco at The Gale, home of her new Miami Beach club, The Rec Room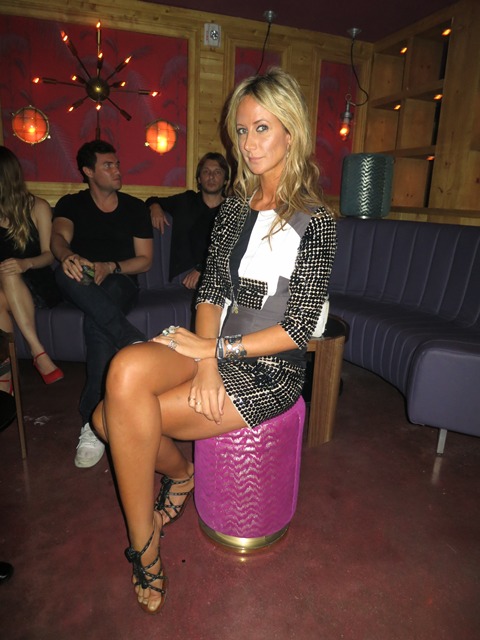 Lady Victoria Hervey at The Rec Room
Carmen Miranda-esque dancing girls with giant headpieces are always a good idea, and of course the self-amused trendsetters at PAPER Magazine upped the ante with a Tutti Frutti cocktail party to unveil the newly remodeled Benetton store in South Beach, where we met our new BFF, the fabulous Legendary Damon, resplendent in vintage Versace.

The fabulous Legendary Damon at Benetton/PAPER Magazine's Tutti Frutti party.

David Hershkovits, founder of PAPER Magazine, and Benetton CEO Ari Hoffman at Benetton/PAPER Magazine's Tutti Frutti party.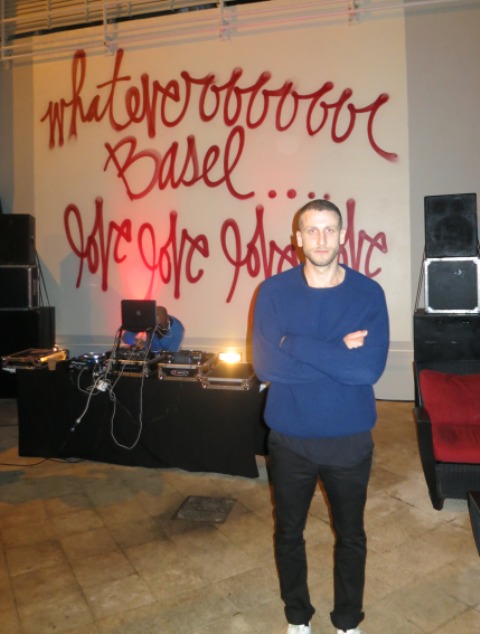 Artist Curtis Kulig in front of his mural at Hotel Victor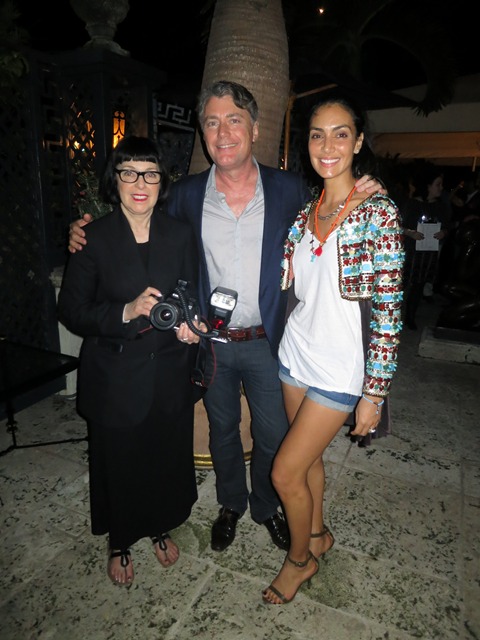 Roxanne Lowitt, Glenn Albin and Jenny Lopez at Andy Warhol Museum party at The Villa by Barton G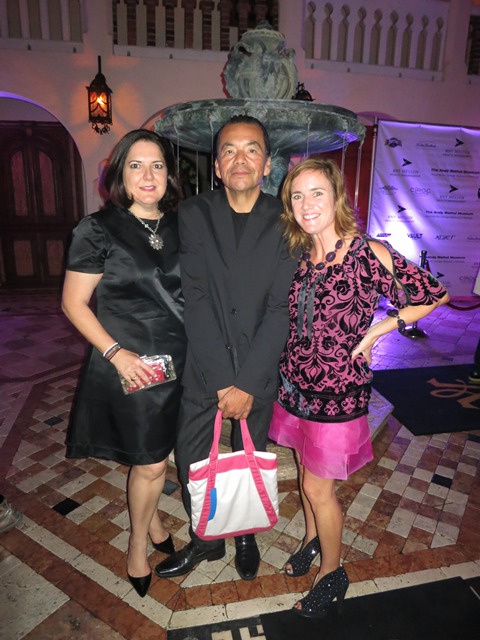 Silvia Karman-Cubina, director of the Bass Museum, with Victor Zamudio-Taylor and Megan Riley at Andy Warhol Museum party at The Villa by Barton G

Back in Wynwood, on the final day of Art Basel, we did a second lap around Scope Art Fair, as well as Art Miami and its fantastic new art fair, CONTEXT, devoted to emerging artists (read: art we can actually afford), where we Instagram-ed till our battery grew faint before finally, as we promised ourselves on Day 1, getting in line to experience Peter Anton's "Sugar and Gomorrah," a whiplash-inducing fair ride exploring the world's two favorite vices, sex and sugar. Even though the fake fire, scantily clad models and oversized desserts were more comical than scary, we screamed most of the way through, just because.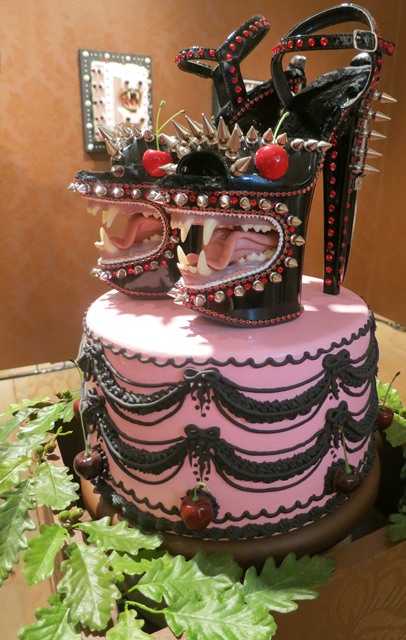 "Objectification Strategy" by Scott Hove, $12,000, at Scope Art Fair

Maeve Doyle and Robin Barton of London's Bankrobber Gallery, at CONTEXT Art Miami

Peter Anton's "Sugar and Gomorrah" carny ride at Art Miami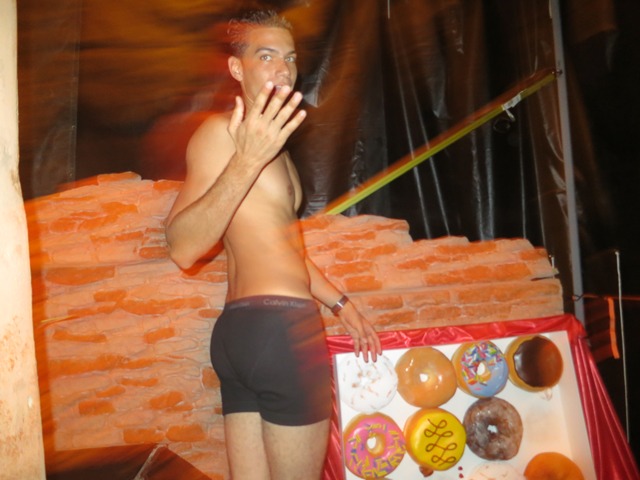 A duo of vices inside Peter Anton's "Sugar and Gomorrah" at CONTEXT Art Miami
All that stimulation called for a beverage to help us wind down, and we found the perfect one at the First Trust pop-up lounge where hand-crafted cocktails including the "Pan American Colada," made with liquid nitrogen and coconut milk, were being served on a rooftop in the Design District, in a clandestine pop-up forest. Which was the best way ever to bid adieu to Art Basel till next year.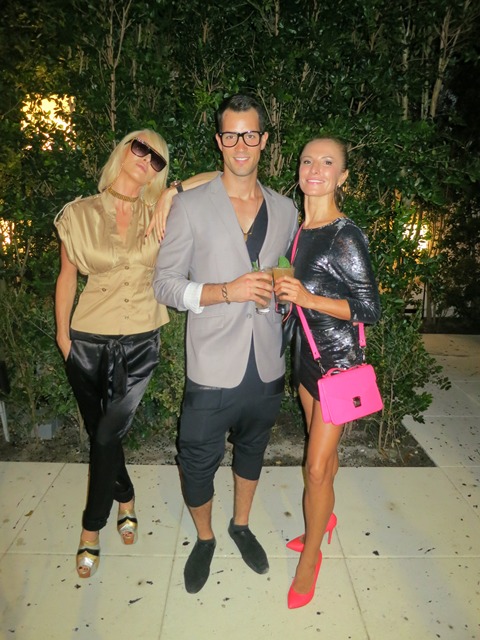 Malinka Max, Kyle Yoder and Victoria Krutova at First Trust pop-up lounge.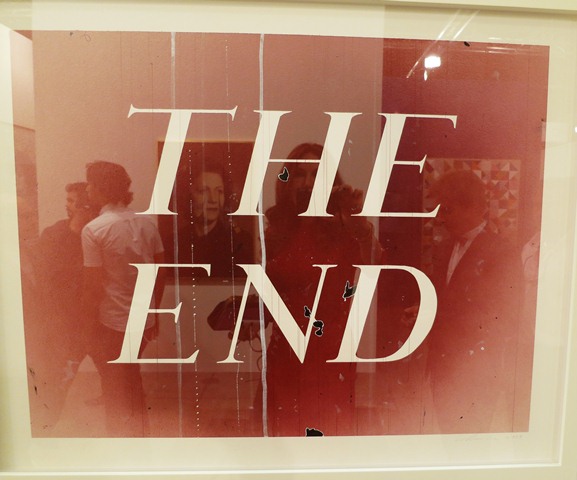 "The End" by Ed Ruscha
Related
Popular in the Community