ART BASEL IN MIAMI BEACH 2017December 7-10, 2017Miami Beach Convention Center, Miami Beach, Florida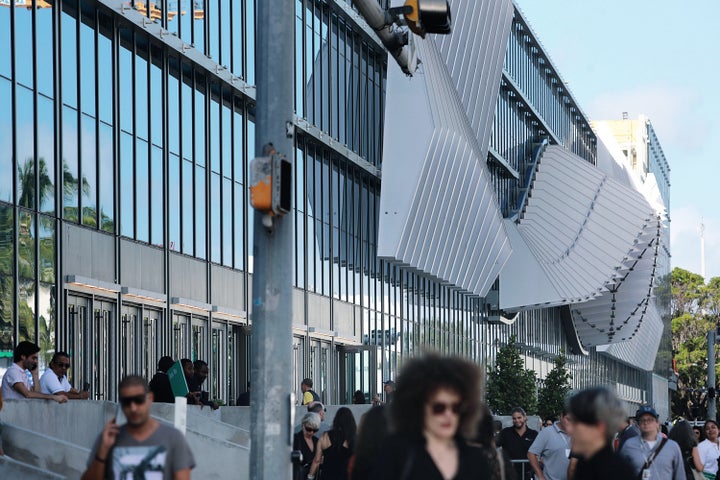 On day one of the 16th edition of Art Basel in Miami Beach there was a moment that summed up what a fair of this caliber is all about. Within the first hour, or what they call the VIP opening or vernissage, I was navigating the newly installed streamlined floor plan. I was moving faster than previous years due to the newly installed concrete floors, making this year's Basel easier to navigate, comparable to a Wal-Mart or Target and less maze-like. The concrete floors made the room far cooler than the previous stuffy carpeted hall from years past. Not to mention the economical value that comes from the carpet-to-concrete change.
Point being, I was loitering in Sprüth Magers booth when in walks billionaire entrepreneur and philanthropist Eli Broad, who has a museum of his own collection in Los Angeles at The Broad. Accompanying him was The Broad Director and art historian, Joanne Heyler. Hmmmm....Heyler, Broad and Sprüth Magers all in the same booth just weeks before Christmas? Too good to be true. If you can't understand such simple math, then institutions like Basel and Frieze may confuse you- and we know that vasts amounts of the art world denizens and average hoi polloi are usually confused by the high ticket prices of contemporary art. The algorithm is this: museum curator is equal to museum director recommendation over museum fiscal budget multiplied by critical acclaim over academic achievement lesser then the current market price divided by current stock market yields is multiplied by the X amount of press given to a sell equals the museum purchase of an art piece. In other words : BASEL IS WHERE THE MUSEUMS SHOP!
And please, don't get me started on the haute bourgeoisie calculus in buying art at Basel. God knows, if you're a billionaire buying art (and we know there are a million billionaires on the planet) you're shopping and competing for art at these fairs. It's such a high level. It makes you want to turn your brain off trying to figure this stuff out.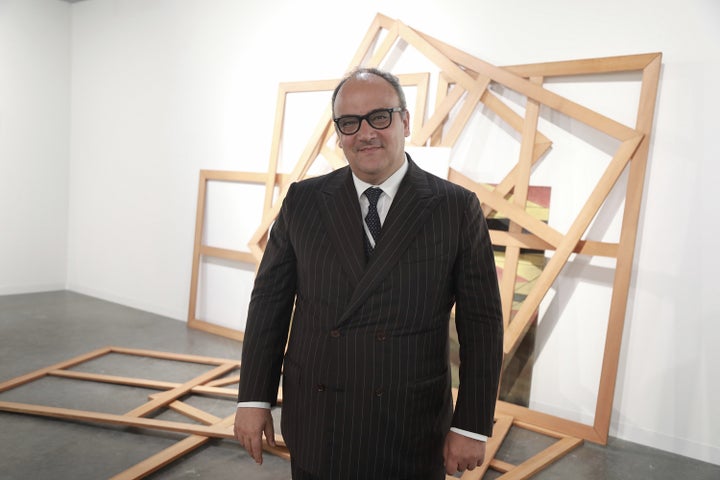 Miami Art basel included 268 premier galleries from 32 countries, all of whom presented works ranging from Modern masterpieces to contemporary painting, sculpture, performance, photography and works on paper and film – some of which were created specifically for the fair. This edition included the streamlined floor plans and show design, 10 percent more exhibition space, wider aisles, a broader range of booth sizes and larger lounge areas. Access to the convention hall was not easy. There was a heavy police presence and barricades. The Miami Beach Convention Center was in heavy construction mode, due to be completed in 2018. On top of this, Basel prides itself on its programming from things called, Edition, Nova, Positions, Survey, Kabinett, and Public.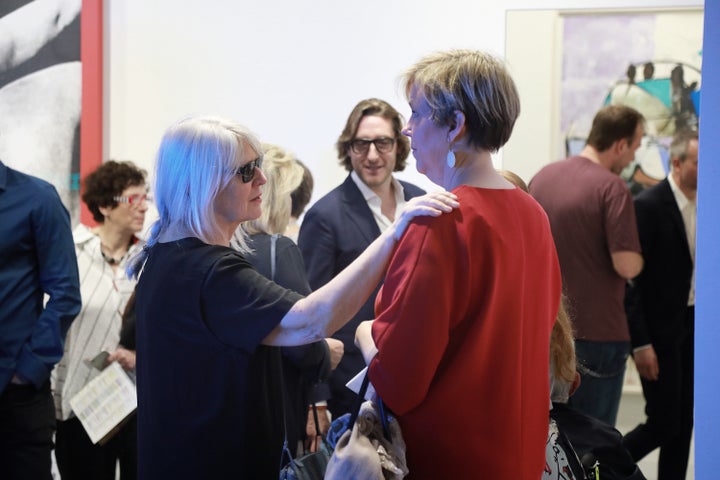 Basel says it had 82,000 in attendance over 5 show show days, which included "influential collectors, directors, curators, trustees and patrons of leading international museums and institutions such as: Albright-Knox Art Gallery, New York; The Andy Warhol Museum, Pittsburgh; Baltimore Museum of Art; Brooklyn Museum, New York; Contemporary Arts Museum Houston; de Young Museum, San Francisco; Detroit Institute of Arts; Fridericianum, Kassel; Hirshhorn Museum and Sculpture Garden, Washington, D.C.; Musée d'art contemporain de Montréal; Museo de Arte de Lima; Museo de Arte Latinoamericano de Buenos Aires; Museum of Contemporary Art Chicago; Museum of Contemporary Art Cleveland; Museum of Contemporary Art Toronto Canada; Museum of Fine Arts, Boston; Nasher Sculpture Center, Dallas; New Museum, New York; Philadelphia Museum of Art; Serpentine Galleries, London; Solomon R. Guggenheim Museum, New York; Tate, London; The Museum of Modern Art, New York; Ullens Center for Contemporary Art, Beijing and Whitney Museum of American Art, New York."
GET THE POINT??? (check out the Youtube video slideshow below to 252 images from the fair)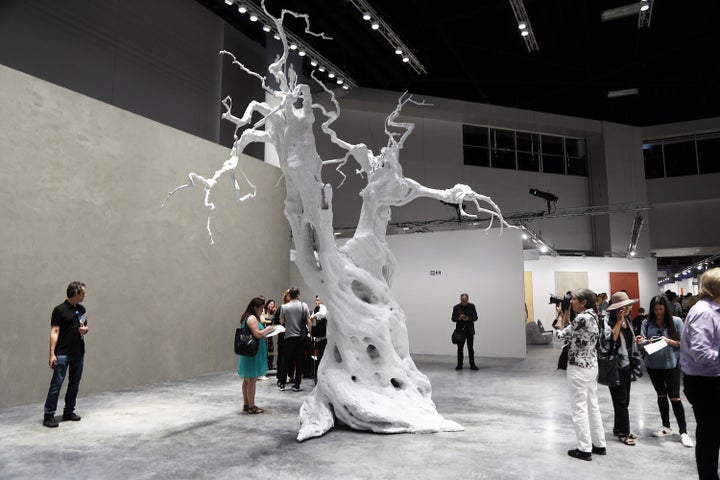 Noah Horowitz, Director Americas, Art Basel, commented: '2017 was an important year for our show, as well as for the city of Miami Beach. We were thrilled to introduce the enhanced show design and new floor plan, and it was the first year that Philipp Kaiser curated our Public sector in Collins Park. Additionally, with the launch of The Institute of Contemporary Art, Miami and the re-opening of The Bass, Miami continues to grow its world-class presence as an arts and culture destination. We are already eagerly anticipating next year's edition when the renovation of the Miami Beach Convention Center will be fully completed.'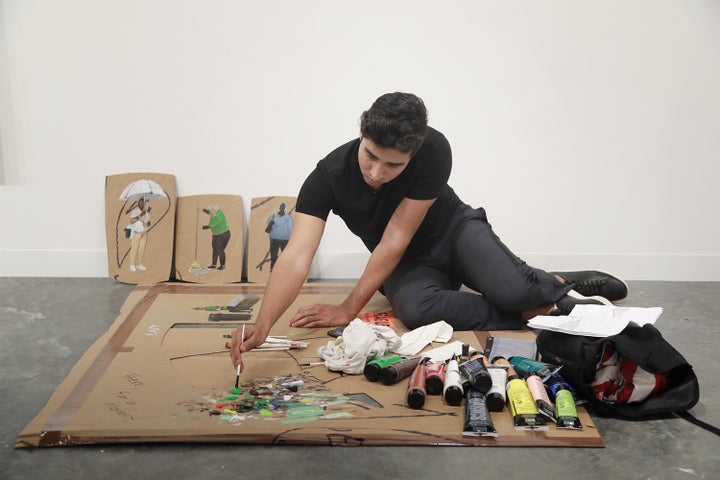 'We are definitely pleased with the renovation and new layout of the show, due to wider and more open aisles. The new flooring has freshened up the aesthetic of the exhibition space. The fair was lively, and we placed work with collectors we know well and those new to our gallery. And, we are thrilled to have placed the LeWitt work with a museum. This is why we participate at Art Basel in Miami Beach – the exposure is second to none.'
Steven P. Henry, Director, Paula Cooper Gallery, New York
'This edition of Art Basel in Miami Beach has marked another successful year for the gallery. The fair was busy throughout the week with many serious and discerning collectors, and sales were strong. We sold major works by gallery artists and were pleased to have Cyprien Gaillard's film 'KOE' in the Public sector. Art Basel in Miami Beach remains at the forefront of the international art market and we are proud to be a part of it.'
Monika Sprüth, Co-Owner, Sprüth Magers, Berlin, London, Los Angeles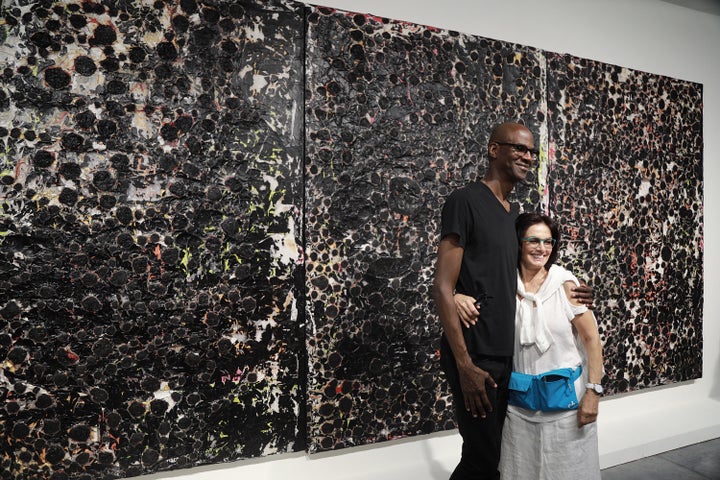 'Within 15 minutes of the show opening, some of the biggest collectors visited our booth and bought multiple artworks. Collectors enjoyed the presentation, showcasing works by artists who are not shown elsewhere but are historically important. Museum groups came to our booth non-stop, and there is strong interest in the works by African American artists from the 1960s and the 1970s that we chose to bring.'
Kavi Gupta, Owner, Kavi Gupta, Chicago
'This has been the best edition of Art Basel in Miami Beach for our gallery so far – it's been great to see so many top collectors, with a noticeable influx of South American collectors especially. There was much energy during the first two days, with continued vibrant interest in the Italian post-war field, which is our specialty.'
Luigi Mazzoleni, Owner, Mazzoleni, Turin, London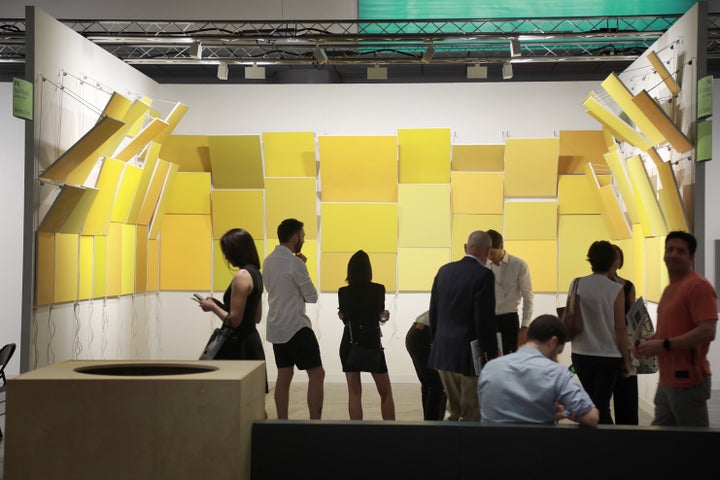 'The fair has arrived at a level of such maturity that we can now bring the most extraordinary works from the height of great artists' careers to the fair, and find top homes for them. It has been an exceptional week for us. We placed major works by our artists in leading collections, and we had the pleasure of engaging in serious dialogue about our artists with visitors to the stand.'
Marc Payot, Partner & Vice President, Hauser & Wirth, Zurich, London, Somerset, Los Angeles, New York
'This was a very strong year for us. We met a new generation of collectors who are serious about collecting, felt a strong presence of motivated Asian and Latin American collectors and noted great curatorial and institutional attendance.'
Lucy Mitchell-Innes, Co-Founder, Mitchell-Innes & Nash, New York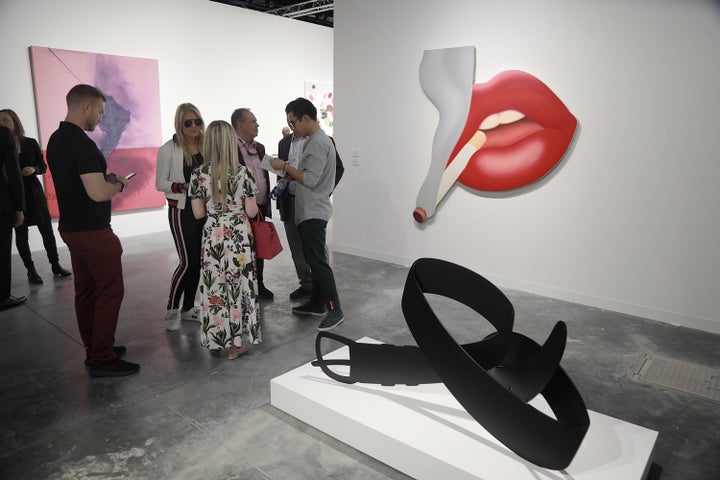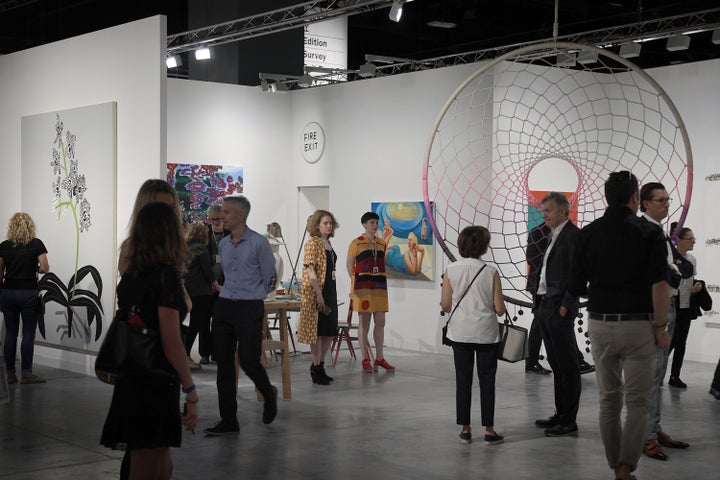 'This year's show definitely had a great energy with its new look, and our booth was extremely well-received. Within the first two hours of the fair, some of our gallery's most important clients came to the booth. With the sale of a major Lyle Ashton Harris piece and an important group of clients visiting us early on in the fair, it is clear that this year's fair was punctuated by significant collectors in attendance and as always, there was interest from buyers early on in the show.'
David Castillo, Owner, David Castillo Gallery, Miami Beach
'We are thrilled to be here in Miami Beach for the first time. The atmosphere at the fair is very unique and imbued with Miami Beach style. Our solo presentation of Koichi Enomoto has drawn significant interest from the collectors, most of which are new connections. It's been a great experience and we sold several works within the first two days.'
Masako Hosoi, Director, Taro Nasu, Tokyo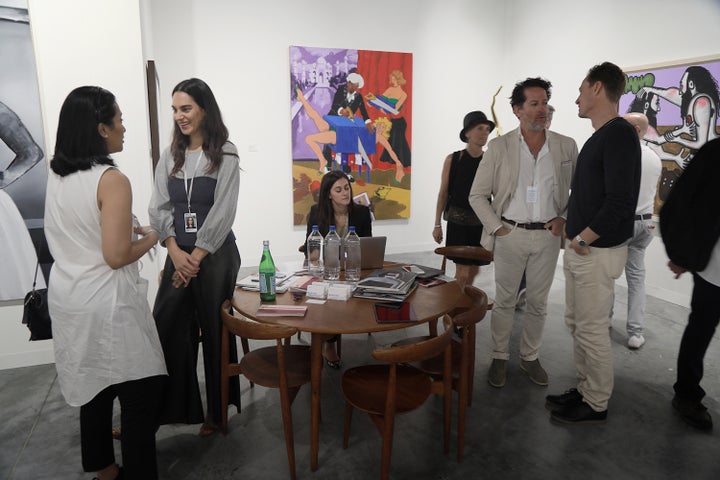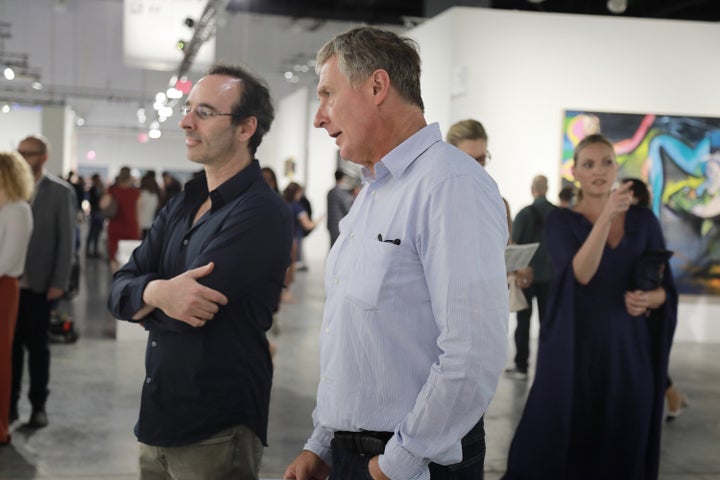 'We had phenomenal sales during the preview days and continued to make many more sales throughout the week. We also received a strong response from curators to Pope.L's ambitious installation in our booth. The show is a great opportunity for us to connect with our collector base and engage with new collectors as well.'
Susanne Vielmetter, Owner/Director, Susanne Vielmetter Los Angeles Projects, Culver City, Los Angeles
'The Rauschenberg work is a tour de force and we were proud to exhibit it at Art Basel in Miami Beach. It has attracted great attention and we are in discussions with two institutions for this seminal work.'
Edward Tyler Nahem, Founder, Edward Tyler Nahem Fine Art, New York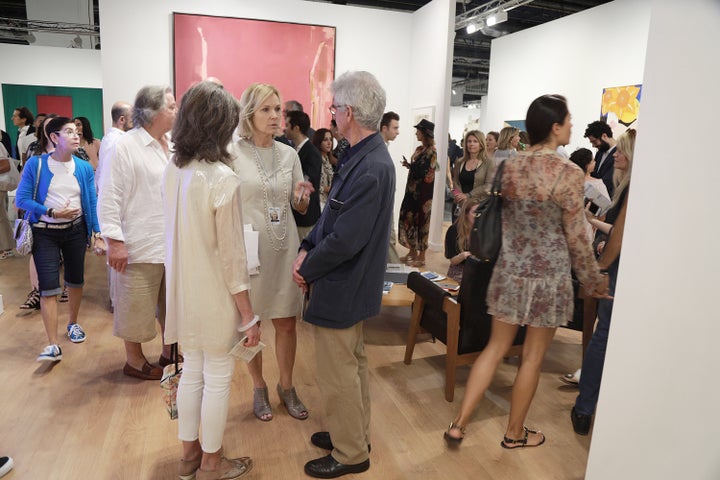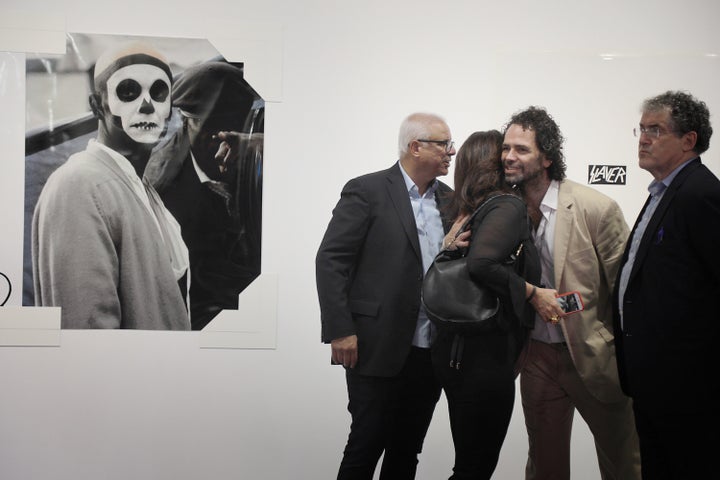 'We are very pleased with our first participation in Art Basel in Miami Beach. Not only has the commercial outcome been what we expected, but the way our stand has been welcomed by the collectors, visitors and the press is beyond what we imagined.'
Franck Prazan, Owner, Applicat-Prazan, Paris
'We have been delighted to return to the fair, and have received strong reception from a diverse number of collectors from around the world. The collector base in Miami is one that is largely diverse, and has provided us a wonderful opportunity to bring further awareness to our unique roster of artists.'
Liza Essers, Owner and Director, Goodman Gallery, Johannesburg, Cape Town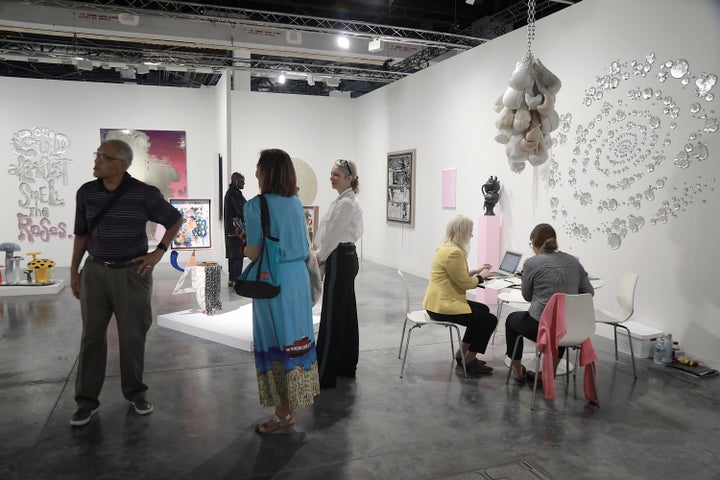 'The fair this year felt more focused – less of a frenzy – and the collectors who visited were serious and engaged. It was clear that the dealers recognized the caliber of collectors and brought excellent work.'
Marc Glimcher, President, Pace, Beijing, Hong Kong, London, New York, Palo Alto, Seoul
'We are thrilled with this year's edition of Art Basel in Miami Beach. It's always wonderful to bring the work of our artists to the global audiences of Art Basel.'
Alexandre Roesler, Partner and Senior Director, Galeria Nara Roesler, Rio de Janeiro, São Paulo, New York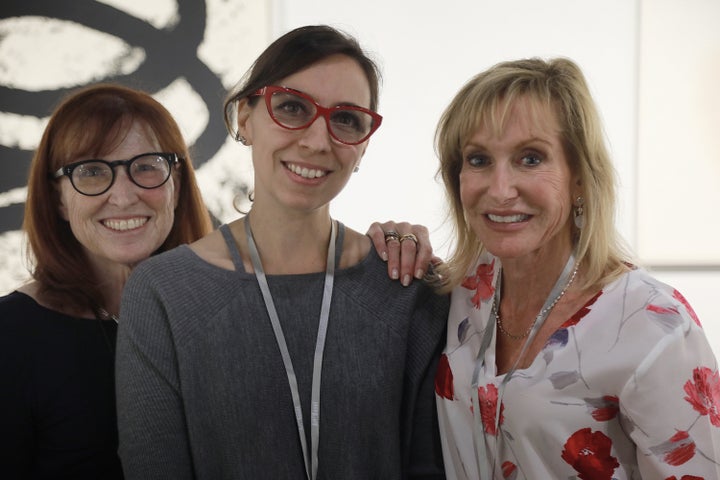 'We are a relatively young gallery and, therefore, a recent graduate to the Galleries sector. We love the new floor plan – our new placement has really positively impacted our experience. We work with a lot of young collectors in San Francisco, many of whom we saw at the show.'
Claudia Altman-Siegel, Founder, Altman Siegel, San Francisco
'In our second year at Art Basel in Miami Beach, we were pleased to see high-caliber collectors with an appetite for masterpieces by established artists.'
Emmanuel Di Donna, Founder, Di Donna, New York
'We were very pleased by the overall fair, both in terms of the general interest we had, and in terms of selling to new buyers. While it was great to see old friends, it was also so nice to meet new ones.'
Brett Gorvy, Co-Founder, Lévy Gorvy, London, New York
'We always look forward to our annual December voyage to Miami Beach, and this year's fair was particularly memorable. We received a very strong response to our presentation featuring 23 artists – from Jonas Wood to Ruby Neri, from Rashid Johnson to Jennifer Guidi – almost selling out the booth in the first few hours of the fair. Despite the exterior construction, the new, more open layout provided a very conversational flow and buoyant atmosphere.'
Kurt Mueller, Director, Institutional and Media Relations, David Kordansky Gallery, Los Angeles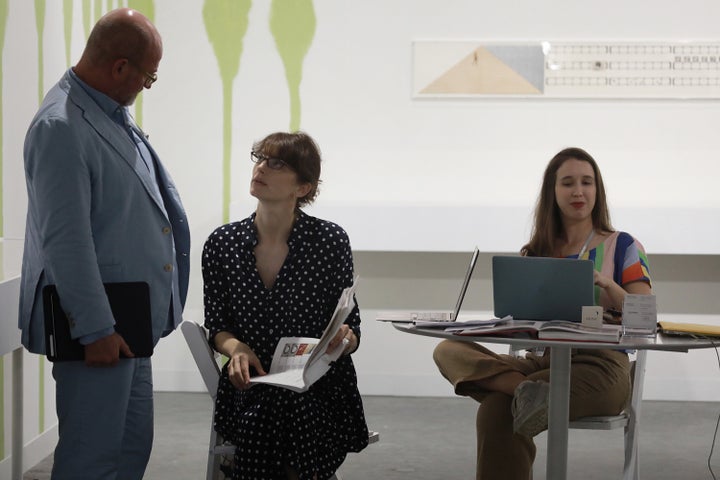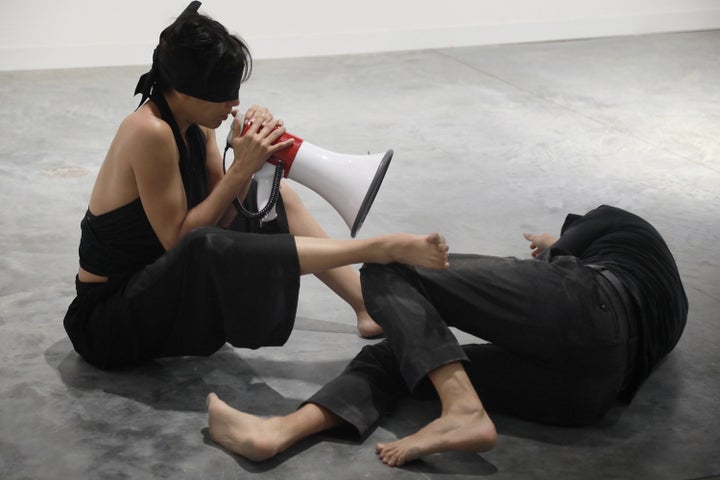 From the Press Release: Galleries
This edition of the show featured 198 of the world's foremost galleries in the main Galleries sector, presenting the highest quality of painting, sculpture, drawing, installation, photography and video works. A strong list of returning exhibitors was joined by 47 Canal, Bureau, Garth Greenan Gallery, Kalfayan Galleries, Galeria Leme, Peres Projects, Galeria Plan B, Sfeir-Semler Gallery, Jessica Silverman Gallery and Tokyo Gallery + BTAP, who graduated from the show's Nova, Positions or Survey sectors.
Highlights in the Galleries sector included a wall installation of works on paper by Sol Lewitt (b. 1928, d. 2007) and floor sculptures by Carl Andre (b. 1935) at Paula Cooper Gallery, a solo presentation by Ugo Rondinone (b. 1964) at Galerie Eva Presenhuber and Ellsworth Kelly's (b. 1923, d. 2015) 'Sumac' at Lévy Gorvy. Edward Tyler Nahem Fine Art's booth featured a large-scale multimedia painting by Robert Rauschenberg (b. 1925, d. 2008) that was originally commissioned by the National Endowment for the Arts in 1979. Galerie Thomas Schulte presented an immersive hanging of Allan McCollum's (b. 1944) 'Each and Every One of You' from 2004, which consists of an inventory of male and female first names taken from the United States census, printed with ink on paper and installed in the order of popularity.
Poignant works engaging with politics, race, gender and social issues had a strong presence in the Galleries sector. Works widely commented upon included a new painting by Peter Saul (b. 1934) entitled 'Donald Trump in Florida' at Mary Boone Gallery, works by Carolee Schneemann (b.1939) and Betty Tompkins (b. 1945) at P.P.O.W., several strong works by LaToya Ruby Frazier (b. 1982) at Gavin Brown's enterprise and a video work by FiammaMontezemolo (b. 1971) at Magazzino. Susanne Vielmetter Los Angeles Projects offered both a large-scale painting and a wall installation made from 28 stacks of plastic cups and wooden shelves by Pope.L (b. 1955), while Goodman Gallery featured an installation by Zimbabwean artist and activist Kudzanai Chiurai (b. 1981).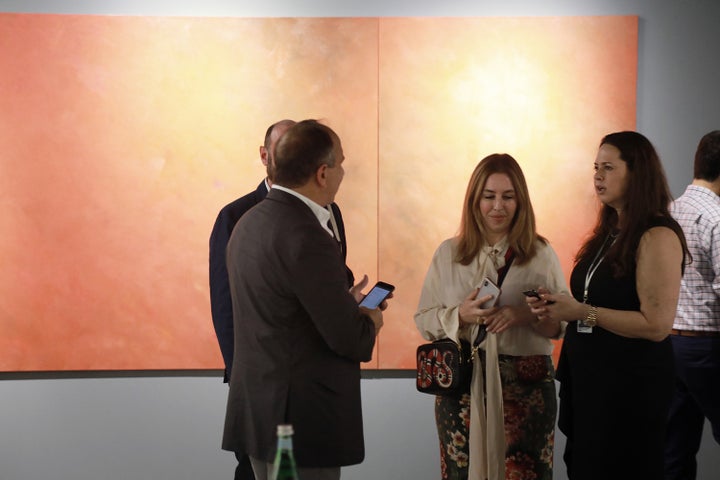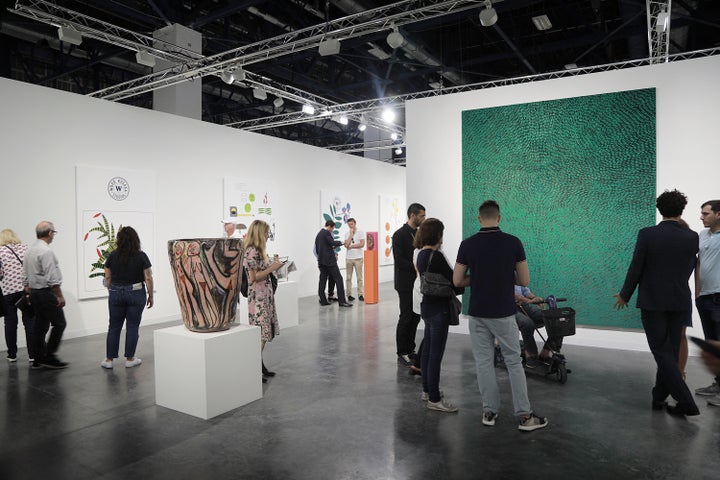 Miami Beach Convention Center
The Miami Beach Convention Center, Art Basel's home since its first edition in Miami Beach in 2002, is now in the second phase of a major renovation, which began in late 2015. Scheduled for completion in 2018, the construction will result in modernized exhibition halls, providing state-of-the-art facilities for exhibitors and visitors. For further information, please visit miamibeachconvention.com/renovation.
Founded in 1970 by gallerists from Basel, Art Basel today stages the world's premier art shows for Modern and contemporary art, sited in Basel, Miami Beach and Hong Kong. Defined by its host city and region, each show is unique, which is reflected in its participating galleries, artworks presented, and the content of parallel programming produced in collaboration with local institutions for each edition.
Art Basel's engagement has expanded beyond art fairs through a number of new initiatives. In 2014, Art Basel launched its Crowdfunding Initiative, in collaboration with Kickstarter. This initiative presents jury-selected art projects to potential benefactors, which include Art Basel's vibrant audience and the Kickstarter community. The initiative has catalyzed much-needed support for outstanding non-commercial art projects worldwide and so far has helped pledge over $2 million to creative projects around the world. For Art Basel Cities, launched in 2016, Art Basel is working with selected partner cities to develop vibrant and content-driven programs specific to the individual city. Connecting them to the global art world through Art Basel's expertise and network, Art Basel Cities supports its partners to develop their unique cultural landscape. For further information, please visit artbasel.com.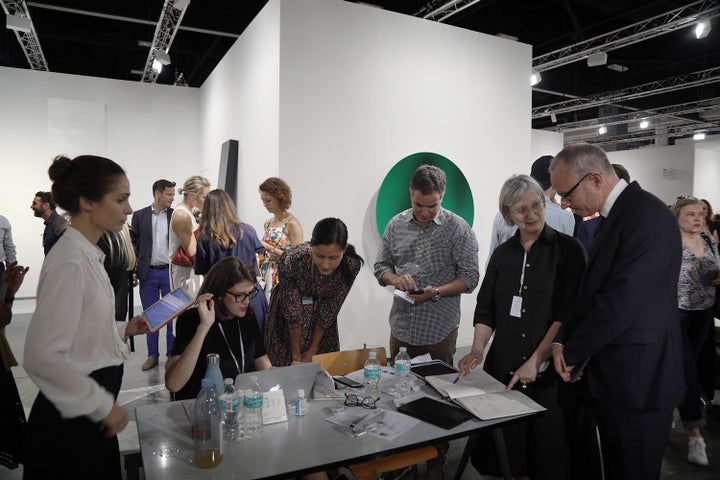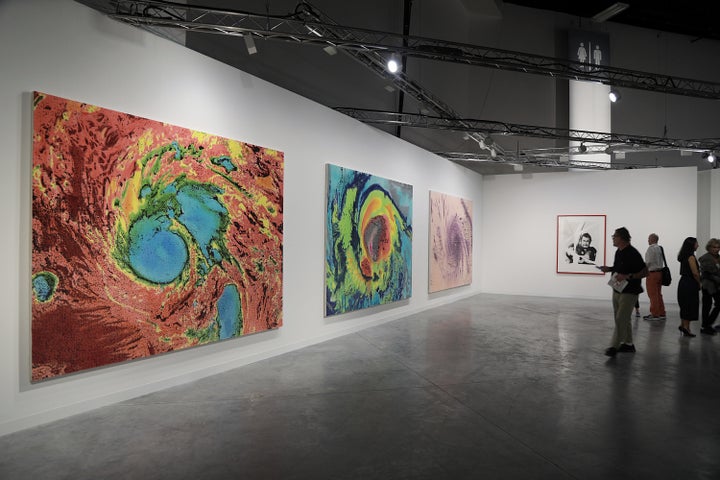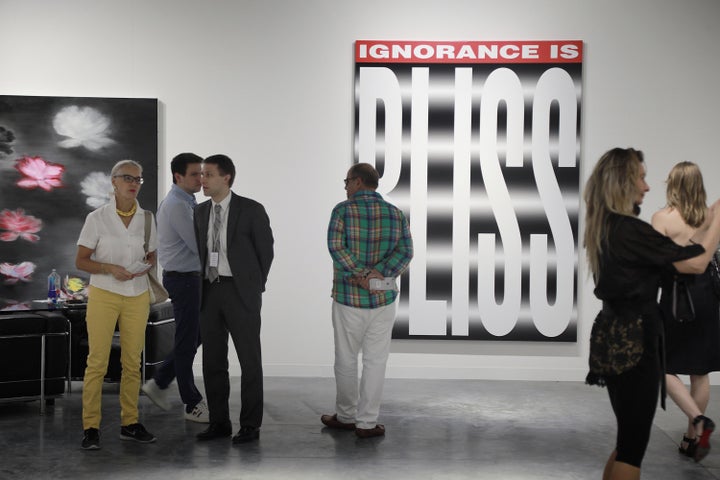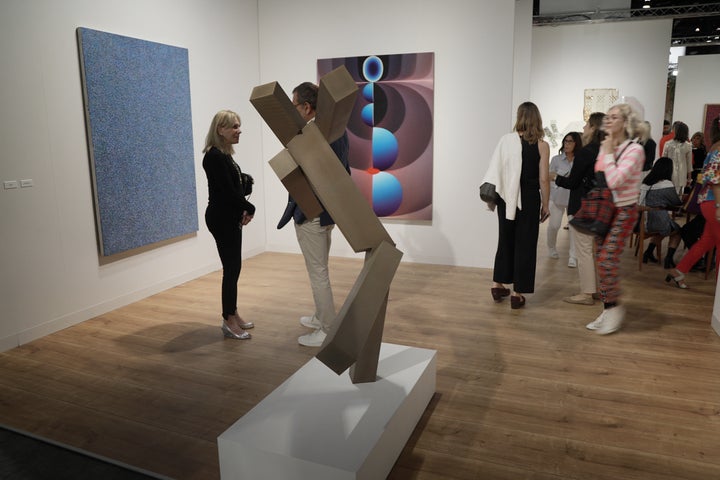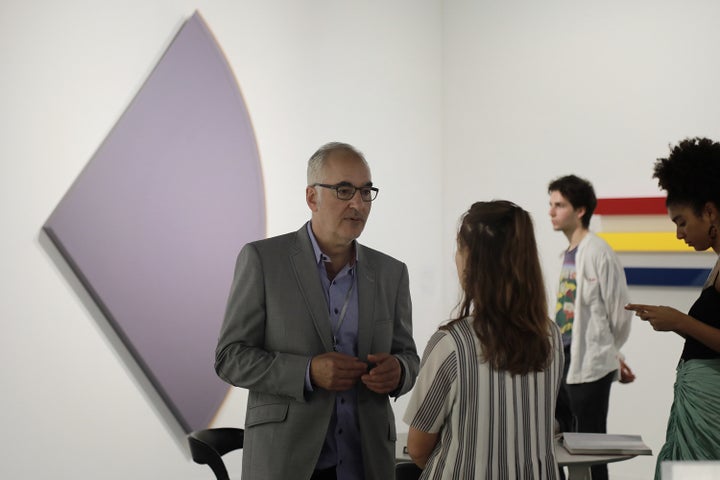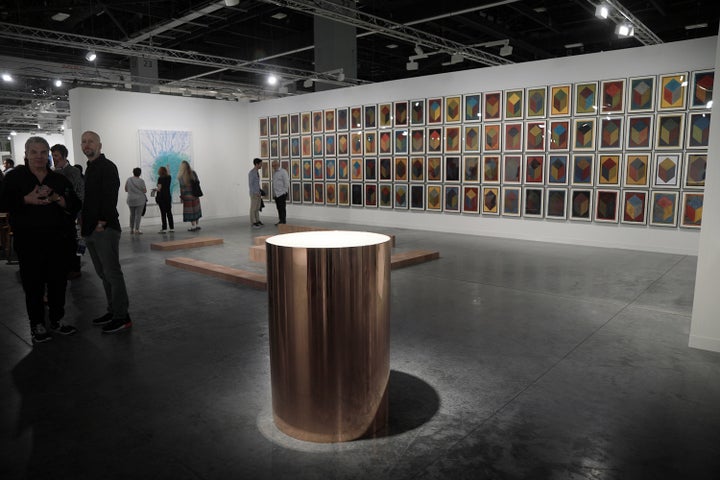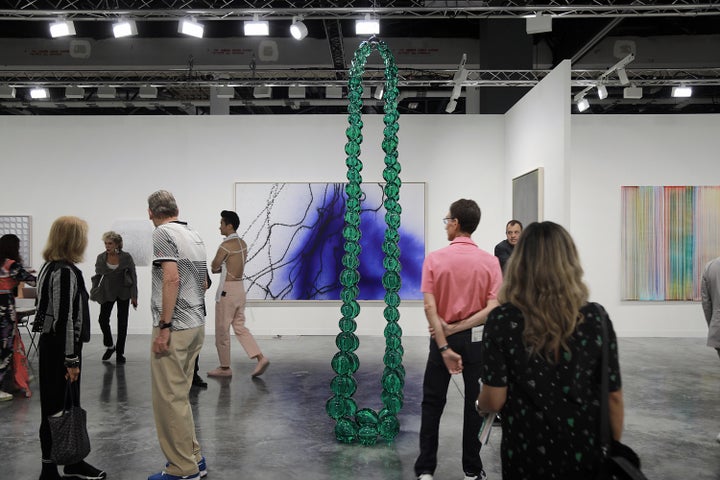 Check out my slideshow on Youtube below...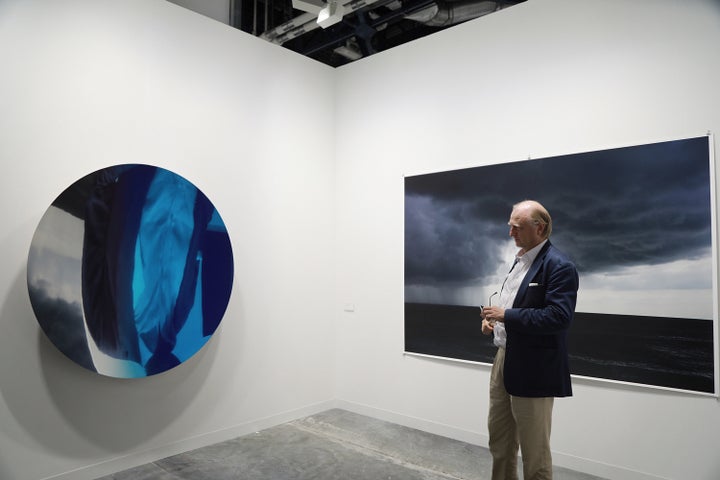 John Mathews, Head of Private Wealth Management and Ultra High Net Worth, UBS Wealth Management Americas, said: 'This marks my 15th visit to Art Basel in Miami Beach and I have seen a new and ambitious fair transformed into the leading art platform in the Americas, bringing together the biggest collectors and the best galleries. It's thrilling to see firsthand what Art Basel has done for the world of art and for Miami Beach.'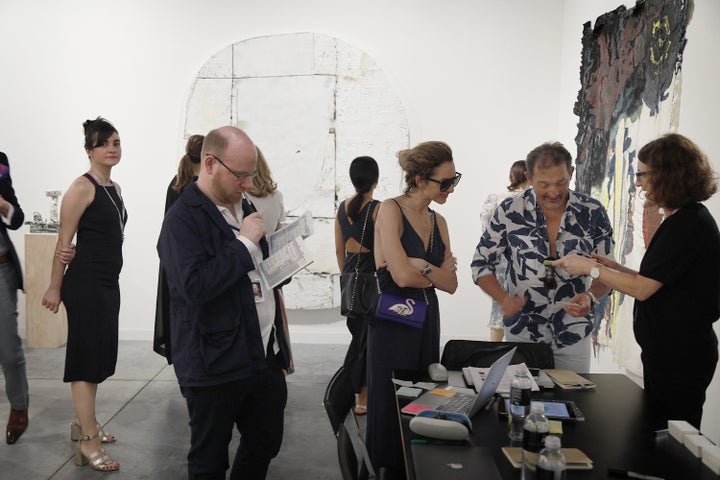 This article is part of an ongoing photojournalism survey of art exhibition openings titled EMS N(art)rative. Through my lens I document a photographic essay or visual "N(art)rative" that captures the happenings, personalities, collectors, gallerists, artists and the art itself; all elements that form the richly varied and textured fabric of the SoCal art world. This reconnaissance offers a unique view for serious art world players to obtain news and information on the current pulse of what's in the now, yet capturing timeless indelible images for posterity and legacy. Here is EMS N(art)rative Sixty-Five.
EMS can be reached at victorpond@msn.com and Instagram @ericminhswenson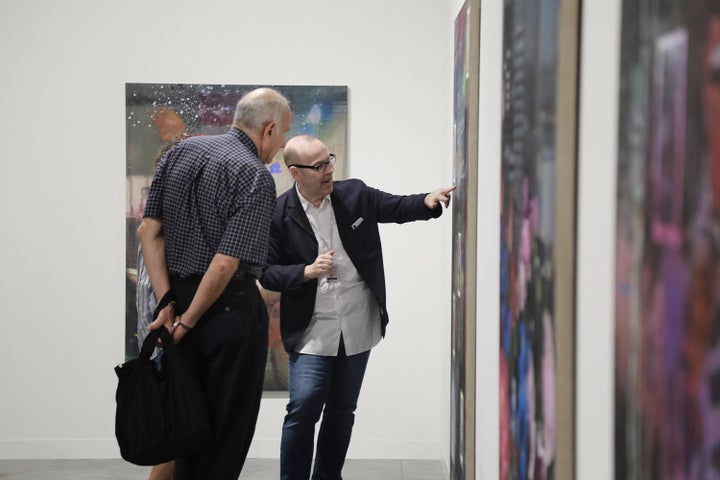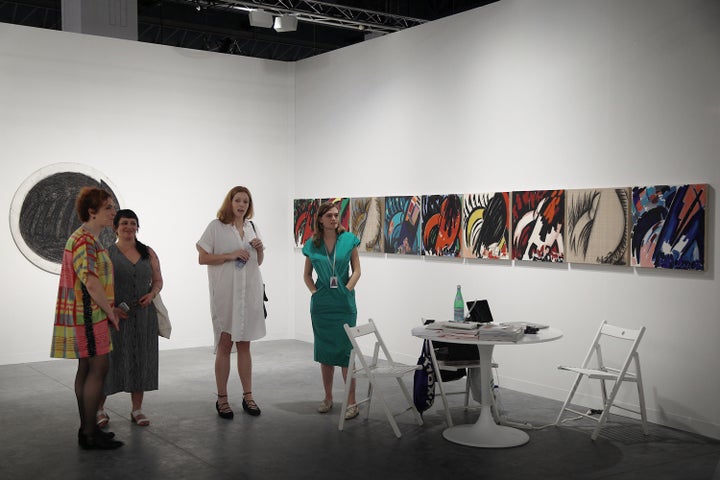 Popular in the Community