How does Art Basel celebrate 10 years of jaw-dropping art and illustrious parties? More art and more parties, of course! 'Art Basel Miami Beach's Ten Great Years Celebration' at Miami's New World Center brought Art Basel's biggest fans together to toast its big double-digit birthday.
In an introduction of the first performance, ABMB co-director Annette Schoenholzer and Performa's RoseLee Goldberg welcomed guests into the one-year-old Frank Gehry New World Center, a breathtaking structure aimed to capture and enhance organic light and acoustics. This particular evening, however, could be described as many things, but organic not among them.
The first performance of the night was 'Performa Orchestra of Futurist Noise Intoners,' featuring an orchestra of noise machines first used in 1913. The performance featured Lee Ranaldo of Sonic Youth and Joan La Barbara and the New World Symphony. Conducted by Luciano Chessa, the show was bizarre and captivating, harking back to modernist experimentation to create a mood simultaneously nostalgic and new.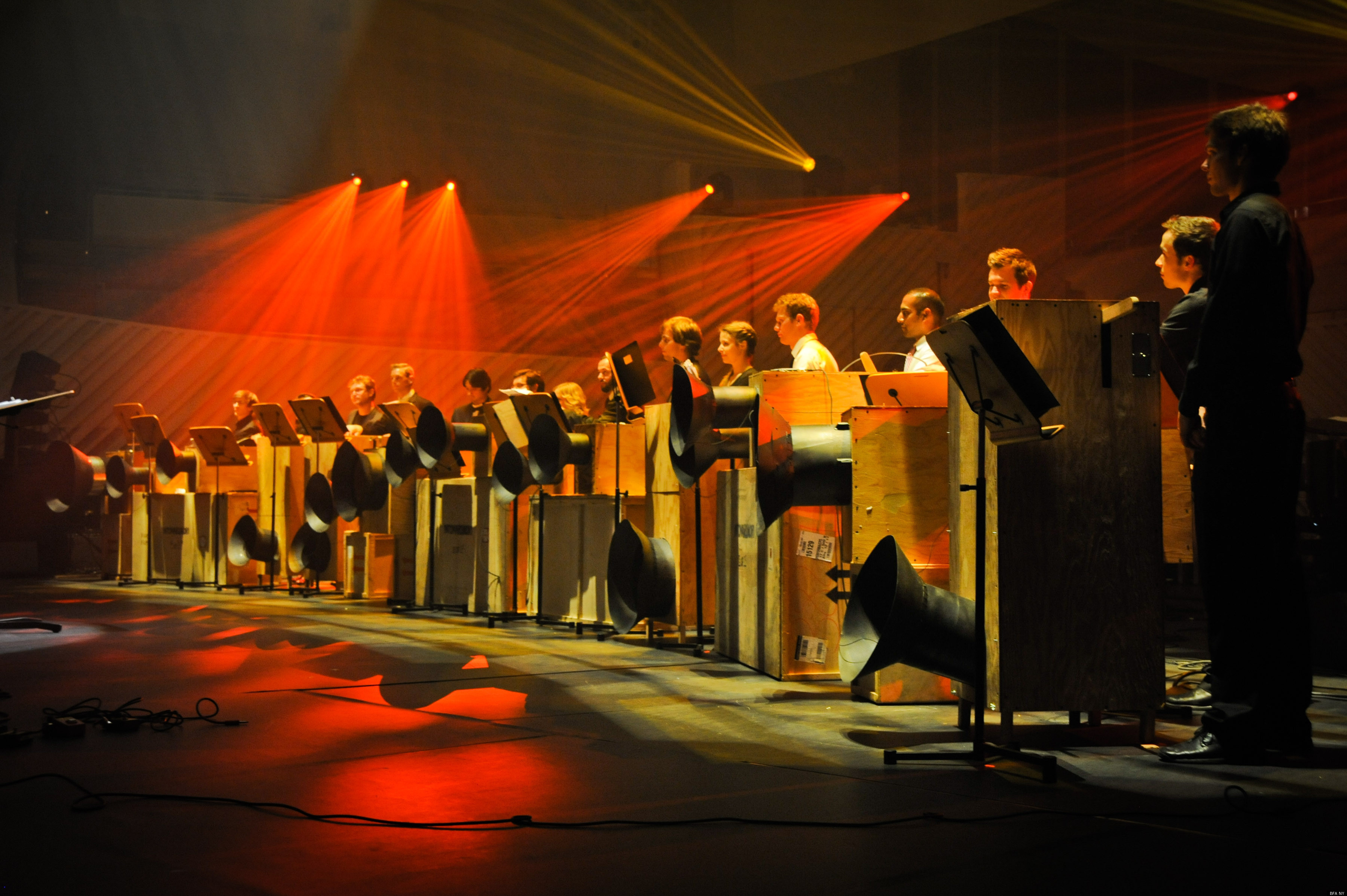 This was followed by a performance by the X-Patsys, Barbara Sukowa, Robert Longo and Jon Kessler with Knox Chandler, Anthony Coleman and Ernie Brooks. The X-Patsys specialize in German cabaret and Patsy Cline covers, revamped with dark intensity and reverberating with audible and conceptual harmonies. The songs blend country-western and avant-garde, Shakespeare and Tom Waits.
The third performance was by iona rozeal brown, the battleofyestermorrow featuring Benny Ninja, Javier Ninja, Rokafella, Beasty, GI Jane, Uko Snowbunny, Lady Beast, and MonaLisa. The dance-battle extravaganza brought the underground ball culture to the big stage.
Other highlights of the night included 'The Joshua Light Show' featuring Joshua White, Seth Kirby, Brock Monroe, Ana Matronic, Bec Stupak, Nica Ross, and Savannah Knoop and a comedy show entitled 'Performa Ha!' that starred Reggie Watts, Dynasty Handbag and Bedwry Williams.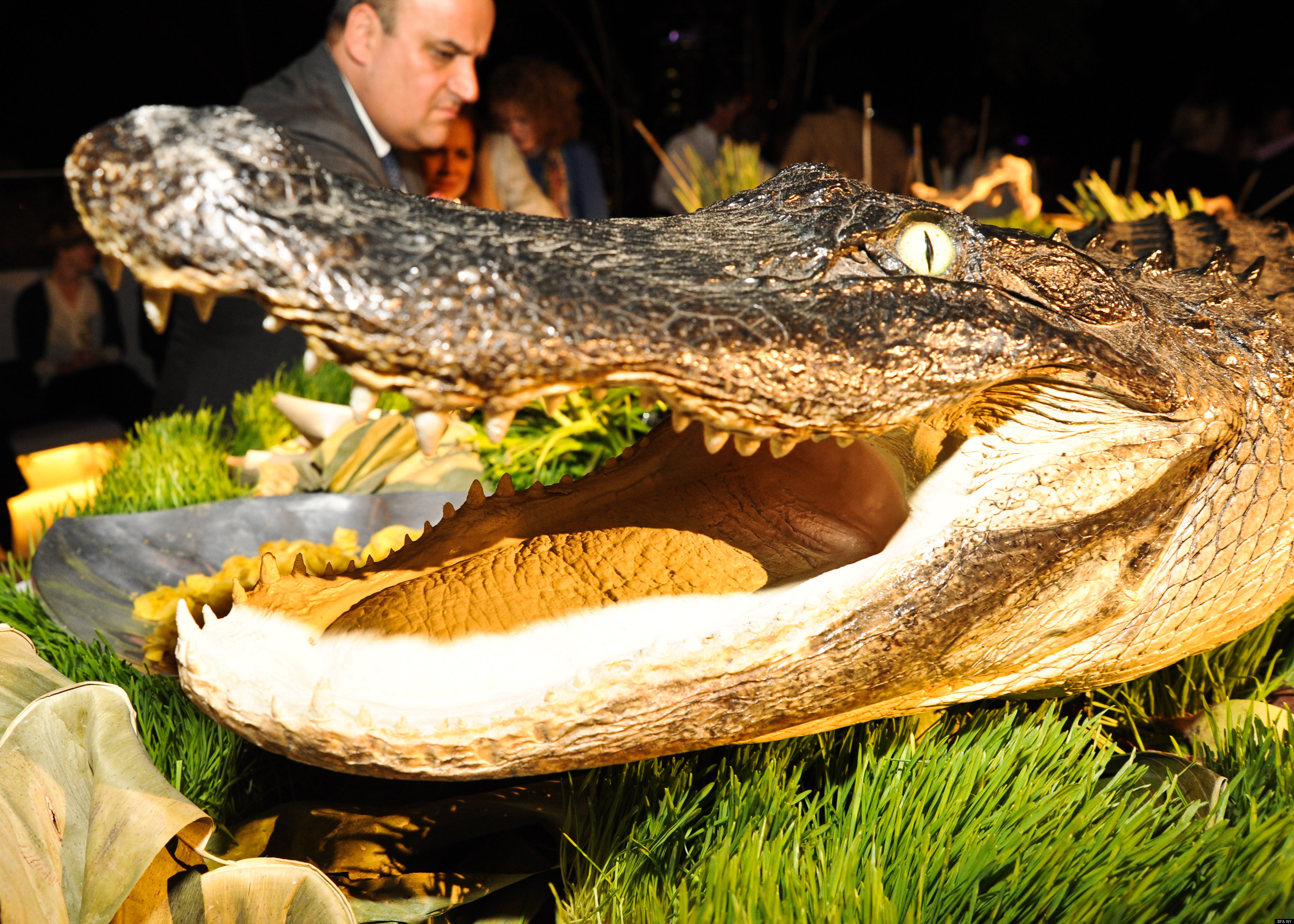 And just to be sure nobody had to imbibe all this opulence on an empty stomach, the affair featured a once-in-a-lifetime dining opportunity which truly gave visitors a taste of Miami. 'Florida Pastoral' by Chef Matthew Weingarten featured a whole alligator, head and all, spread on a table surrounded by a spread of alligator eats. Guests got greasy as they reached into the piles of alligator corn dogs, alligator steaks, alligator nuggets and alligator eggs.
A night dedicated to ABMB's 10th turned out to be a night of 1st's, honoring the inorganic oddities which enhance our aesthetics and our appetites. An event simultaneously hilarious, bizarre, commemorative and avant-garde, if anything could come close to summing up the zeitgeist of Art Basel in a single night it came dangerously close.
All photos are by Carly Otness/bfanyc.com.
PHOTO GALLERY
Art Basel Miami Beach's Ten Great Years Celebration at Miami's New World Center
REAL LIFE. REAL NEWS. REAL VOICES.
Help us tell more of the stories that matter from voices that too often remain unheard.