All I needed was a short weekend away from New York to conclude that Miami is definitely the city of vice. Besides conquering the skill of packing all my belongings in a small leather backpack, my first time in the tropical city went fantastic! From Mansion hopping to drinking to beach parties and discussing art and philosophy, below are some of the highlights from my Art Basel Miami Beach 2014 experience.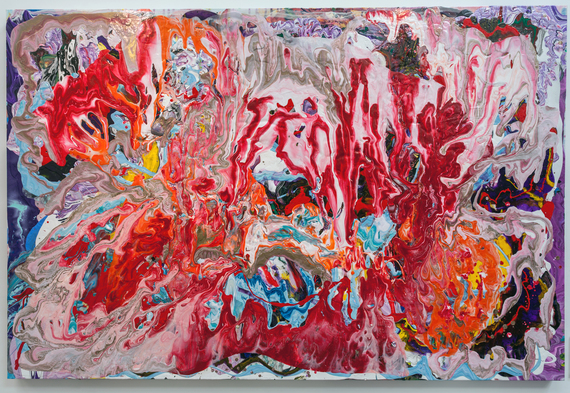 An Artist Dinner With A Muse and Indian Jewelry Designer

Upon arriving to South Beach, I spent the earlier half of the night with a group of cool artists. Lana Gomez, an impressionistic painter working with mix media, invited me to a creative dinner at 1826 Restaurant on Collins Avenue. She was hosting "a night of luxury" alongside Arun Bohran, an eighth generation Indian jewelry designer and her husband Sebastian Mansicalco, Showtime's American stand-up comedian. The evening unfolded with a cocktail hour showcasing the latest jewelry from Arunashi's Marissa collection with models sashaying around the room dressed in green satin gowns, and concluded with an engaging 20-minute comedy act from Sebastian. There was also an exclusive viewing of Lana's most prized paintings hanging from the walls of the restaurant. Everyone from the staff to attendees were dressed in upscale-beachy attire, including Lana's mom, who was wearing a fabulous powder blue two piece halter top and bell-bottom-like stretch pants. I got to chat with Lana on what time of the day she gets the most inspiration (at night) and how long it takes her to complete a painting (it varies), and other fashionable small talk, like her obsession with Libertine. The stylish painter expressed that her work is related to the impressionist painting techniques, comparable to De Koenig and Frankenthaler, as she gets much of her creativity from nostalgic periods in her life. However, Lana notes that she has been painting with abstract curiosity before she even knew about the greats. Lana's authentic skill is very apparent in my favorite painting above entitled, I Can Show You The World, which emphasizes how her larger than life ideas are materialized.
Party Until You're Phoneless in Miami
The celebrations of Basel are very overwhelming. Soho House South Beach hosted a day party, followed by Hypebeast.com's turnup at the Mondrian Hotel South Beach featuring Mike Will Made It with special guest 2 Chainz, followed by Mr. Brainwash's parties at Cibu Wine Bar and at JR & Loren Ridinger's Casa De Suenos with Miley Cyrus, as well as mansion party after mansion party, not to mention three hour dinners at the Fontainebleau or the Delano or the Edition. It was literally exhausting and really hard to keep track, even though I made a schedule of events. At one point on Friday night, my friends and I decided to go to Club Mansion (which was also the VH1 + Scope After Party) when plans of going to see Paris Hilton DJ at Wall fell through. It started out as a good time, but it all went downhill when my friend's phone was stolen directly from her purse! And it didn't help that it was a full moon that night. What's even weirder is my other friend's phone got stolen at Liv the next night, right before some lady asked me for a condom. However, we all still managed to have a great time.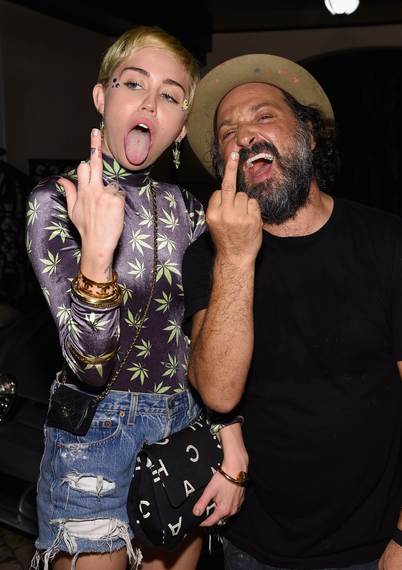 Miley Cyrus and Mr. Brainwash at Haute Living presents Hublot Time Is Beautiful at the estate of JR and Loren Ridinger on December 5, 2014 in Miami, Florida
Photo Credit: Dimitrios Kambouris/Getty Images
The Cool Art I Want in My Living Room
Below is a picture of me taking a selfie in front of this Ken Borochov piece entitled Selfie that was hanging in the MORDEKAI booth at Scope, one of Basel's satellite fairs. Replacing my room light with this installation would put me in a good mood all the time.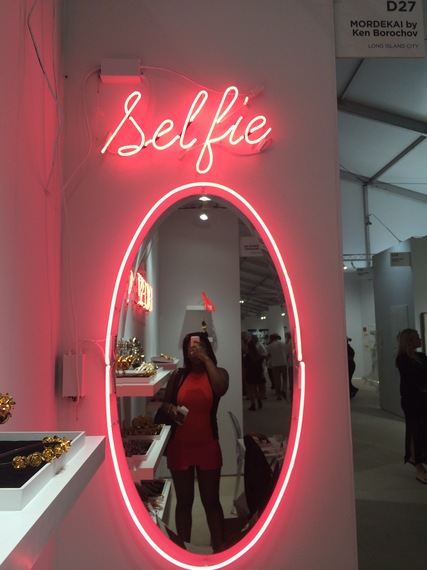 The Print I Bought From Lina Vicktor
This New York-based painter from London works with gold to create mix media, large scale collages of herself and other geometrical shapes in bright hues of blue, purple and red. While walking through the halls of Scope, I saw Lina giving an interview with The Times and I had to stop and stare at her. She is so poised and gives off an unearthly, majestic aura. Apparently, Lina use to work with Spike Lee with directing art videos, and she was commissioned by Billboard and LV for special projects, like paying homage to Wu Tang. When I found out she was signing small prints of her work for twenty bucks, I had to circle back to her booth to get me a piece of history in the making.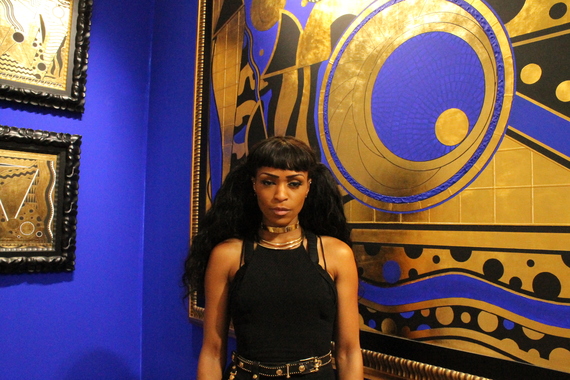 My Second Wind Took Place at the Ritz Carlton
It would be blasphemous of me to take a nap with only a short amount of time in Miami, so I decided to get the new Winter Anti-Pollution Facial treatment currently being offered at the Ritz Carlton Spa in Miami. The treatment combats free radicals most harmful to the skin and creates a shield to protect it using Thalgo America products. My esthetician did the gentlest extractions my skin has ever felt, so much so that I fell asleep and woke up flawless. After the oxidizing treatment, my skin felt energized, silky and luminous. I found my second wind at the spa, freshening up and changing into the dress I bought on sale at this random boutique on Collins Avenue before my facial appointment. I wasn't the only one with this idea; there was some major primping going on in that spa, as their Moroccan Oil hair products, fancy lotions and floor to ceiling mirrors served as the perfect space to get ready for a long evening, not to mention bottomless champagne at my request.
Miami's Biggest Mansion Owner Has Lockers In His Bathrooms
The Dean Estate, owned by businessman and bachelor Bill Dean, has lockers in the pool area bathrooms so guests can conveniently party while their belongings are safely tucked away. I attended a party on Saturday night hosted by Haute Living Magazine and Swizz Beatz, featuring guests like Miami HEAT's Ray Allen and Alonzo Mourning. While this was one of the most exclusive parties I attended at Art Basel, I found it more interesting that there was another party going on inside the house while about hundred other guests were occupying the courtyard area of the property. They told us we are free to roam, but the yachts were off limits. No fun! This was the best place to people watch as there were so many different types of characters floating around, including people dressed as Burning Man aficionados, lawyers, socialites, basketball players and their cute wives and a 120- pound dog that had VIP access anywhere on the property.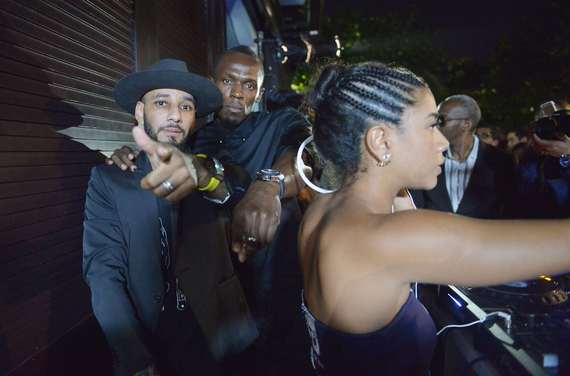 Swizz Beatz, Hannah Bronfman and Usain Bolt attend Haute Living 10 Year Anniversary Party on December 6, 2014 in Miami, Florida.
Photo Credit: Getty Images for Haute Living

The Art District Scene
Everyone I spoke with before my trip suggested a visit to the Wynnwood area in Miami's Art District. So it was not surprising that it also served as a protesting space on Friday night in light of the Eric Garner case. Aside from the protesting that shut down i-95 for hours, the street fair was one of the only Basel events that was actually free and open to the public and featured some up and coming artists' work at affordable prices for anyone who really wanted a Basel souvenir.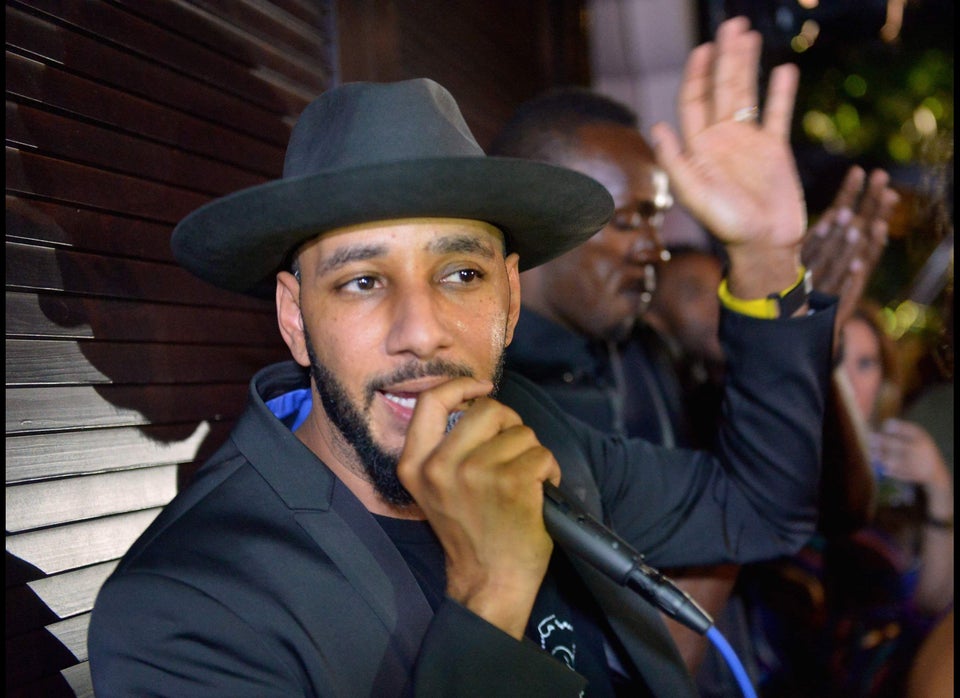 Art Basel Miami: Mansion Hopping, Facials At The Ritz, And Millions Of Dollars Worth Of Art