MIAMI, Dec 9 (Reuters) - A 5-day Miami Beach art show broke sales and attendance records this week, helping to boost the city's image as a cultural hub, as international galleries displayed an estimated $3 billion of paintings, photographs and sculptures at the 12th annual event, organizers said on Monday.
Art Basel, and the dozens of fairs alongside it, appears to have cemented the week as one of the world's top art gatherings, with many hailing it as the most successful yet, both in terms of artistic quality and revenue.
An undisclosed collector purchased a work by sculptor Jeff Koons from New York City-based David Zwirner Gallery for $8 million. White Cube Gallery, which has showrooms in London, Hong Kong and Sao Paulo, sold "Devil's Gate" - an 8-foot-by-8-foot glass shadowbox with rows of preserved insects and spiders - for $3 million.
A decade after opening, Art Basel and the fairs that surround it have expanded their scope beyond multimillion dollar pieces created by prominent western contemporary artists. This year featured the first Brazil ArtFair, solely dedicated to art emerging from Latin America's only Portugese-speaking country.
Additionally Art Basel's launch of a Hong Kong fair in May 2013 has also unearthed wealthy Asian collectors keen on building collections featuring artists from around the world.
Many of the artists and collectors from emerging economies have also expanded their interest and marketability beyond their usual areas.
"We had Americans from Indiana who bought an early (Rufino) Tamayo work," said Mary-Anne Martin, whose New York City gallery specializes in modern and contemporary Latin American art. "We were not only selling Latin American art to Latin Americans, which if you're a dealer is nice to not have to depend on Bolivians to buy Bolivian or Mexicans to buy Mexican."
Art Basel Miami Beach, a spinoff of the art fair held annually in the Swiss city of the same name for decades, first opened to the world in 2002. While the fair, featuring 258 leading international galleries from across 31 countries, serves as a platform for galleries to sell to prominent collectors, the week surrounding it is packed with posh parties at chic hotels sponsored by high-priced clothing, jewelry and car companies.
"Miami seems to have checked its reputation as a week-long party with a bit of art thrown in," said Lucinda Bredin, editor of Bonhams Magazine, part of the London-based auction house.
"This year, art was at the forefront. The quality of works brought by the galleries was remarkable - as were the shows mounted by Miami fixtures such as the Margulies and Rubell Collections," she added.
The fairs have played a critical role in helping Miami reinvent its image as a sun-and-surf city devoid of culture. The Wynwood neighborhood, a once-blighted area just north of downtown Miami, is now home to graffiti murals by world famous artists and galleries that attract collectors from around the world.
An estimated 50,000 visitors fly into Miami for the fair. Art Basel reported 75,000 visitors while ArtMiami, now in its 24th year estimated 72,500 visitors, and more than $100 million in sales, up from $80 million in 2012.
"We are still doing the tallying but many galleries are telling me they did twice as well this year," said Nick Korniloff, director and partner of Art Miami LLC, organizers of three satellite fairs with 243 exhibitors.
"This year more blue-chip works were at the fair from more galleries with very strong international art fair pedigrees," he said. (Editing and additional reporting by David Adams)

Related
Before You Go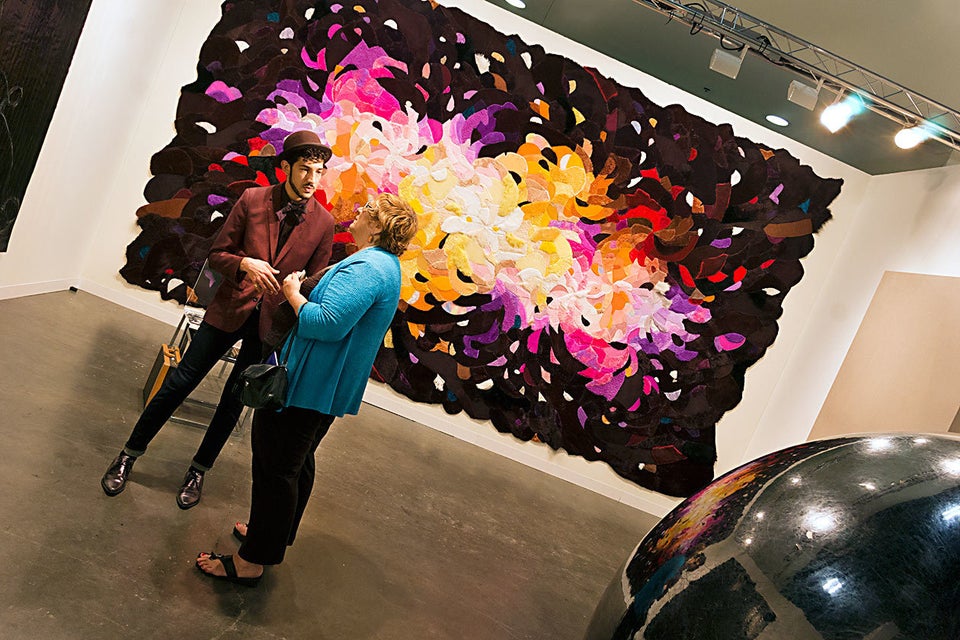 Art Basel Miami Beach 2013