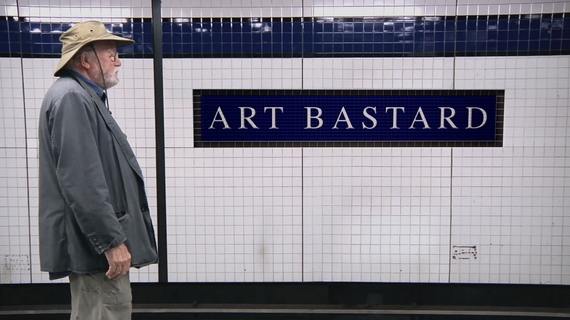 Seventeen-year-old Robert Cenedella walked into his first class at the Art Students League of New York with a small-sized art pad. Scanning the room, Bob realized he was the youngest student in the classroom. "You're going to need a bigger pad," George Grosz, the late German painter, said to Cenedella. The aspiring artist would continue to study under the tutelage of Mr. Grosz (albeit with a much larger pad). Their relationship sparked the beginning of a lifelong commitment to art as a medium for social activism and personal expression for Cenedella.
Born in Massachusetts on May 24, 1940, Cenedella learned at a young age that he was illegitimate. His birth father was a family friend, a professor at Colgate University. After writing a controversial paper opposing atomic bomb drills, Cenedella was expelled from high school. Like his stepfather, who lost his job after being accused of being a Communist, Cenedella refused to compromise his beliefs and endured the consequences.
Daily life in New York City was a wonderland of mythical inspiration for the artist. Cenedella's landscape of peep shows, penny arcades, gritty subways, and streets jammed with bumper to bumper taxis showcased a frenzied circus of satirical humanity. Cenedella's fascination with soaring skyscrapers mirrors a dense, concrete jungle where harried New Yorkers push, pull, scuffle and brawl their way through the city.
"As a painter," says the artist, "I've always felt that the still image ends up being more powerful than the moving image. The still photographer can catch the moment; the painter can create the moment."
The death of George Grosz was a devastating loss to Cenedella. In 1962, he painted The Death of George Grosz (1962), an homage to his mentor.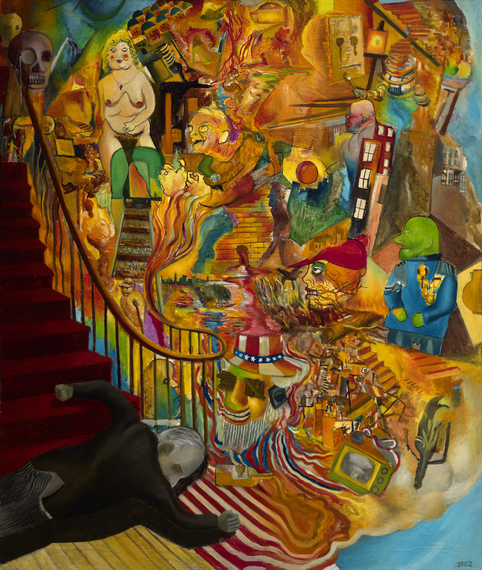 During the 1960s, as Abstract Expressionism was eclipsed by Pop Art, Cenedella continued to paint in the tradition of Depression-era realists. Cenedella's candid visions of life were shunned by a whirling art crowd immersed in a visual lingo of soup cans and Brillo Pads. In 1965, Cenedella curated "Yes ART!," his swan song exhibition to the art world after deciding to join an advertising agency. "Yes ART!" criticized Pop Art and the marketing spin that made it famous.
Le Cirque - The First Generation (1998) depicts notable celebrities and socialites dining at Sirio Maccioni's famed New York restaurant. Cenedella sketched each diner as they frequented the restaurant over a course of many months, producing an esteemed collage of famous faces - the Le Cirque family.
Look closely and see how many famous faces you can recognize at Le Cirque!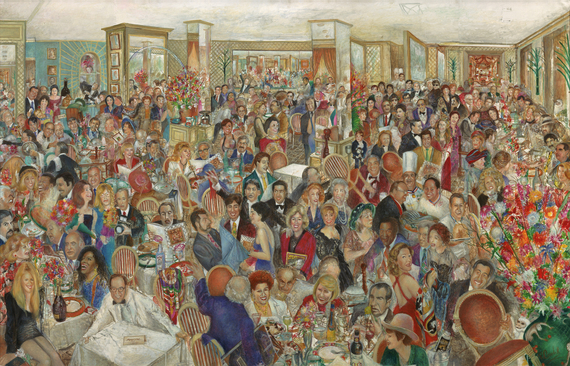 "You want to learn how to think with your hands." Cenedella continues to pass Grosz's sage advice to his students today. Since 1988, Cenedella holds the George Grosz Chair at the Art Students League.
On June 3rd, the award-winning documentary film Art Bastard, a long, overdue homage to Cenedella will premiere at the Lincoln Plaza Cinemas and the Angelika Film Center (check out the art show in the Angelika Café). The film will then roll out into theaters nationwide throughout the summer.
This film spotlights Cenedella as a rebel trendsetter, as well as an artistic practical jokester. An amusing, touching film, Cenedella takes us on his life's journey, sharing intimate and professional details of his life. Cenedella is a scruffy, street savvy guy that can also make a great Italian sauce.
"You can bastardize everything else in your life, but if you compromise with your art, why be an artist?" - Robert Cenedella
Support HuffPost
The Stakes Have Never Been Higher
Related
Popular in the Community