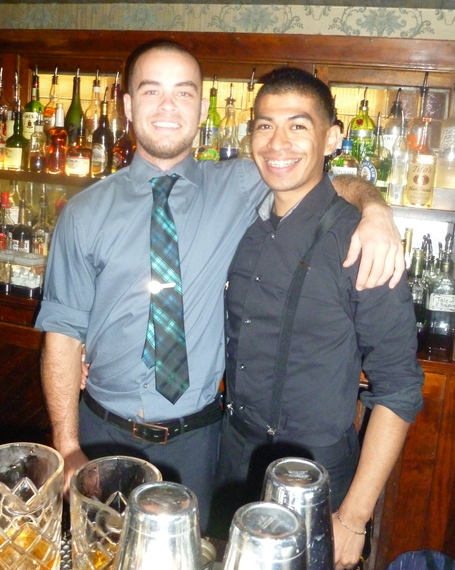 There were two opposing adages that came to mind when I was tasting the new summer cocktails at 1886 Bar at The Raymond in Pasadena -- two heads are better than one, and beware of too many cooks in the kitchen (apparently they can spoil the broth). Luckily I don't go to 1886 Bar to drink broth, and this summer, most definitely, two bartender heads are better than one and the proof is in the cocktail.
Every season, the little out of the way bar than can and does changes its cocktail menu and comes up with daring and dynamic drinks that delight and decimates the cocktail competition in and around Los Angeles. This summer at 1886 Bar is all about collaboration, as bartenders teamed up with other bartenders or kitchen staff or even neighboring bartenders. Seeing as the 'two heads are better than one' philosophy beat out the 'too many cooks' warning, I opted to award Co-MVPs for this summer and the winners were Peter Lloyd-Jones and Jesus Gomez who each are co-credited with crafting three cocktails, making up half of the new 12 libations this season.
"We have a really dedicated team that's super-creative, and when I let them go to town, they really go to town," 1886 head barman Brady Wiese says. "This menu wasn't my idea -- it was all of the 1886 crew. They wanted to work with some of the bars that have popped up around town, and they wanted to work with the kitchen as well."
Maybe I've spent too much time bellying up to the bar, but there's something really cool about watching a bartender, dare I say mixologist, in action. And spend any time with Aussie Lloyd-Jones or Gomez, the homeboy with a heart of gold, and you'll spot their charisma and personalities in their drinks, so beware, because their summer cocktails go down easy but pack a punch.
A fan of boozy drinks, Jesus Gomez, also known as Chuy, really made his presence felt this season. And what a story this 23-year bartender has to tell. Born and raised in Mexico City until the age of 11, Gomez has been working at 1886 Bar since he was 19, and this is really the only job he's ever held, besides painting with his dad for extra cash. He started as a dishwasher, became a busboy, later a kitchen runner, bar-back and now a bartender on the rise in arguably the best cocktail program in the Southland.
After his first sip of the Tiki classic Zombie, Jesus was hooked and says "everything changed." This summer he teamed with Kelly O'Hare from nearby Sonny's Hideaway in Highland Park and their Calypso cocktail is a damn fine mix of fig-infused Hamilton pot-still rum, El Dorado 12-year, Benedictine, Carpano and a blend of Angostura and tobacco bitters -- think of this as an icy cold rum Manhattan.
"Working with Jesus was a fun and extremely comfortable experience," says cocktail collaborator Kelly O'Hare. "It wasn't really like work at all. It was refreshing to be able to bounce ideas back and forth without restriction. We would take turns tasting things and then build on each other's contributions. It was an ideal collaborative experience. Jesus is a master of the Tiki Craft Cocktail and I can't wait to work with him again."
While the Calypso is a rummy good time in a glass, it's hard to call it as Tiki, but it's really easy to call it potent.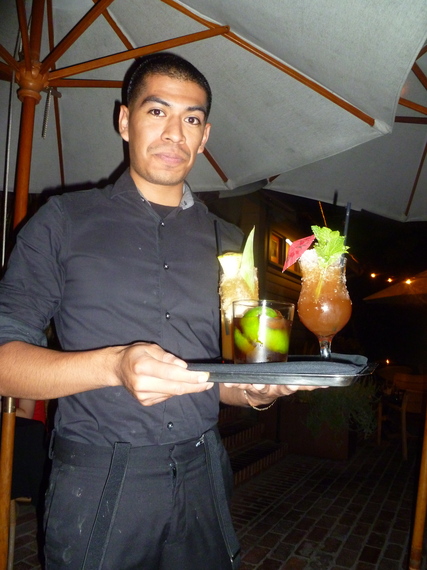 "The Calypso is a more masculine Tiki cocktail because it is free of fruit juices," O'Hare explains. "It is booze-forward and though it does not have fruit juice it still has citrus oil from a whole lime peel that we use for the garnish."
The duos other standout drink is their Nine Pieces of Eight, a drink consisting of nine, count 'em nine, ingredients, which you might think would be overkill but it's not. A Tiki gem made with fig-infused black rum, 100-proof rye, bonded apple brandy, Cio Ciaro amaro, velvet falernum, honey, fresh pineapple, fresh lime, and fresh white grapefruit juice, this one gets two thumbs up from me and would make Isaac Washington from "The Love Boat" one jealous bartender.
"The Nine Pieces of Eight is a more traditional Tiki drink that mixes various liquors and amaro with pineapple, lime and white grapefruit juice," O'Hare points out. "The citrus element in this cocktail is unique because of the white grapefruit and the way it interacts with the spices. The fig-infused black Jamaican rum is another element that makes this drink special."
Talk to Jesus Gomez about cocktails and it's obvious he's enthusiastic and passionate about his craft, but his shy demeanor is also as refreshing as his drinks.
"I'm just a guy who's really into detail and garnishes and proportions," Gomez says. "I still have a lot to learn. Every single time I go to a bar or meet somebody new, I check the way they work and ask a lot of questions and from there I get new ideas. A lot of people come in and order my drinks and like them, and they don't know that they're my drinks. That's a really good feeling."
A fellow fan of Tiki is Sydney's Peter Lloyd-Jones, who has been at 1886 Bar for nearly four years and always designs the bar's impressive drink menu. The first cocktail he drank was a Dark 'n' Stormy back home but he does point out that in Australia they come canned. A rum and rye fan, the Caipirinha was the first drink he mastered making. And he's come a long way, now crafting creative and stellar drinks for avid cocktail lovers. Gone are the "white wines for the ladies and beers for the fellas who would just get hammered," back in his native Australia.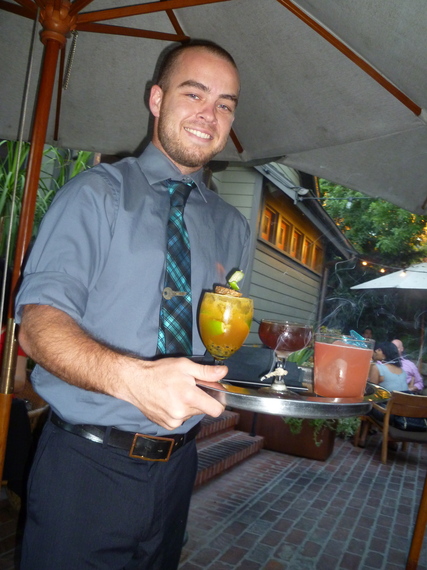 This summer Lloyd-Jones partnered with Jesse Phillips, another Sonny's Hideaway bartender and their 36 Chambers is a solid, smoky sensation made with Hakushu (peated) Japanese whiskey, Yellow Chartreuse, Averna amaro, tobacco tincture, and combusted lemon oil served in a frozen, incense wrapped glass. Think of this as probably the stiffest drink on the summer menu.
"We didn't mean to do that," the affable Aussie says, "we just want to give people bang for their buck. I think cocktails should be boozy."
Likewise, the same duo also created the Abandon Ship, made with cognac, 100-proof rye, 150-proff rum, Cynar, fresh lime juice and fresh passion fruit, served in a goblet of cracked ice with a flaming, seaworthy garnish. Love the presentation! While you might think this would be very boozy and perhaps too potent, it's all about balance and everything really comes together here.
To finish his summer hat-trick, Lloyd-Jones and pastry chef Isaac Carter from The Raymond really scored with their Blue Sky, a potent punch of mezcal, reposado tequila, fresh watermelon juice, and habañero-infused vanilla syrup.
While I personally love a stiff drink, I assumed Lloyd-Jones does too, so imagine my surprise when I found out he has a sweet tooth, which led me to ask, what's the secret to good drink?
"Balance, and balance for a pretty broad audience, that's what's important, not just balance for me because I like my cocktails sweet," he explains. "When I taste my cocktails, if they taste good, I always dial back my sweetness."
While some bartenders embrace the title of mixologist, these guys aren't concerned with monikers, instead they just want to make the best drink possible.
"I'm a bartender for sure," says Lloyd-Jones, "just because I'm confused what mixologist means and a lot of people hide behind that word. In the words of Danny Cymbal, who used to work here and now works at Cole's, I'm not a mixologist I'm a bartender who cares."
"I don't think there's much difference," says Gomez, "but I think mixology has to do more with flare and a bartender is basically doing their job correctly."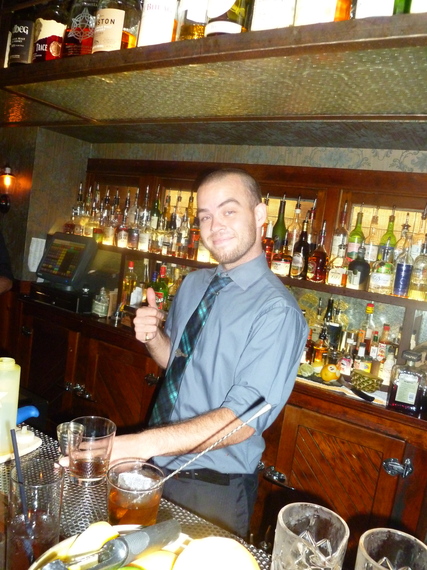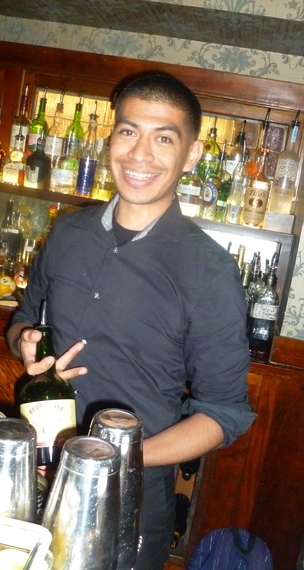 1886 Bar at The Raymond is located at 1250 S. Fair Oaks Ave in Pasadena. Call 626-441-3136.
REAL LIFE. REAL NEWS. REAL VOICES.
Help us tell more of the stories that matter from voices that too often remain unheard.