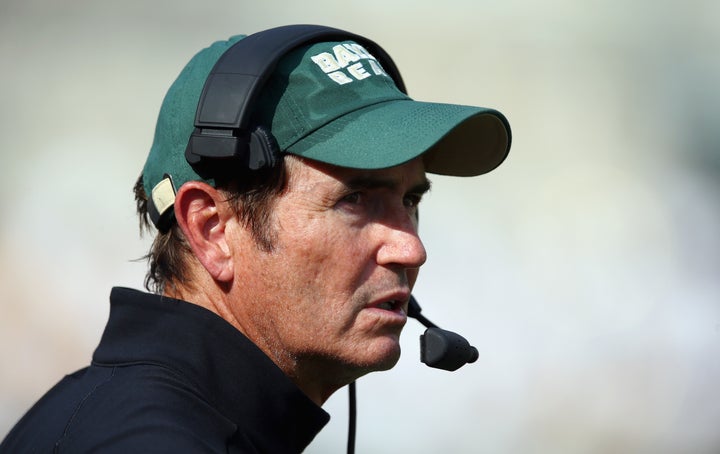 Former Baylor University football coach Art Briles was unceremoniously removed from his post last month for his part in the school's flagrant mishandling of sexual abuse accusations, many of which were directed at Briles' own players.
According to law firm Pepper Hamilton's independent investigation of the scandal, Briles -- along with other university figureheads including then-President Kenneth Starr -- systemically overlooked, shushed or directly subverted victims' stories and allegations, making decisions that "posed a risk to campus safety and the integrity of" the school itself. Briles and his staff allegedly "reinforced an overall perception that football was above the rules," choosing to work to "discredit complainants" and "den[y] them the right to a fair, impartial and informed investigation" rather than confront the team's pervasive, toxic problem head on.
The reports went on -- with the school's former board chairman Gale Galloway declaring that Briles "deserves to be reinstated." And while the Baylor board of regents did not end up voting on the matter Monday night as was initially reported, the fact that university leadership would even consider resuscitating the career of a man who did so little to counter a culture of sexual violence was enough to make one family member speak out.
Talking with FOX Sports on Tuesday, the victim's relative called it "unbelievable" that board members would "entertain the idea" of a Baylor-Briles reunion, later declaring: "I've hit that point now that I don't know if I can get any madder."
"I'm surprised [the school hasn't struck down the idea] because it's a place in crisis mode, and they're trying to recover their image," the family member said. "But then again, I'm not really that surprised because obviously this type of thing has been their method of action all along. We were led to believe one thing that was happening, when it wasn't. It's actually very similar to how they handled things before."
"This is a very dirty place that we've seen has been very conniving and low down," he continued. "It's hard to fathom because not only is this a university, but it's a Christian university."
REAL LIFE. REAL NEWS. REAL VOICES.
Help us tell more of the stories that matter from voices that too often remain unheard.
BEFORE YOU GO
PHOTO GALLERY
Images From 'Surviving In Numbers' -- A Project Highlighting Sexual Assault Survivors' Experiences