"I think this culture is very much like a dead language, without anything in common with the language spoken on the street. " French artist Jean Dubuffet proclaimed, referencing Western culture in particular. "This culture drifts further and further from daily life... It no longer has real and living roots."
More than for any singular artwork, Dubuffet is remembered as the founder of Art Brut, literally translated to raw art, now often referred to as outsider art. The term applies to works made outside of an academic or artistic institution, often in isolation or as the result of a loosely unconventional upbringing. Art brut, at least in theory, is the unmediated result of authentic creativity, that spark that compels you to doodle on a napkin only to throw it away moments later.
Dubuffet was born on an urban French commune to bourgeois wine merchants in 1901. At 17 years old, he moved to Paris to study painting, and before long, dispirited by academics, left to study independently. He painted on and off, finally exhibiting work in his first solo show at the age of 43. He painted people, on the subway and in the home, their rainbow-colored bodies the shapes of stacked, misshapen fruits.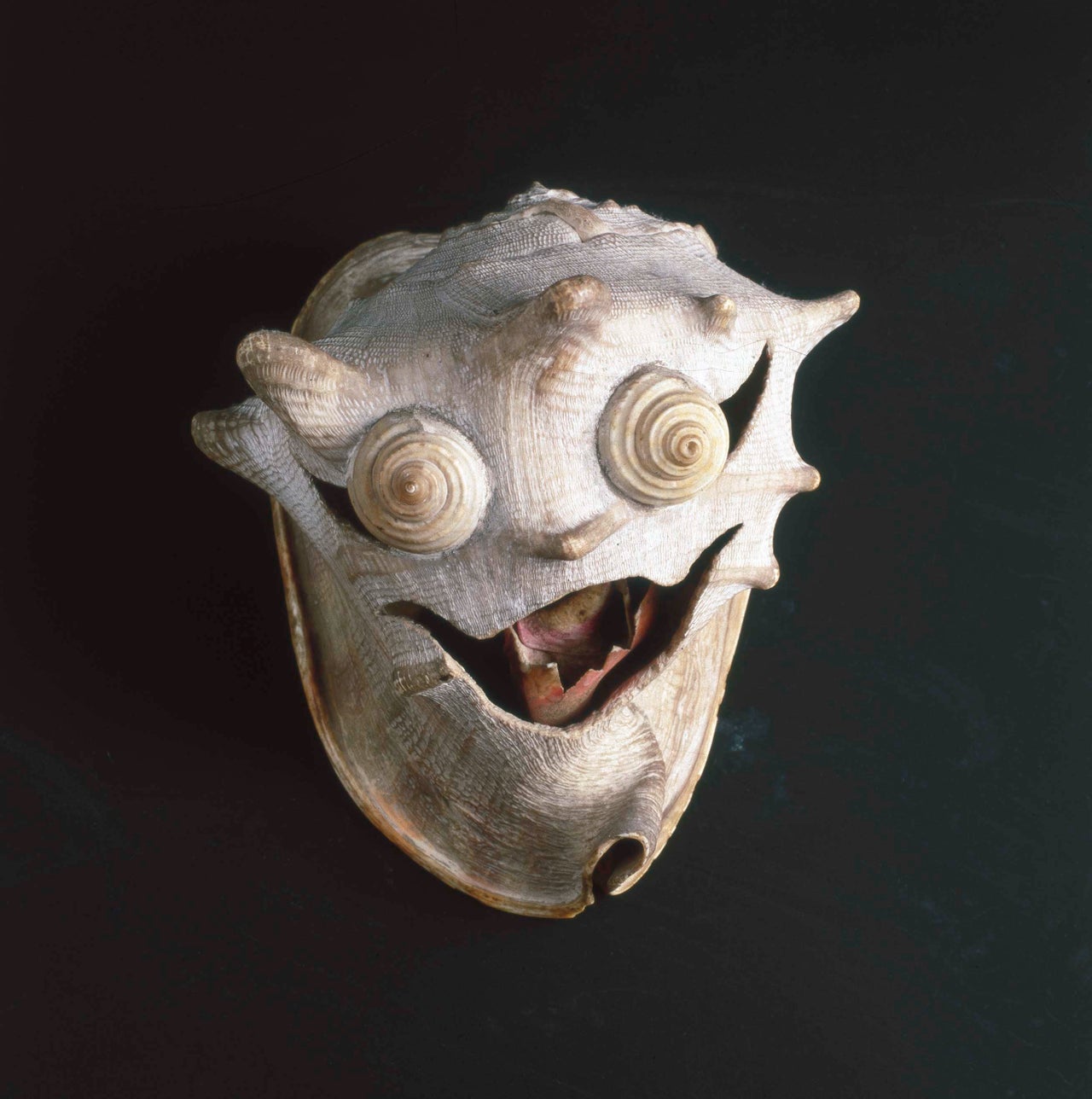 You can see a sense of art brut in his early works, before his style even had a name. The crudeness of a line, without hesitation or plan of attack. The noses shaped like upper case Ls and legs shaped like chicken drumsticks. Dubuffet wasn't aiming for a realistic representation of the spaces around him, nor was he interested in the bourgeoning intellectual movements abstracting the world through specific, lofty lenses. He was after something faster, dirtier, harder to describe or pin down, the very thing that Western culture had tried so hard to grasp it lost hold of completely.
During a trip to Chicago in 1951, Dubuffet delivered a lecture claiming that "primitive" artists -- namely children, people hospitalized for mental illnesses, prisoners, and other societal outcasts -- are the sources of true art. Art that is violent, passionate, instinctual and real. This same year, he decided to introduce his diverse art brut collection to the United States.
Dubuffet had been compiling a collection since 1945, and had accumulated nearly 1,200 works by 120 artists, some of whom were children or anonymous artists. He hoped an exhibition of some kind would stimulate the art brut movement abroad, while clearing out some space of his own. The works lived temporarily in the mansion of Dubuffet's friend, collector and artist Alfonso Ossorio, in East Hampton, Long Island, until 1962, when Dubuffet decided he wanted them back.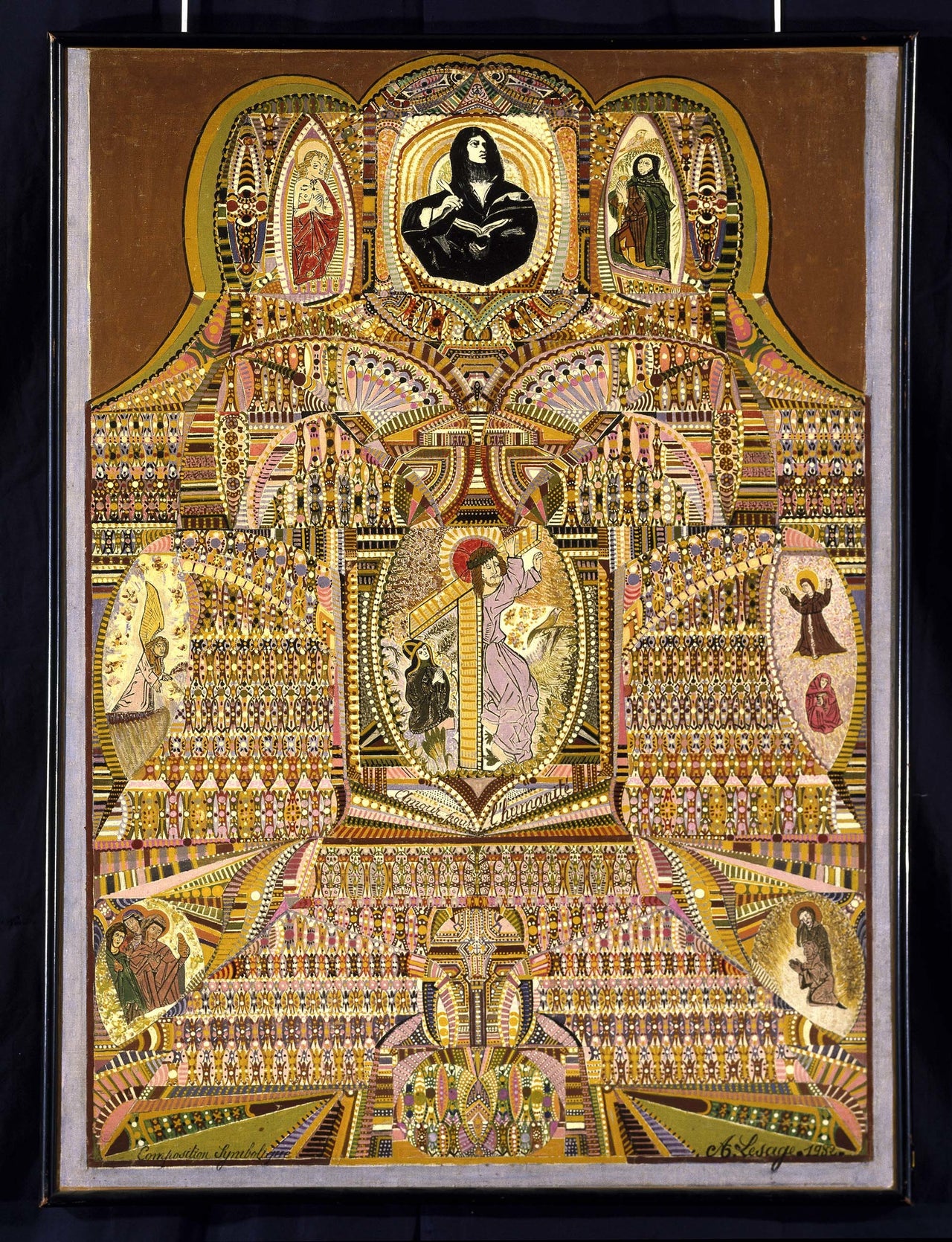 During its brief New York stay, Dubuffet's art brut collection lived in the same white-walled spaces as mainstream artists who'd occupied them previously. Only instead of being spaciously displayed, the works, a hodgepodge of sizes, artists and media, were tightly jammed into a room, with works leaning on walls or set down on tables. A punch-drunk colored pencil drawing by Swiss artist Aloïse Corbaz lived near a painted piece of flint made by Austrian prince Alfred Antonin Juritzky-Warberg, known as Juva.
Revisiting this nearly forgotten blip in the history of outsider art, the American Folk Art Museum is exhibiting 160 pieces by 35 artists from Dubuffet's collection, in a series titled "Art Brut in America: The Incursion of Jean Dubuffet." The lively exhibition offers a glimpse into America's early brush with a controversial genre, through the lens of an equally controversial man.
Included in the show are the hypnotic paintings of French artist Augustin Lesage, who worked as a miner until, at the age of 35, he heard a voice in the mines telling him to paint. He started with drawings, dictated by the voices of the dead, including his sister who passed away at three years old. His first painted work stretched to 97 square feet over the course of a year. Throughout his life he created around 800 paintings, depicting imaginary architectural forms that balloon out into a kaleidoscopic oblivion. Resembling a church rotunda, teeming with various colored vines, feathers, and clouds that mutate and multiply until no space is left empty.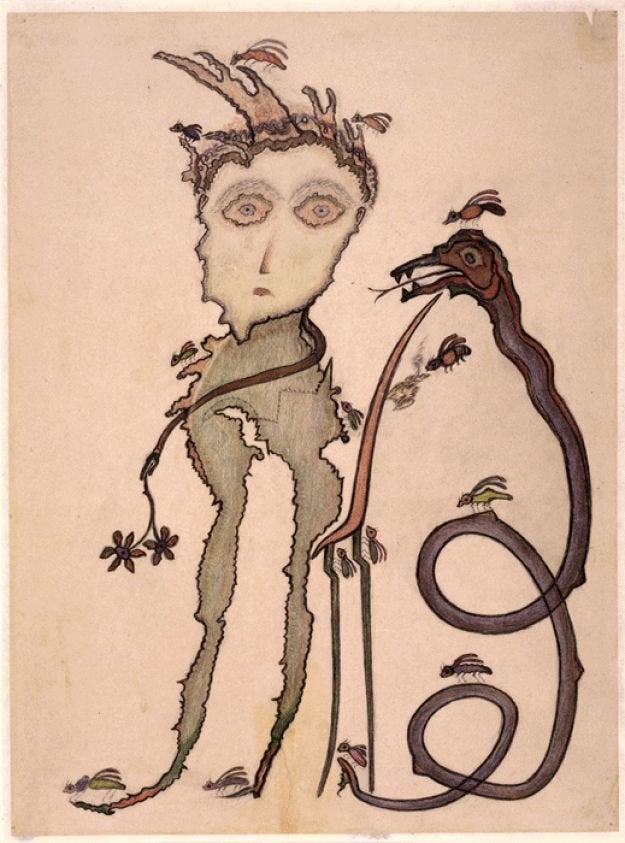 Then there are the eerie drawings of Heinrich-Anton Müller, who in 1903, at the age of 34, invented a functional machine to "cut vines with the aim of grafting them." He registered the idea for a patent, but it was purportedly stolen before he had the chance. The ordeal left Müller in a psychiatric hospital, where he started drawing imaginary beasts on the facility walls. His sinewy drawing above, made from colored pencil, features a bug-eyed boy alongside a coiling snake, their compositions frazzled as if by electrical shock. Insects flock to his head and feet, while the outlines of his body appear singed like paper too close to a flame.
The multifarious works in the collection converge on a single, if troublesome, element. They are made outside the dominion of mainstream culture, away from academic principles, intellectual play, market influence and artistic trends. They are frequently the result of what Dubuffet called "mental spurts," the kind of unmediated creative urge that all artists dream of, as primal as a shriek of pain.
Of course, some artists' "mental spurts" are more dramatic than others. As Peter Schjeldahl points out in The New Yorker, "naïveté is never absolute." Therefore Juva, the aforementioned Austrian prince, was well-educated and never institutionalized. Similarly Russian artist Eugene Gabritschevsky, the son of a well-known bacteriologist, grew up in a privileged family that encouraged him to travel, make art and observe nature. He went to Columbia and later joined the Pasteur Institute in Paris before he was debilitated by mental illness and sent to a psychiatric hospital.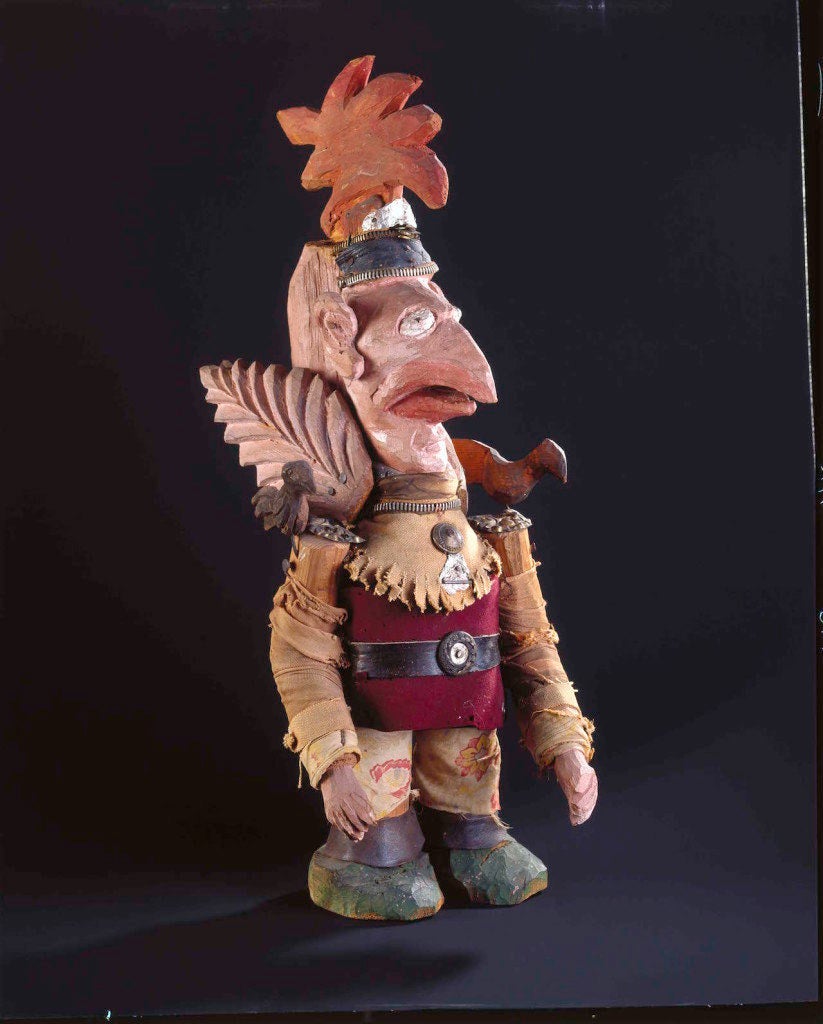 Still, together, these works serve as examples of an unseen history of painted-over graffiti, scribbles locked in diaries, prison tattoos, childhood art projects and other overlooked art. For Dubuffet, who believed that sand was as precious as gold, there was nothing elevating the works in the Louvre above a child's chalk drawing of an imaginary friend.
"If there is a tree in the country," Dubuffet said in his "Anticultural Position" speech, "I don't bring it into my laboratory to look at it under a microscope. I think the wind which flows through its leaves is necessary for the knowledge of the tree and cannot be separated from it, as well as the birds which are in the branches, and even the songs of these birds."
And yet, the collection of art brut was to Dubuffet like finches to Darwin: examined, codified, removed from the files of psychiatric hospitals and the basements of anonymous homes to be analyzed and appreciated. He chronicled the works in an ethnographic fashion, keeping documents related to art brut in forty files in two cabinets. Because he didn't want to exhibit the art in the typical fine art fashion, Dubuffet isolated the works, making them available only to a limited few by appointment. In an effort to protect the art from the violence of the cultural elite, he moved them even further away from the common man.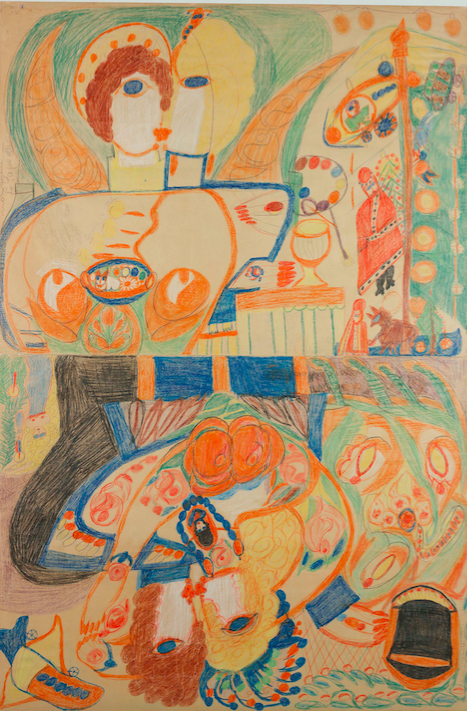 Also complicating Dubuffet's vision is the fact that his aesthetic inclinations weren't as revolutionary as he often made them out to be. Dubuffet published the following note, written by his friend Georges Limbour: "It is true that my feelings about culture (and its relationship to art) and, more generally, about so-called civilization, are going completely against the current and commonly accepted ideas. I could not care less about culture."
However, many culturally influential artists of the time were speaking in a language not all too different from Dubuffet's. Paul Klee's expressive and spindly drawings, Joan Miro's predilection for childhood, Dada's use of anti-establishment absurdity, Surrealism's interest in the erotic subconscious.
And finally, as is abundantly clear from his elegantly composed texts on the subject, Dubuffet is no naive visionary. As New York Times' John Canaday wrote in 1962: "The artist who is capable of recognizing the aesthetic character of true 'art brut' is the very man least capable of reducing his cultivated perceptions to the level of pure impulse."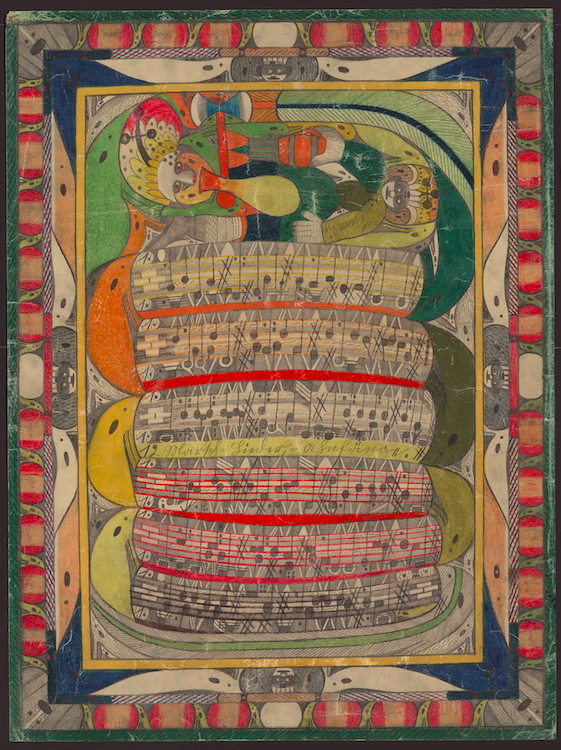 In his 1962 piece "Playing the Primitive," Hilton Kramer put it not so kindly, calling Dubuffet "a remarkable example of an artist riding on the wave of a feeling that his own work exploits and enlarges upon but does not itself create or in any way alter." Kramer summarizes the whole art brut obsession as Dubuffet's third and most desperate attempt to make it as an artist.
The controversy surrounding this microcosm of art brut is appropriate, given the equally thorny nature of the genre now mostly referred to as outsider art. What officially qualifies a work as such? Should it be elevated to the status of fine art or integrated into the capillaries of everyday life? Where is the line between appreciation and fetishization, celebration and exploitation?
In Dubuffet's early collection, these pressing questions were already looming, most of which still remain today. Aside from presenting a dazzling display of outsider artworks, from both well known and obscure artists, "Art Brut in America" delves into the ambiguity of a field that's only grown in complexity over time.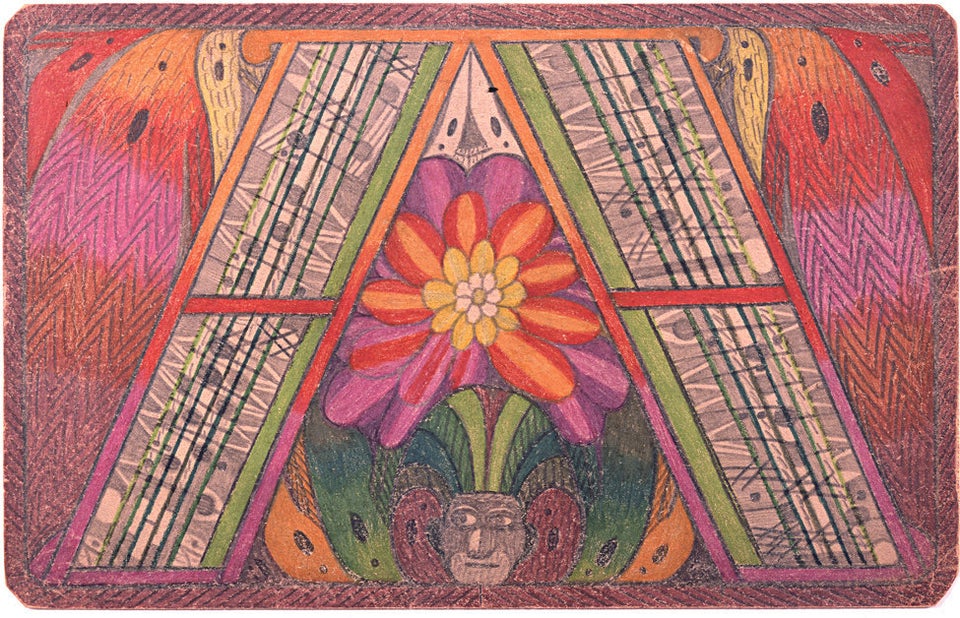 Outsider Art Fair Preview
Related
Popular in the Community