The term "art about art" has long been a buzzword for art directed to insiders. If you don't get the joke, well go do some catching up. I'll be the first to acknowledge that if you are into art, why be blind to its language and its history? That's part of not just the pleasure but the deeper purpose of the stuff. It's not a game of one upmanship; or to the degree that it descends to that kind of social and intellectual gamesmanship it's self-defeating. No matter how badly artists may wish to establish their personal identity, many and without doubt the best and the brightest do not fear to reference where reference is due. Aesthetic wit and skill should always triumph over egotistical arrogance or sycophantic homage.
Sherrie Wolf takes an enormous chance by detaching her obsession with historical portraits from her backgrounds as well as from the historical originals (she makes a point of working off of reproductions). Does shedding them of their historical trappings reveal anything inherently different about people's appearance centuries ago, or would they disappear in a crowd today? As Wolf strips away historical artifice, Casey McGlynn removes the imposing historical stature of myth in favor the primitive nature of its source. It's not difficult to relate how early childhood imagination and primitive cave painting provide pathways to stories of meaning and explanation. Here juxtaposition of placement, not arrangement and interaction of figures, drives narratives of possibility.
Though they are mute, David Trulli's black and white images have their roots in film noir. The vertigo inspired effect of the angled "shots" seem to add a series of details up to a single unoccupied office. It has us sleuthing for clues to the results of a crime that we never witness. When it comes to creating puzzles, however, Squeak Carnwath is a past master. One is readily caught in a tension between trying to "solve" her language of pictographs or simply using them to spin one's own tales. If Robert Rauschenberg liberated the compilation of images from an integrated pictorial space, Carnwath is a leading proponent of personalizing that freedom with her ability to work her own symbols gracefully between intellectual reference points and the subconscious.
The head scratcher among the current crop of shows is that of Harold Fox, whose pictorial formula is a clear emulation of the pop surrealist movement that gained so much traction over the last two decades. The trend line from Renaissance craft ideals to classic surrealism to '60s-era underground comix has become too common to be very interesting. But Fox began a body of work during the '60s privately, stayed with it until suddenly presenting it in a small, artist run gallery. They hit you with a jolt completely unlike a Todd Schorr or Mark Ryder. What it gets down to is they flow from their own source, doggedly building a storyline that finally stands alone precisely because it was constructed alone. The sources are clear enough, but that is not what matters. In the end isn't that what any artist really wants, whatever rewards they may enjoy publicly: for the voice speaking for them through their images to stand alone on its own merits?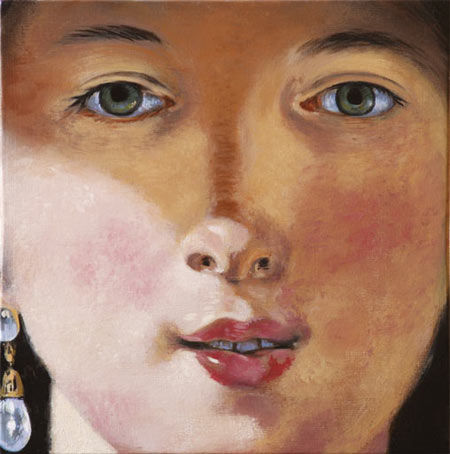 Sherrie Wolf, "Faces: Elizabeth-Louise Vigee LeBrun: Self-Portrait in a Straw Hat, 1782," 2010, oil on canvas, 10 x 10", at Laura Russo Gallery.
Continuing through August 28, 2010
Laura Russo Gallery, Portland, Oregon

For years Sherrie Wolf was primarily known for producing lush, razor-sharp still lifes. Eventually she referenced art history in her work by moving fairly recognizable paintings into the backgrounds. The figures in these backgrounds became increasingly significant, their facial expressions casting a mood within a painting. The artist then decided to take on the face exclusively for this exhibition, titled "Faces."

Altogether there are 60 paintings; some are hung horizontally across the gallery while others are placed into a grid. Most of the works meet us at eye level and are just a little larger than life-sized. If this exhibition is formed by many individual visages, the paintings taken together also function well as an installation. We meet a raucous crowd of famous art historical characters, all from great painters of the 14th through the 19th century.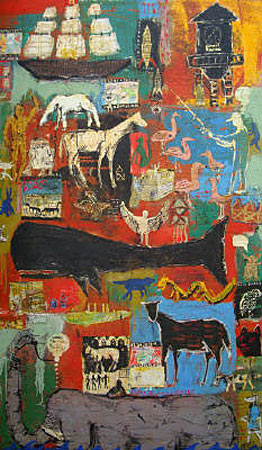 Casey McGlynn, "Big Sea (in the Background)," 2010, mixed media on canvas, 84 x 48", at Foster/White Gallery.
Continuing through August 28, 2010
Foster/White Gallery, Seattle, Washington

"Enter Chasing the Dragon Slayer" is Casey McGlynn's latest exhibition of canvas-rendered myth. At first sight, McGlynn's work reads like the staging of a child's personal fantasy; in reality, there is a serious and visceral expressionism occurring here, and what initially seems questionable about the artist's heavy and chaotic compositional choices begins to feel intellectually important as the smaller details reveal themselves. Within a complex choreography of dragons, buffalo, dolphins, flamingos and horses, these paintings deem animals our technological predecessors.
A painting of pre-historic whales is given new meaning with the presence of a submarine; in "Turtle makes local news," a horse is juxtaposed to trucks; while in "The ocean breathes the sky, the sky breathes the ocean," there are birds, many birds, and also a rocket ship. Beyond his animals, McGlynn is deliberate in his placement of human beings, an inclusion often so subtle we could almost be looking at further mythological creatures, or pre-historic versions of ourselves. But while there is certainly something primitive in McGlynn's work -- the artist himself cites the influence of cave-drawings -- his stylistic primitivism reflects an emotional complexity that is anything but. With bold color, hard lines and spatial distortion, McGlynn takes children's fantasy to an adult level.

- Laura Macomber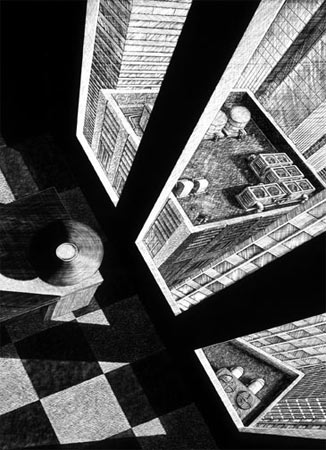 David Trulli, "Swim Until You Can't See Land," 2010, ink, clay, and varnish on Masonite, 30 x 40", at Robert Berman Gallery.
It's been noted that the David Trulli's mostly monochromatic ink, clay and varnish on masonite works are loose analogues for some sense of isolation we feel in lives lived through -- literally -- inanimate objects.
No doubt speaking to this theme is Trulli's handsome compendium/visual shop box of sweeping corporate buildings, random piled up building parts, beams, vistas receding past multi-storied facades of sterile glass and non-descript references to steely structures that man hath wrought but does not apparently inhabit.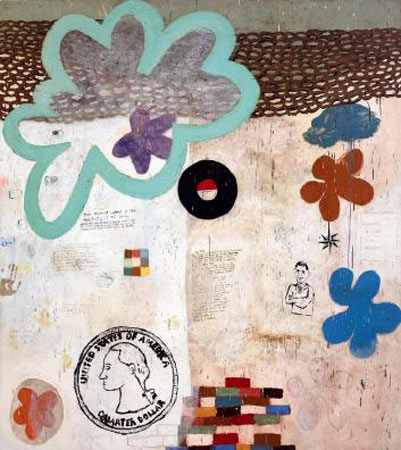 Squeak Carnwath, "Acute Observation," 2009, oil and alkyd on canvas over panel, 90 x 80", at Turner Carroll Gallery.
Continuing through September 13, 2010
Turner Carroll Galley, Santa Fe, New Mexico

Squeak Carnwath is a poet who scrawls text on her paintings with all the urgency and mischief of a Banksy gone legit. At the same time, she's as serious as a child coloring with her crayons: completely focused and full of purpose. It's perfectly obvious to her why she made the sky green; she can't help it if you don't quite get it. While the poet is driven to write her words, obsessively reworking them into a thing of heartbreaking beauty, the child transmits the alchemy of enchantment.
There is a great deal of joy in figurative paintings that carry vestiges of collage, graffiti, and even abstract expressionism. Loosely rendered flower shapes in drippy, solid hues suggest that everything's coming up roses in the artist's studio. However, closer inspection reveals layers of content as ephemeral, sweet, and clearly political as a trout in the hands of Richard Brautigan. Pieces of paper, their words scribbled child-like, become part of the picture. Carnwath's vocabulary is equally textual and visual. She uses line to section off planes within her canvases, and her sense of design is impeccable.
"Marked" is the very model of Carnwath's approach to painting: Beginning on the left side of the large, vertical piece is a row of short stripes -- like a crudely knitted muffler -- in cool tones of blues, purples, and greens with an occasional strip of muddy red. The rainbow-like column connotes the color palette of Wayne Thiebaud, a fellow figurative painter from the Bay Area. Across the rest of the picture is a background that appears to be some sort of faded and scratched wallpaper in cream with sage-colored flowers. Above eye level runs another row, this one a milky tan that could be a crocheted scarf for its texture and pattern. Occupying the lower right portion of the painting is a candelabrum aglow in its own light; somehow it seems part of the hominess of the work, as if the viewer's gotten a peek into someone's grandmother's parlor. Incongruously, a long series of words imposes itself like an insect on one's skin in an otherwise serene setting. In fact, the text tells the story of the female mosquito. She is the one who bites, seeking blood to feed her young. That blood, though, makes her too heavy to fly; it's not until she loses her water weight that she's freed to make her escape. A piece of ruled paper near the center of the picture presents these words, "To live is to be marked." Is this a warning? A Zen koan? To this viewer, it reads, as does the body of Carnwath's superb work, as a note about the temporal, and therefore precious, nature of creation.

- Kathryn M Davis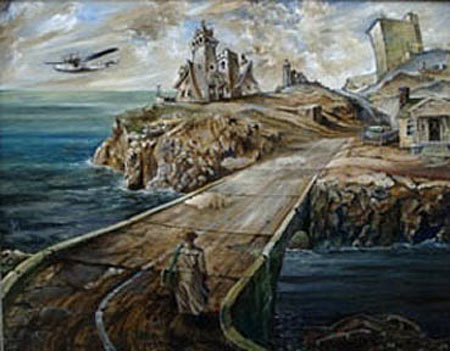 Harold Fox, "Going Home," 2007, 16 x 20", at SCA Projects Gallery.
Harold Fox has been making dark, witty paintings of urban angst for at least 40 years, but he'd never had a gallery show until his son started shopping the work around and putting the images on the net. That's part of their pleasure here, this sense that the artist has labored for decades on a kind of art-island in Long Beach, entirely for his own pleasure and edification. The results are a quirky vision so consistently smart, cynically pointed and beautifully painted that you can't believe these paintings haven't always been a part of the underground contemporary art scene or ever been shown alongside artists like Robert Williams and Todd Schorr. Like those artists Fox is a prodigious surrealist pictorial storyteller who melds together elements of pop culture with his own affection for film noir staging, sexy pin ups, Renaissance glazing techniques in rich color and Germanic mythology. His oil on scrap panel paintings, mounted in perfectly chosen thrift store frames are luminous and insightful personal rumination's on the state of the world, the U.S. in particular. They bite with a disappointment bred in the aftermath of the Second World War but seem fresh and perhaps even more true in the tattered military/economic landscape of the present one.
ArtScene and Visual Art Source are the in print and online resources to fine art galleries and museums in Southern California and the Western United States. Visit us online or pick up a copy for complete listings of art venues and editorial Reviews, Recommendations and Previews of the best current exhibitions. Be sure to visit our Openings Calendar page so you can plan visits to the latest exhibitions--of wherever you may be in the Western States.
Want to opt-in for a free subscription to stay current every day on our Weekly Newsletter, as well as new shows, events and (if you are an artist) artists' calls? It's easy.

Related
Popular in the Community