What happens when an underachieving school receives a $500,000 grant to develop an arts program? At a time when budget cuts are eliminating art teachers, schools like Savoy Elementary School in Southeast, DC have fulfilled the mission of a small, pilot initiative of the Obama administration: Turnaround Arts. Yes, in one short year, this underachieving school has become a whole new story.
It's not news that literacy and art are connected. There are studies that prove this. But you don't need an investment from the government do a small step in this direction. For the cost of a wonderful children's book you can open children's eyes to possibilities of art and improve their literacy skills at the same time.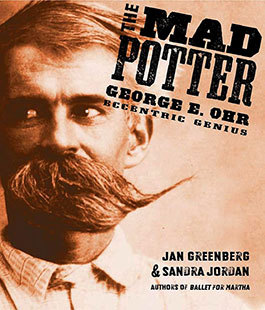 The Mad Potter: George E. Ohr, Eccentric Genius is the latest book by the award-winning team of Jan Greenberg and Sandra Jordan. It tells the story of an American original, a rebellious Mississippi kid, born right before the Civil War, who ran away from home at age fourteen. After knocking about with many odd jobs, in his early twenties he took a job in a pottery factory, owned by a boyhood friend, in New Orleans. He fell in love with the potter's wheel and subsequently, over the rest of his life, reinvented pottery as an art form. His story is riveting and his work is exquisite. But the subtext of this book cannot be ignored: art saved this person. It's something that kids can relate to.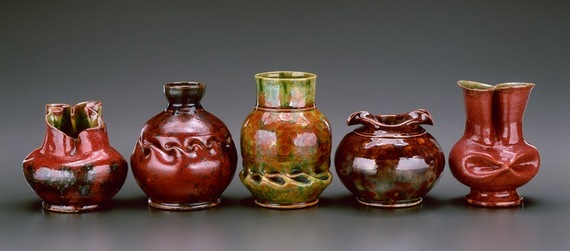 It seems that no child is too young to manipulate clay, homemade play dough, even mashed potatoes. Yet the possibilities that art opens up are quickly truncated in schools that focus on academic skills and standardized testing. Every good teacher knows that the secret to learning is motivation that can be provided by an inspiring story and an opportunity for self-expression. Pottery + reading can open a door. This is exactly the kind of book that the CCSS want children to read.
And for many an adult, myself included, who love juried craft shows and marvel at the magnificent ceramic pottery on display, George E. Ohr is the father of this art form. Who knew? Jan Greenberg and Sandra Jordan show that the potter, himself, knew he was ahead of his time. Today, his work is celebrated in the Ohr-O'Keefe Museum in Biloxi, MS, his home town.
For a more detailed review of The Mad Potter: George E. Ohr, Eccentric Genius you can read the School Library Journal's starred review here:
Calling all HuffPost superfans!
Sign up for membership to become a founding member and help shape HuffPost's next chapter