Art Center College of Design prepares students for "an ongoing exploration of design as a positive force for change in society." That's the premise of Mariana Amatullo's talk. Mariana opens her remarks by stating: "It is an interesting moment in time, a moment of change, when creative community -- designers and architects -- are engaging in social innovation."
Mariana cofounded Designmatters and has led the program since its inception in 2001. In her capacity, Amatullo does compelling work. Let me tell you a little bit about it. Designmatters is an educational department that horizontally cuts across all of the design disciplines at undergraduate as well as graduate levels -- product designers, fine artists and graphic designers work together on the same challenge.
It functions at three levels within the institution. It is a magnet and research division that infuses the curricula with content-based challenges, a consultancy that facilitates real world implementation of the projects with partner organizations and a hub for external relationships that advocates the role of design as a catalyst for social change. In fact, through Mariana's leadership, Art Center is the first design institution to be formally affiliated with the Department of Public Information at the United Nations as a non-governmental organization (NGO).
Students work on about twelve projects a year and here is a quick overview of three case studies.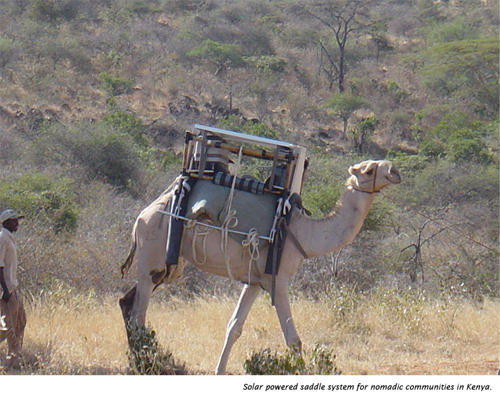 THE MPALA PROJECT: Collaboration Across Every Imaginable Boundary
(Art Center was a finalist in a competition mounted by The World Bank, "Global Development Market Place: Innovations in Water, Sanitation & Energy Services for Poor People," in 2007)
In collaboration with a Princeton University engineering team, students designed a new camel saddle system for Mpala, a small clinic in Northern Kenya that employs camel convoys to reach remote communities (about 200,000 people) disseminated in the region. As convoys last two to three weeks at a time, delivering medicine that has to be kept refrigerated is impossible without an energy source. And yes, you guessed it. Students solved the problem by incorporating solar panels harnessing energy required to transport perishable substances.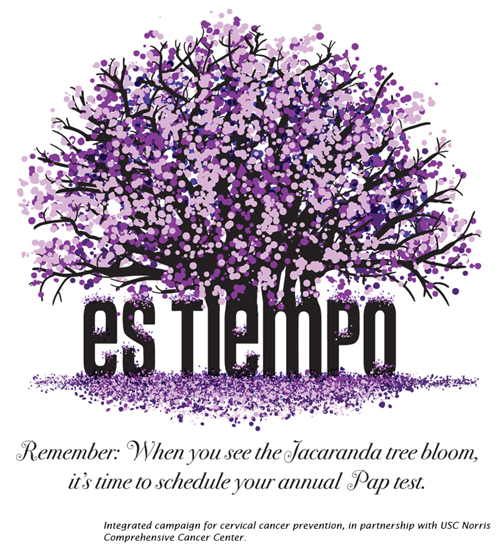 ES TIEMPO: Raising Awareness of Cervical Cancer Prevention Among Latinas
(In collaboration with USC Norris Comprehensive Cancer Center, Keck School of Medicine and Annenberg School for Communication and Journalism.)
This is a communication campaign that students developed for some of the most at-risk population groups -- Latina women of Los Angeles. The urgency is clear from the following data:
•Hispanic Women are disproportionately vulnerable to cervical cancer
•It can almost always be cured if detected early
•In the underserved neighborhoods of east LA, cervical cancer screening is dramatically lower than elsewhere
•Given current population trends, incidence of cervical cancer will double or triple -- unless effective interventions are instituted immediately
Students responded with an integrated campaign composed of diverse print pieces. They established the annually-blooming Jacaranda tree as the icon, or a free reminder to get annual pap tests. Employing this memorable image, they deliver the message in a very approachable, non-intimidating way. In addition, they consider strategic placements and design an accessible way to find free service providers. They even think of an incentive system!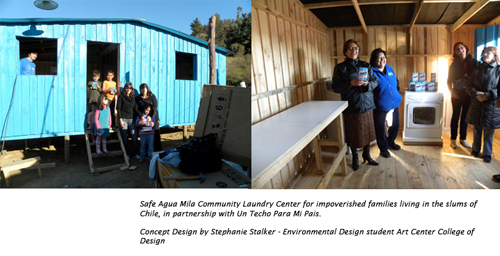 SAFE AGUA: Water Innovation Solutions for Slum-Dwellers
(In partnership with the NGO Un Techo Para Mi Pais. Several outcomes of the project will be included in Cooper-Hewitt's "Design with the Other 90%: CITIES" at the United Nations this upcoming fall.)
In this case, a transdisciplinary team of students and faculty brings social innovation to the slums of Santiago, Chile. Two weeks of field research and collaboration with a community of 20 families in Campamento San Jose charge the outcome. Immersion exercises, careful documentation of the existing conditions as well as listening to life stories prepare participants to ask the right questions and empower them to identify windows of opportunity for improvement. One of the six solutions they propose is Mila, a community laundry center that alleviates the physical burden of washing clothes by hand.
Isn't it incredible! While admiring snippets of charming animation and documentary films that students have created, I keep thinking about the quality of their experience. It goes way beyond the pedagogical value of the class -- they are educated as leaders. Thank you very much, Mariana, for the work that you are doing!

Related
Popular in the Community