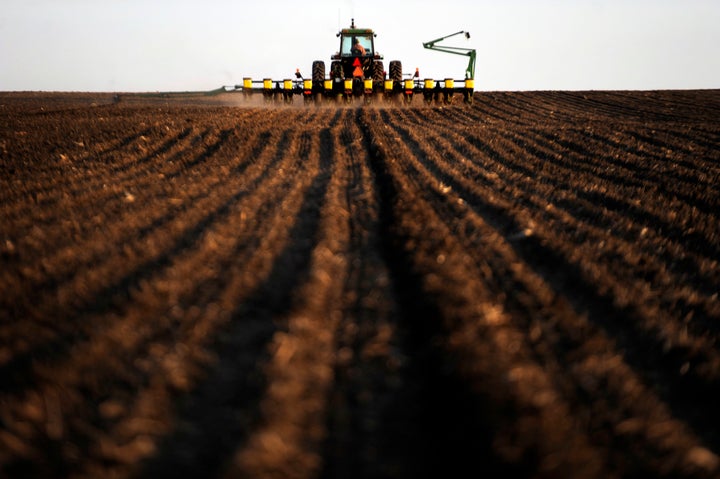 Storm Lake Times editor Art Cullen may have lost a few friends over his reporting in recent years, but now he's gained a Pulitzer Prize.
The Des Moines utility argued in the lawsuit that Buena Vista and the two other agriculture-heavy counties were responsible for polluting the Raccoon River with nitrates from fertilizer runoff, and claimed the counties should be liable for the utility's increasing costs of removing the pollutants from drinking water.
Cullen wondered who would finance his cash-strapped county's defense. It wasn't long before he grew suspicious that powerful agribusiness interests, including the Farm Bureau, were playing a role. He was determined that his family-run newspaper, circulation 3,300, find the truth.
"To use a barnyard euphemism, every once in awhile even a blind pig finds a nut," Cullen wrote in one of his Pulitzer-winning editorials. "We are not so polished, but our snout smells something that is being hidden. We can't see very well right now. But we can smell it."
Cullen detailed his search for answers in two tenacious years of editorials that uncovered a link between the counties and agribusiness groups soliciting funds from secret donors.
The fund now appears to have been dissolved, and the Des Moines lawsuit was dismissed last month. But the donors were never disclosed, and the county still has legal bills to pay.
And so, Cullen's work isn't finished. The Huffington Post recently spoke with him about how he got the story and what's coming next.
You wrote in one of your Pulitzer-winning editorials that you could "smell something that is being hidden." When exactly did you feel that you were onto something here? Was there an "aha" moment that you recall?
It was kind of a slow buildup, where basically we had the question of, OK, the Des Moines Water Works filed this lawsuit, so how are we going to defend it? Shouldn't we have a talk real quick to see if we can get rid of this thing somehow? But the Buena Vista County Board of Supervisors was already in contact with the Farm Bureau and the Agribusiness Association of Iowa, and they quickly set up this fund comprised of secret donors. That's when I said, OK, we need to know who these donors are.
Did you anticipate that this would snowball into what it became — something you were reporting on so tenaciously for so long?
I did. I knew they didn't want to tell us who the donors were. At first they claimed, "Our friends are going to help us out." Who are those friends? "Well, it's the Farm Bureau." Was the money coming from member dues or what? "Well, we're not sure how it's going to work out, but we'll get back to you." It was the good ol' boy response, and that ain't good enough. Our concern was if the Agribusiness Association was meeting with Koch Fertilizer and Monsanto's CEO on this, then they could be coloring how the county defends this case.
You've described in recent writing that you and the paper have sustained some backlash because of your reporting on this. How bad did it get?
It's not been that bad. It was some people I thought were friends who aren't friends anymore, and we lost a few ag ads. There weren't many of them to begin with, because corporate ag doesn't spend any money in community newspapers — they used to, but not anymore — so it's been no great loss to us. We lost some subscribers, but I hope we picked up a few. But you can't ignore the fact that the Raccoon River is running red with nitrates just so you can save your co-op ad.
The water pollution issue remains unresolved, particularly as the Des Moines Water Works lost its case in court and won't appeal the ruling. Was that development disheartening to you?
Iowa has among the filthiest surface water in America, and it's going to impact our groundwater, and that issue remains. There's no leverage whatsoever in Iowa to change, because the water works lawsuit was the only leverage.
Now that the EPA is being dismantled and conservation funding is going to be cut by about 30 percent in the USDA budget, there's going to be no new conservation reserve program efforts, no new filter strips, nothing to protect the Raccoon River any further ― other than farmers' of good conscience. There are many of them trying to protect the river, but like I said in the editorials, 80 percent of them can be doing the right thing, but 20 percent can screw it all up. That's what's happening.
The state of Iowa is now on the verge of dismantling Iowa State University's Leopold Center, a state-sponsored sustainable agriculture-focused research facility. That doesn't seem encouraging, either.
It's only going to get worse before it gets better, if it gets better. When Tom Vilsack, from Iowa, was secretary of agriculture, we had an opportunity to really try and do something. Everybody kept talking about voluntary nutrient reduction, because no Iowa politician wants to take on regulation of agriculture. It is the third rail of Iowa politics. But remember that the state doesn't have any authority to regulate agriculture. I think the water works case underlined that.
What advice would you give to other journalists who might "smell something," but maybe aren't sure if they're ready to dive down the rabbit hole on such a touchy subject?
Every newspaper is different. I'm really lucky with my Storm Lakes Times publisher and co-owner brother John, who's a news guy, and we're a news-driven newspaper. That's not the most profitable model probably, but in order to be successful in that model, you have to do journalism. And journalism involves covering local government and going to all those boring meetings nobody wants to go to anymore, sitting through them and letting the supervisors beat the hell out of you at all those meetings. And then you ask for the records and you press and press and press to get them. And don't be afraid to use the paper as a foil to get those records. We believe in hammering and hammering and hammering until the house is built. We've been writing editorials on this almost weekly for two years. We believe in hammering and hammering and hammering.
What's next for you? More hammering?
I think I've made my point on this one and I gotta resist the temptation to get shitty. But I think we're going to continue to cover nitrate and phosphorous levels in the Raccoon River and continue to hold up and shine a light on farmers who are trying to do the right thing and trying to be good neighbors.
I know there are farm guys out there with their backs against the wall. I'm not one to villainize farmers, but what corporate agribusiness is doing to Iowa is almost unconscionable. They're destroying the basic openness and honest operation of Iowa government. Iowa was long known as one of the cleanest states in politics, and look at what's happening. This is a culture of incivility and it's spreading, and they're ruining this state.
Do you have any faith that the political and agribusiness powers in Iowa could still right this ship?
Those corporate interests won't come around. They're defending Roundup- ready beans and BT corn and all that ― more tilling and more chemicals and more river pollution, and the idea is, OK, that's just the cost of doing business in Iowa. There's absolutely nothing that's going to change that until the next election.
But nature is not going to allow us to continue the way we are. Yields will fall and the chickens will come home to roost. We'll realize we have to change things and conserve soil and make agriculture resilient to climate change.
This will happen not because of political action, but because nature will demand it. People remember when the Cuyahoga River was on fire. Three years ago, there were toxic algal blooms in Lake Erie, and Toledo couldn't drink their water. This is every bit as bad as that. You can't keep doing this and getting away with it. Eventually we'll wake up, but it's going to take nature slapping us in the face. It's already starting to happen.
This interview has been condensed and edited for clarity.
Joseph Erbentraut covers promising innovations and challenges in the areas of food, water, agriculture and our climate. Follow Erbentraut on Twitter at @robojojo. Tips? Email joseph.erbentraut@huffingtonpost.com.
Calling all HuffPost superfans!
Sign up for membership to become a founding member and help shape HuffPost's next chapter
BEFORE YOU GO
PHOTO GALLERY
Climate Visuals For The Climate Change Denier In Your Life