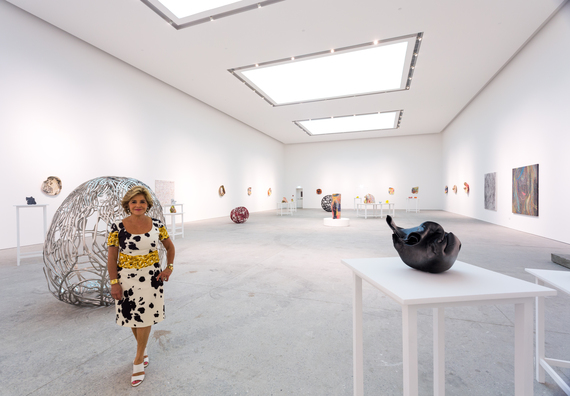 I spoke with Leila Heller, an international gallerist and lecturer about the opening of her new gallery in Dubai, its debut at Art Dubai 2016 and her contributions to the global art community spanning over three decades.
To say that Heller has mastered her craft, would be an understatement. She received a B.A. from Brown University, and a Masters degree from the Sotheby's Institute in London, and a second Masters degree in Art History and Museum Management from George Washington University. During her Masters in Washington D.C, she worked at the Hirshhorn Museum until moving to New York to work at the Guggenheim Museum. She has written numerous articles and frequently gives lectures at the Guggenheim, MFA Houston, Brown University, MOCA LA, art fairs and other art institutions around the world. She also has given educational lectures at many universities, including a yearly seminar at Brown University on the subject of Middle Eastern Art.

In 1982, she opened Leila Taghinia-Milani Gallery on the Upper East Side of New York, exhibiting established Western artists, while giving exposure to emerging artists from the Middle East. In the 90's, Heller shifted her focus solely to the secondary market placing major modern and contemporary masters in top collections worldwide and participating international art fairs.
In 2003, Heller re-opened her gallery presenting an active exhibition schedule, and inviting a range of respected international curators to organize shows pairing emerging artists with Modern and Contemporary Masters.

In 2011, she expanded her gallery under the name Leila Heller Gallery, to a ground floor space in Chelsea. The gallery is dedicated to promoting emerging and established artists from America, Europe, the Middle East and Central Asia. The gallery continues to focus on dealing in contemporary and modern masters.
In November of 2015, Leila Heller opened a second gallery in Dubai. At 15,000 square feet it is the largest commercial gallery in the Middle East.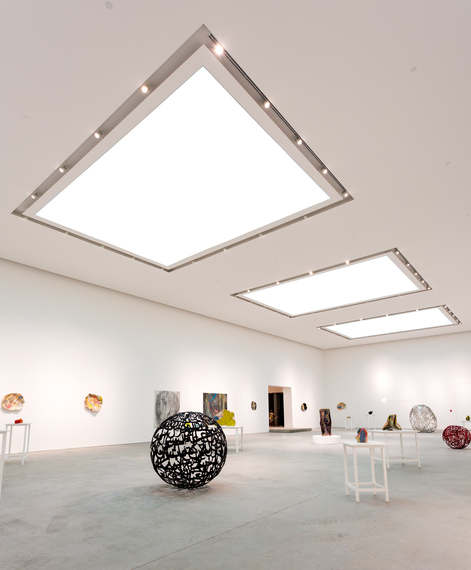 Congratulations on your stunning new gallery in Dubai's Alserkal Avenue and its debut at Art Dubai 2016. Can you tell us about your current show?

At this year's Art Dubai, which was the 10th edition of Art Dubai, we featured works of Moataz Nasr along with the first sculptures ever of Ahmed Alsoudani.
The inaugural shows of Leila Heller Gallery Dubai were in September of 2015, and opened during the 2015 edition of Art Abu Dhabi. After starting out 2016 with our successful show of design work by Zaha Hadid, during Art Dubai we opened two solo shows of YZ Kami and Michelangelo Pistoletto which will be on view until the end of April. YZ Kami's show 'White Domes' is being held in the entirety of our gallery space and shows his work in a variety of mediums and is absolutely stunning and a rare opportunity to see so many bodies of his work in one place. Running concurrently at an adjacent space in Alserkal Avenue where our gallery is located, we are proud to have the first solo show of Michelangelo Pistoletto ever to be held in the region. We were very honored to have Mr. Pistoletto in Dubai for the opening of his exhibition, and were able to host a performance of his work as well.

How many artists do you represent? Can you tell us about a few of them?
Between New York and Dubai, Leila Heller Gallery represents about 30 artists. The group we represent is very diverse and international, with artists from Europe, Asia, the Middle East and America all of whom are collected by individuals and institutions around the world. We also represent two artists estates, that of Marcos Grigorian and Farideh Lashai, who are incredibly important figures in art history globally. The artists we work with work in a wide variety of mediums ranging from ceramics, to photography to video-paintings.

You have gained worldwide recognition as a pioneer in promoting creative dialogue and exchange between Western artists and Middle Eastern, Central and Southeast Asian artists. How do you select the artists that you represent?
I am personally involved in the selection of each artist we represent, as it is important to me that I connect with their work if my gallery is going to represent them. I choose artists that reflect both my own taste, as well as that of our collectors and museums around the world.

How has the Internet influenced the dynamic of your business?
As an international gallery the Internet is a very important tool for us. Our collectors are not only based in the US and Middle East, but around the world, including places like Turkey, Bangladesh, India, Latin America, and Russia. The Internet has allowed us to engage and have dialogues about our shows and artist we are working with and keep collectors informed of exciting projects we are working on and what we have on view both in Dubai and in New York. We also have been very successful with using online platforms as a way to reach new audiences and it has lead to both sales, as well as an increased awareness of our gallery's artists.

What advice would you give to a first-time collector?
My first piece of advice to any art collector is to buy what you love. Yes, you should consider the market, but if you buy a piece of art that you connect with and love, you will never regret acquiring it. Following your personal taste and passion for art always is the best place to start.

Is there any experience in particular, as a gallerist, that you have fond memories of? Do you have a favorite exhibition, event, intervention that happened at your gallery?

My most memorable exhibition was in 1984 when Jeffery Dietch and I co-curated a show of 120 artists at my gallery called "Calligraffiti." The catalog of this exhibition is now in the archives of the MoMA in New York. This was the first time 60 graffiti artists were brought alongside major contemporary artists such as; Zao-Wou-Ki, Cy Twombly, Toby, Masson, Michaux, Torres-Garcia, Soulages, The Letterists from France and Middle Eastern calligraphy artists. We had all the graffiti artists and all the other artists attend the opening which was followed by a 350 person party that Jeffery and I threw at Area, the "it" club in the early 80s, that was followed by a huge after party as well.

What's next for Leila Heller Gallery in Dubai?

The next show that we will be hosting at the gallery in Dubai will be the paintings of Ross Bleckner in one gallery and the sculptures of Afruz Amighi. These two shows will be followed by the works of Seydou Keita and the video paintings of Shoja Azari and Shahram Karimi.
Calling all HuffPost superfans!
Sign up for membership to become a founding member and help shape HuffPost's next chapter