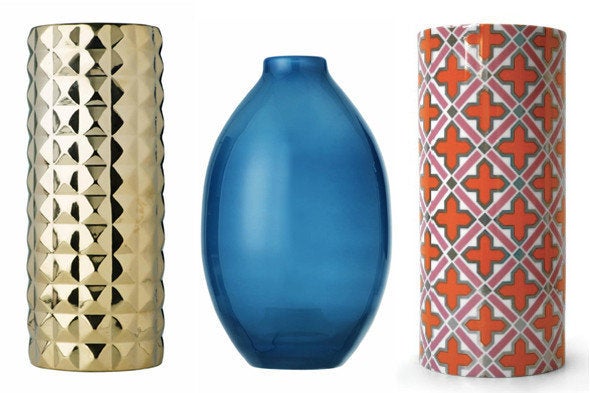 Featured at Art Dubai 2012, Spectral Imprints, the 4th edition of the Abraaj Capital Art Prize, was conceived and implemented to encourage critical discourse. As shown below, it does so, nicely. It's the only competition that focuses on often-underrepresented contemporary artists from the Middle East, North Africa, and South Asia (MENASA). Significant, that, given how the region's history re-writes itself on a daily basis. The curating is organic: awards are based on proposals and not completed work (work is created after the prize is conferred; the work itself represents collaboration between artists and a guest curator). Guest curated by Nat Muller, the exhibition features the work of Raed Yassin (Lebanon), Wael Shawky (Egypt), Risham Syed (Pakistan), Joana Hadjithomas & Khalil Joreige (Lebanon), and Taysir Batniji (Palestine).
With poetic majesty and keen insight, the exhibition describes art's sieve-like relationship of the past to the present. It shows how artists continue to struggle to make sense of the world, a struggle made all the more difficult by the fragility of personal and collective memory. In The Open Society and Its Enemies, Karl Popper wrote as much when he said that history (he meant institutional but he could just as well have been writing about personal) has no meaning because, as per the Searchlight Theory of Science, what we (historians, artists, just plain folk) see depends on our point of view. No one's omniscient, after all.
As if that's not enough, art now struggles against the possible obsolescence and impermanence of its material sources. Good art, as per the Walter Benjamin introductory quote Muller cited ("For every image of the past that is not recognized by the present as one of its own concerns threatens to disappear irretrievably,") is backwards compatible. As such, it's informative, inspirational, and tutelary. So, to some extent, is computer software. But that's no guarantee that digital images and documents -- artist's source material, along with memory and experience, all refracted through the imagination -- created in the past but not hard copied will be readable, much less exist, in the future.
The work in the exhibition reflects this tension between articulated but fleeting memory. Raed Yassin, Wael Shawky, and Risham Syed emphasize this fragility in their medium -- ceramics or tapestry; Joana Hadjithomas & Khalil Joreige and Taysir Batniji emphasize it in their subject matter. The result is a riveting look at how artists lay out the processes by which their work continues the past into the present (and presumably into the future) and the dangers it faces in doing so.
Created at Jingdezhen, China's porcelain center, Raed Yassin's China consists of seven porcelain vases that represent landmark events in Lebanon's civil war. Though the frieze-framed events are contemporary, the concept -- decorating vases and other ceramics to document military victories -- goes back centuries. Utilitarian as well as didactic (not to mention fragile), these vases show how history remains an influential (if not decorative) force in daily life. Since each requires a tour around the vase to read the presented story, the vases also suggest how 1. History has no beginning and no end, just endless cycles (as Winston Churchill once noted, "one damn thing after another") and 2. History cannot be presented, and thus read and understood, in any all-inclusive manner.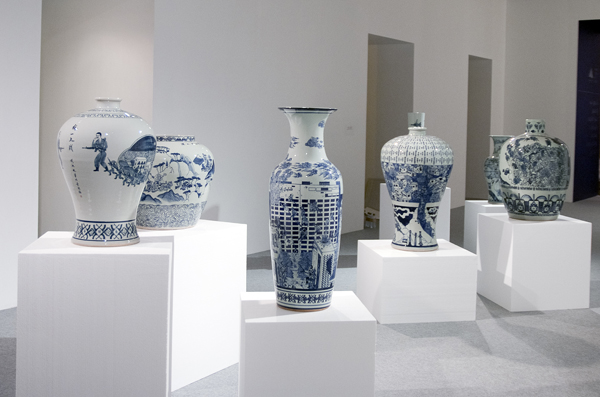 Wael Shawky's A Glimpse of Clean History, ceramics, wood, and velvet, is based on a painting by the French painter Jean Fouquet (1420-1481), Urban II 1035-1099 preaching the crusade at Clermont in the presence of King Philippe I 1053-1108 of France in 1095. The painting shows Pope Urban II delivering a speech that supposedly began the First Crusade, a key event in Middle Eastern history. The piece consists of a puppet theatre; the dolls are made of ceramic. For one minute, the curtains open and the viewer can see this significant moment, frozen in history. The figures are white, as if innocent and absolved of sin. After a minute, the curtains close. The piece comments with great insight on the way history is parceled out via points of view. Since we can only see a frozen moment, we can never understand it's complexity and many flavors.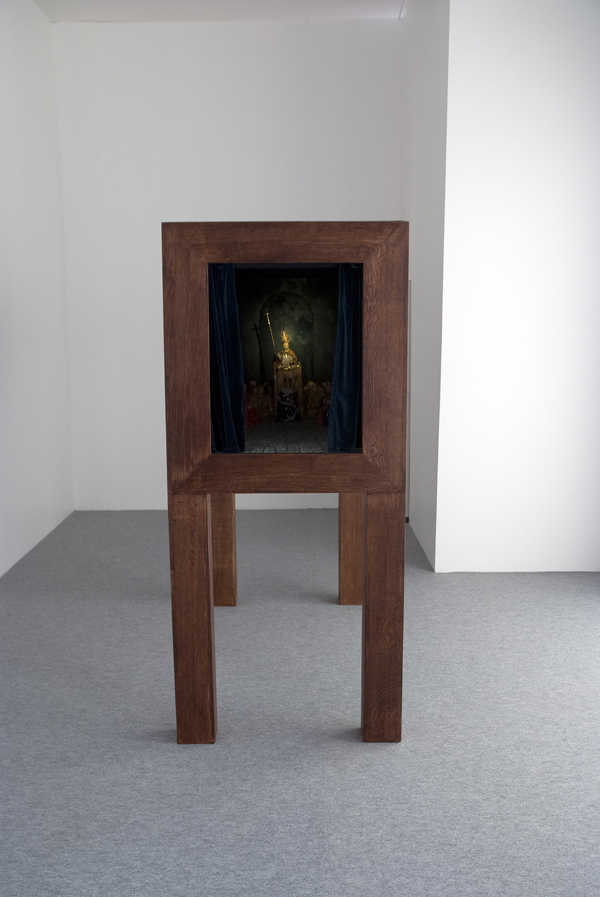 Risham Syed's The Seven Seas is a series of seven handmade quilts that refer to the British Empire's 19th and early 20th Century cotton trade. With fabric culled from Turkey, Bangladesh, the United Arab Emirates, Sri Lanka, UK, India and within her native Pakistan, each piece shows maps of port cities that constituted significant European trade routes. These cities include Izmir (Turkey), Colombo (Sri Lanka), Mumbai (India), and Ras al-Khaimah (United Arab Emirates). Besides serving as commercial trade centers, they also served as sites of anti-British rebellions in each region. Each quilt's cobbling together and stitching echo the superimposition of historical narratives on contemporary ones, brought together in an analog fashion that predates the global skeins of the World Wide Web by centuries.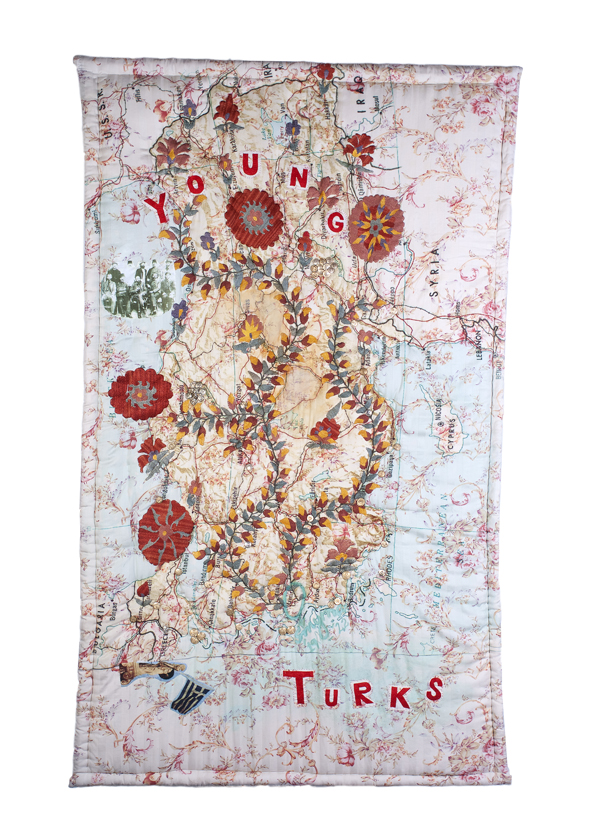 Joana Hadjithomas & Khalil Joreige's, video installation, A Letter Can Always Reach its Destination, projects non-professional actors whose non-professional scripts consists of ephemeral and epidemic email spam scams. The amateur status of the actors suggests how the World Wide Web, with no barriers to entry, permits everyone (creators and consumers) access to at least fifteen minutes of fame, con men (and women) included. Originating from countries with rampant corruption, the fictive scripts pullulate with a real-life backstory and presents an interesting intersection of the real and imaginary: non-existent scams, sent by real people under false pretenses, present the opportunity (unfortunate) for equally real victims to unknowingly participate in the scam.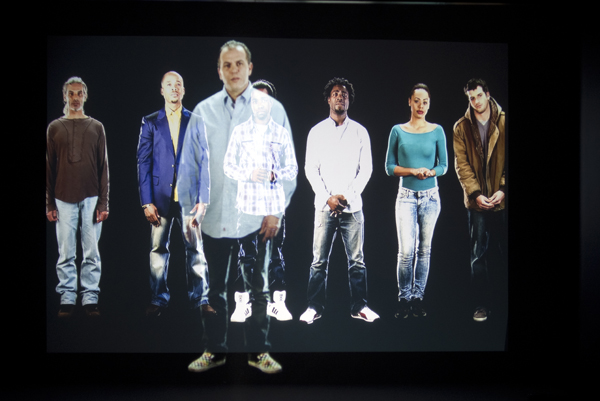 With To My Brother, a series of hand carvings from photographs on paper, Taysir Batniji etched sixty inkless drawings on paper. Based on family photographs, each image presents joyous and, as it happened, all-too-brief moments from his brother's 1985 wedding in Gaza. An Israeli sniper killed him two years later. Representing not just individual but, in the broader case of Palestine, wide-spread loss, the piece quivers on the border of personal and national tragedy. The lack of ink correlates with these graphically embalmed images' lack of blood.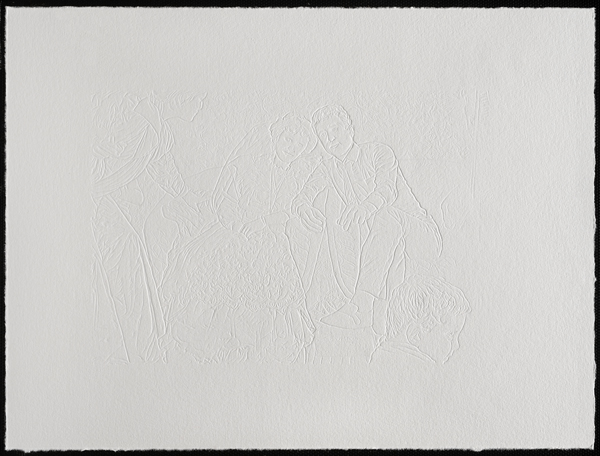 Perhaps the real value of Spectral Imprints lies in reminding us of those moments when contemporary art does acknowledges art of the past. Perhaps therein lies the real shock of the new: to paraphrase the title of a Robert Irwin book, "Seeing is Remembering the Name of the Thing One Sees."
Art Dubai closed on March 24. For more information, email abraajprize@artdubai.ae or visit www.abraajcapitalartprize.com, www.facebook.com/AbraajCapitalArtPrize, and twitter.com/AbraajArtPrize.
Popular in the Community