Staged throughout three floors at Federal Hall, harlem is...DOWNTOWN brings four of the organization's signature exhibits together for the first time: harlem is...ACTIVISM, harlem is MUSIC, harlem is...THEATER, and harlem is...DANCE. The culmination of an oral history project pairing scholars, educators and artists with public school and art students, these exhibits have toured the city individually since 2001, honoring the history of Harlem and its iconic people and places. What makes this installation of the harlem is... series extraordinary is its glorious venue, which allows this body of research to shine in its entirety, and helps to connect the journey of African Americans in Harlem to the history of Lower Manhattan.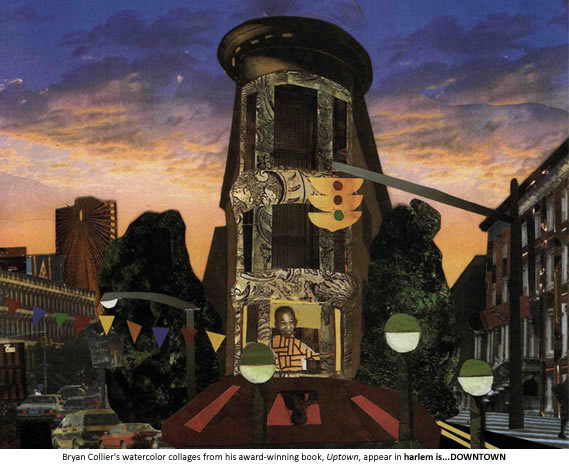 Federal Hall National Memorial is not only an integral piece of Lower Manhattan's history, but can be considered one of the most important sites in the history of the nation, and particularly its democratic institutions. The original structure was built in 1703 as New York's City Hall and later served as the first capitol building of the United States of America under the Constitution. The site marks the spot where Washington took oath as President in 1789, and where the Bill of Rights was introduced in the First Congress. The original building was demolished in 1812, replaced with the current architectural design in 1842, then served as the United States Custom House, and later as a sub-Treasury building. Federal Hall National Memorial is now operated by the National Park Service as a museum for American and New York City history. The site welcomes harlem is...DOWNTOWN as part of National Park Service's Centennial celebrations this year.
"Partnering with Community Works underscores the 100th anniversary of the National Park Service's commitment to preserve and interpret our Nation's historical and cultural foundations for future generations," said Superintendent Shirley McKinney. "'harlem is ...DOWNTOWN' artistically offers an understanding of multiple cultures within American society from Lower Manhattan to Harlem."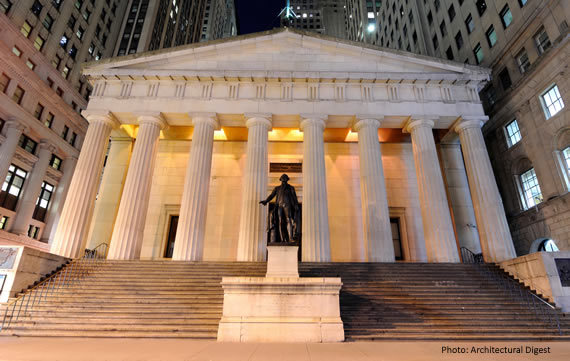 While democratic process was taking shape at Federal Hall, the area was a burgeoning slave trading center during the colonial period; in fact, the second largest in the United States. Lower Manhattan was the entry point for captives of African descent, who would comprise the city's labor force - clearing paths, building roads and communities from downtown to uptown over centuries, and ultimately settling in the Upper Manhattan enclave that later became synonymous with black culture. To help illuminate this story, harlem is...DOWNTOWN incorporates a map of Lower Manhattan that identifies significant places, including slave houses, abolitionist offices, locations of groundbreaking black and multi-national businesses, and landmarks such as the African Burial Ground and Trinity Church, where blacks could worship, marry and be laid to rest with dignity.
The exhibition goes on to include the documentary photographs of Ruth Morgan, historically-themed quilts by Michael Cummings, original art by Bryan Collier from his best-selling children's book on Harlem: Uptown, the art of Donovan Nelson and Hubert Williams, and inspired visual and literary art created by New York City schoolchildren and young artists from Betty Blayton Taylor's Art Carnival. harlem is...DOWNTOWN runs through April 15th at Federal Hall National Memorial, 26 Wall Street, New York, NY 10005. An Open House Reception will be held on Monday, February 29th at 6pm. CLICK HERE to view the invitation and RSVP.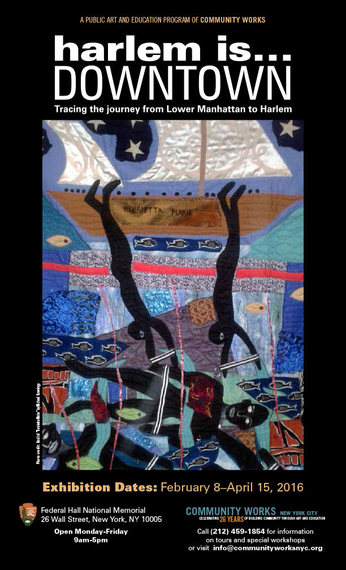 Community Works extends the celebration Uptown at MIST Harlem with harlem is...A STATE OF MIND - an exhibition highlighting the artists, lifestyles, and practices that have come to identify Harlem throughout the world. It features visual works by master to emerging artists living or working in Harlem, and includes paintings, photography, digital and mixed media compositions, collage, fiber arts, and archival images celebrating the community's vital artistic landscape. The exhibition brings imaginative interpretations of the arts in Harlem to MIST - a new, but increasingly important institution in its own right - and captures just a glimpse of the creativity that continues to color this community's lasting and international fame.
Participating artists and contributors include Beatrice Lebreton, Diane Davis, Grace Williams, Hubert Williams, JaSon Auguste, John Reddick, Laura Gadson, Makeba Rainey, Michael Cummings, Ming Smith, Ozier Muhammad, Paul DEO, Ramona Candy and Tafa.
harlem is...A STATE OF MIND makes a statement throughout the gallery and public spaces at MIST, 46 West 116th Street, New York, NY 10026. There will be an Artist Reception in March; details to be announced. harlem is...A STATE OF MIND runs through June 30, 2016.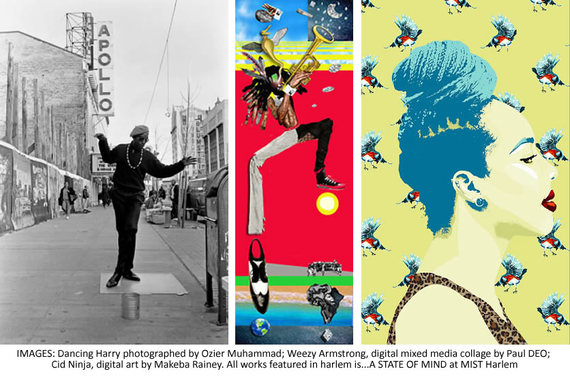 Related
Popular in the Community