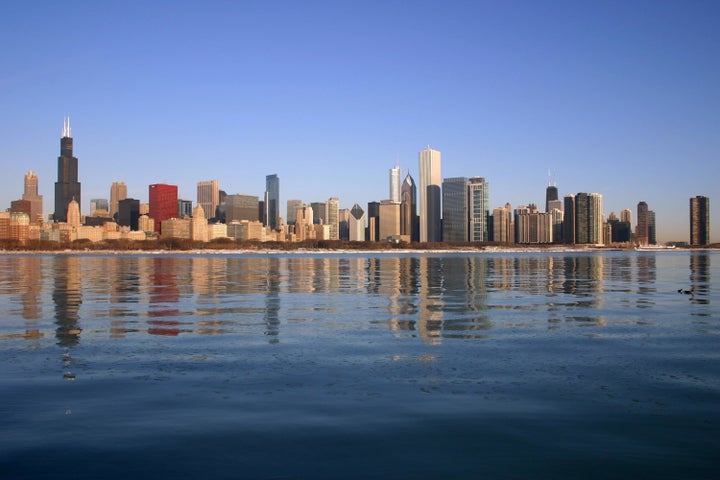 "Tony Karman is like Batman," I said to Robin Dluzen, as we talked about EXPO Chicago and contemplated our respective writing assignments about the art fair. "And Chicago is like Gotham, looking for a hero to save the city."
The metaphor stuck with me after the conversation ended. The interesting thing about the recent Batman movies is that the people of Gotham are not pure; there is always the lingering question of whether Gotham is even worth saving. This is eerily similar to the statement issued by Merchandise Mart (MMPI) when they cancelled Art Chicago, the previous major art fair, in a press release that included the following zinger:
"While Chicago is home to a thriving arts community... it is our conclusion that the great majority of the art fair market in the United States has gravitated toward the coasts. This is where MMPI will be reallocating its considerable resources."
The statement stung. The accusation that no one buys art in Chicago -- period -- hung in the air. Lots of insults and accusations had been made over the years, but no institution had ever just thrown up their hands and walked away. No one had ever, in such a wholesale way, blamed Chicago for its failure to have a major art fair.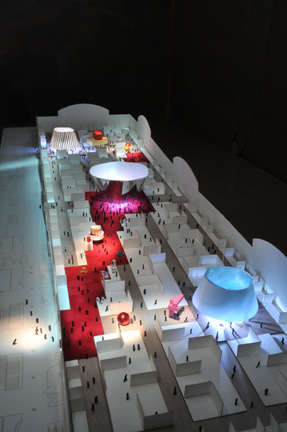 At that point, Karman had already left MMPI and announced this new show, but not after serving at the VP level during the six years the Merchandise Mart ran the fair. Did he watch the show crumble, slowly worsening with each passing year, feeling that if he could just start fresh, he could turn this boat around? We'll never know.
But what we do know is that like Batman, Tony Karman is showing up in an extremely cool flying car and a bunch of awesome gizmos. The three-man partnership that owns EXPO Chicago (Fox and Alfred, played by Morgan Freeman and Michael Caine -- wait, I mean Mark Lyman and Michael Franks -- the logistical and financial masterminds who run The Art Fair Company, and bring to the table a behemoth tactical skillset which allows them to runs a dozen giant exhibitions without a hitch) plan on exploding out of the gate. Karman explained, "The only way to differentiate was to go to the top. We could never attract the top regional collectors with a regional show, so our plan has always been to open up the global fall arts season with a great international fair in America."
The final metaphor: The Batcave. Housed in a pavilion bigger than a "handful of football fields," they are creating an architectural statement by partnering with Jeanne Gang, of Studio Gang Architects, avoiding the rank-and-file of endless rows of trade show booths. It will, instead, offer staggered pathways and smatterings of sculptures and installations -- not to mention a giant reflective Mylar cone, which, like Millennium Park's "Cloud Gate," will give attendees an opportunity to try to find themselves in the distorted reflection by frantically waving at themselves.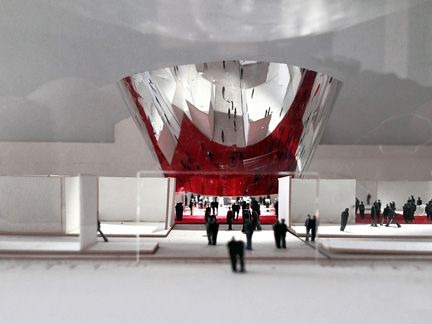 Like movie sequels, art fairs must constantly raise the stakes. It's not enough to just have great art, you now have to create an art experience at every turn, and the show environment needs to be a spectacle in itself. Thus there will be a myriad of experimental and local attractions mixed with the commercial booths, for example Tom Burtonwood will be making sculptures of patrons using a 3D Makerbot printer (via Bad at sports/Booth #100), and Elysabeth Alfano is hosting a dinner party on stage at 5:30 on Thursday.
Will Chicago's art scene emerge, triumphant? Will we be able to jump to the ledge and climb out of the hole? To quote Robin's article (yes, I even managed to weave "Robin" into this piece):
"I can only do my part to make sure the collectors come and that they experience it all. What I can't make them do is write a check. But I am confident that with the dealer list and the work that is going to be presented, that we are giving ourselves the best chance to prove that Chicago has a long play and a rightful place in the international art calendar."
In the movie, the prisoners chant, "Deshi basara! Deshi basara!" encouraging a prisoner to climb out of the giant hole they're trapped in. Bruce Wayne asks his cell mate, "What does that mean?" He replies, "Rise."
EXPO Chicago will take place at Navy Pier from September 20-23.
REAL LIFE. REAL NEWS. REAL VOICES.
Help us tell more of the stories that matter from voices that too often remain unheard.