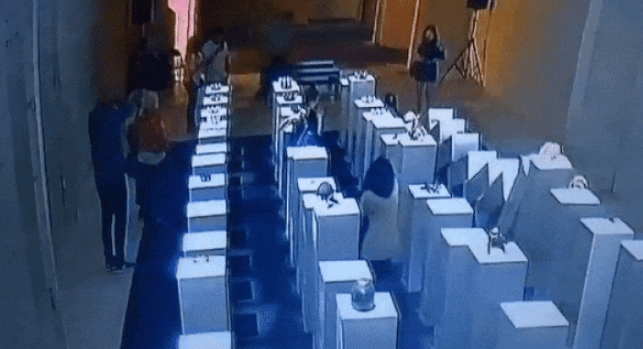 A visitor to 14th Factory art gallery in Los Angeles lost her balance while posing for a photo, accidentally initiating one the more costly games of dominoes to ever exist. 
Watch in the video below as a row of artworks by Hong Kong-based artist Simon Birch go toppling to the ground, one after another. It's both cringeworthy and mesmerizing. According to Hyperallergic, the damage added up to approximately $200,000.
Be careful out there, art lovers. And don't do this. Or this.
UPDATE: Since the video has been making the rounds online, publications including The Guardian have speculated that perhaps the video is some sort of stunt.
The video was posted to YouTube Thursday by a mate of Birch's who goes by "Party Pooper," along with a caption urging viewers to check out the exhibit "before it closes end of July (or before a few more pieces break)."
A representative for 14th Factory told CNET the gallery was not responsible for sharing the video, but it is notable just how perfectly the blunder was captured on tape. The gallery rep also refused to disclose whether or not the works were insured. 
REAL LIFE. REAL NEWS. REAL VOICES.
Help us tell more of the stories that matter from voices that too often remain unheard.