If Ellen von Unwerth and Helmut Newton had a love child the result could be photographer and rising art star Tasya Van Ree. With heart and soul laid bare and often decorated in inky poetry, Van Ree's high contrast portraits manage to appear both fashionably staged and caught in-the-moment, documenting her very personal relationships with her subjects. Stir in a bit of the occasional circus-like atmosphere of Los Angeles celebrity and the photos are sexy and striking.
She attributes photojournalists such as Henri Cartier-Bresson and Weegee as her main source of inspiration: "There is this undying interest with the traditional seduction of black and white film. It captures the internal dialogue of whatever it is that you're shooting, and exhibits it in a revealing way. I think there's something quite alluring about it. Something genuine."
Van Ree herself, willowy and exotic, was born and raised in Hawaii, and with her long dark hair and trademark black hat (she won't reveal the origins of her style), knows the power of her own image in self-portraits. But it is actress Amber Heard (Zombieland, Pineapple Express) who is most frequently the subject of her photographs. Like Marilyn Monroe to Milton Greene, their relationship is undeniably one of sensual reciprocity between artist and muse. As a result, some of her strongest work comes from shooting the intimacy and openness in the face of Heard, who clearly loves the role and is expert in her comfort in front of the camera, knowing how to strike an iconic Hollywood blonde pose with the tilt of her head, the angle of a cigarette.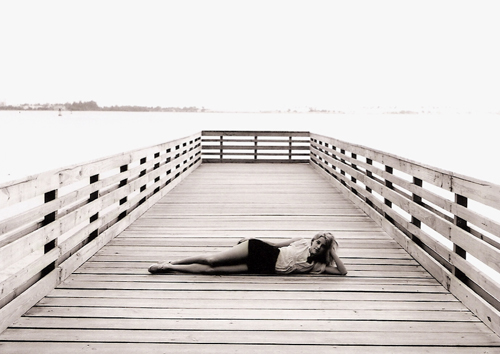 Untitled, 2008, Puerto Rico
©Tasya Van Ree. Courtesy of the artist.
Van Ree describes Heard as a "magical entity" who keeps her inspired. "Amber and I met a little over three years ago. There was something about her that I couldn't quite understand. It was beyond her physical beauty, she captured something inside of me artistically. We instantaneously formed a connection and the documenting then began. I think there is a degree of trust that anyone must have with you when you 'intrude' into their life with a lens." The two are currently collaborating on a book she describes as a "cinematic tale of one woman and her life in private, public and everything in between."
Van Ree is also an accomplished painter and she will occasionally adorn a photograph with twisty lyrical words that have such vulnerability and eroticism one gets the sense of peeking into her private diary. "I always liked the way writing looked on photographs," she explains, "especially when it's organic and non-contrived. It personalizes the picture and gives the audience a literal understanding of what direction to take to begin the interpretation process...I think my style of writing parallels my photography. Both have a sense of romanticism clothed in whispers of darkness."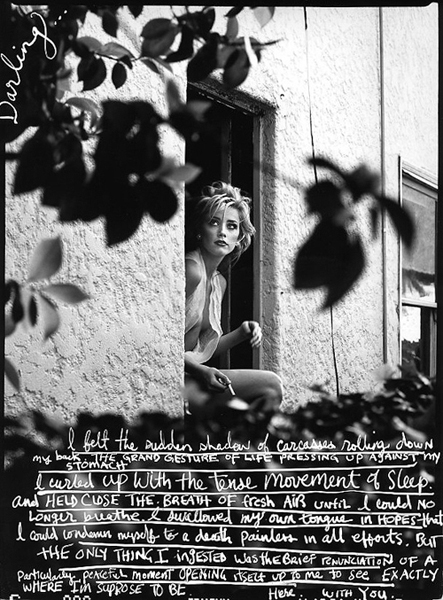 Untitled, 2008, Los Angeles
©Tasya Van Ree. Courtesy of the artist.
Having just closed a successful exhibit at at the Celebrity Vault in Beverly Hills (her shows draw crowds as beautiful as the images on the walls), Van Ree is now focusing on her next project: "I can't disclose the theme or concept...but I'll just say it'll be a photographic journey into the mind of a passionate killer...lust."