Some people doodle. Others diddle or dawdle. But for those who feel compelled to draw, to dance, or to dabble, there is an inner fire which must be fed. Feeding that fire makes perfect sense to those who are creative. Trying to explain the process to others can be incredibly difficult.
One of the most interesting aspects of art (at least for artists) is the way it can become a compulsion or a discipline. It's no secret that the pursuit of art (or the making of art) is often compulsive. But for those who are fiercely focused on the process, it often requires the discipline to isolate one's self from annoying others and concentrate on the matter at hand.
Just as a great deal of writing is spent editing and rewriting, a great deal of painting and sculpting involves rethinking, retouching and revising. Many people view art as a product of speculative financial worth. Many artists, however, view their work as a life-long process of immeasurable personal worth.
The motto for the San Francisco Silent Film Festival is "True art transcends time." So it should surprise no one that the San Francisco Jewish Film Festival recently screened two documentaries about art: one focused on the historic and commercial value of art; the other on the spiritual and inspirational nature of the creative process for a local artist.
Written and directed by Stephane Bentura, Dealing With The Devil (which received its world premiere at the 2015 SFJFF), deals with an important piece of 20th century art history: Nazi Germany's acquisition of huge amounts of art during Hitler's heyday. With commentary from leading European curators and art historians, the film focuses on the work of Hildebrand Gurlitt, a Dresden-based art dealer who, although his grandmother was Jewish, was recruited by Joseph Goebbels to seize and sell what the Nazis had labeled as "degenerate art" due to its modernism.
During his years as an art dealer working for the Nazis, Gurlitt often purchased art from Jewish families in desperate straits. While art historians throughout Europe knew that an incredible number of paintings and sculptures were missing, the depth and breadth of Gurlitt's personal collection (more than 1,400 paintings including works by such modern masters as Pablo Picasso, Marc Chagall, Henri Matisse, Max Liebermann, Otto Dix and Paul Klee) were unknown until Bavarian authorities discovered them in the possession of Gurlitt's son, Cornelius, in 2012.
In his will, Cornelius Gurlitt had made clear his wishes for how the art collection was to be dealt with upon his demise. Following his death in 2014, the vast number of paintings were to go to the Museum of Fine Arts Bern in Switzerland although, in some cases, they were to be returned to the descendants of the Jewish families from which they had either been bought or stolen.
Bentura's film is less concerned with how the recovered art will be sold or displayed than with documenting how the art was acquired by Gurlitt on behalf of the Nazis. Although Gurlitt kept many works for his own collection, top level Nazis like Hermann Goering were avid art collectors who, with pieces of modern art devalued because of their so-called degenerate nature, were more than happy to trade four paintings by Matisse for one painting by a more "respectable" artist.
Dealing With The Devil is a fascinating documentary which paints a horrifying picture of how the Germans looted much of Europe's art, "liberating" great paintings from their owners and the museums which displayed them.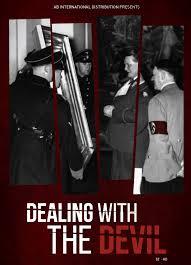 Poster art for Dealing With The Devil
Portraits of artists that paint them as quirky or eccentric figures can often be found in the documentary genre. But Plasticman: The Artful Life of Jerry Ross Barrish easily stands apart from the rest. Backed by Beth Custer's delightfully quirky musical score, William Farley's protagonist is a former filmmaker who, for much of his life, supported his artistic expression by working as a bail bondsman.
Barrish came from a rather unsophisticated family (his father was a professional boxer who had connections to some of San Francisco's gangsters). But after learning how to be a bail bondsman, Jerry became the go-to guy for Bay area protesters who had landed in jail during the 1960s. His dyslexia never stopped him from pursuing his passions as a filmmaker, actor or sculptor. In fact, one curator is convinced that Barrish's dyslexia is the source of the empathy that is apparent in his work.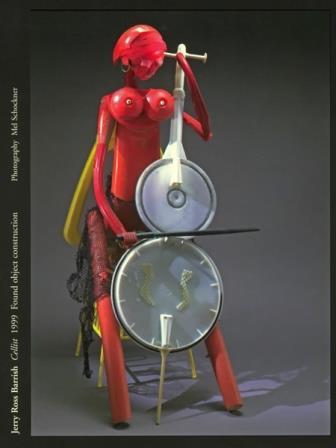 A sculpture of a cellist made from plastic parts by Jerry Ross Barrish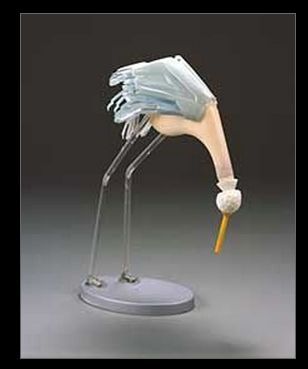 A sculpture of a bird made from plastic parts by Jerry Ross Barrish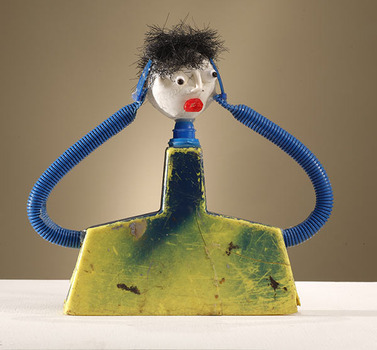 A sculpture made from plastic parts by Jerry Ross Barrish
About 25 years ago, Barrish was living by the beach in Pacifica when he belatedly responded to the advice given to young Benjamin Braddock (Dustin Hoffman) in The Graduate: "Plastics." As he walked up and down the beach, he noticed all kinds of trash that had either washed up on shore or been left behind by beachgoers.
Although he has never laid claim to a personal muse (or understood what compels him to create his art), some of the sculptures Barrish has created from recycled trash have made quite an impression. As he explains on his website:
"I usually only pick up plastic objects belonging to the lowest caste in the hierarchy of debris. Capturing gesture, form and movement to bring life to this refuse is the essence of my art. There's a sense of magic when a piece is completed. Sometimes I don't understand how it happened."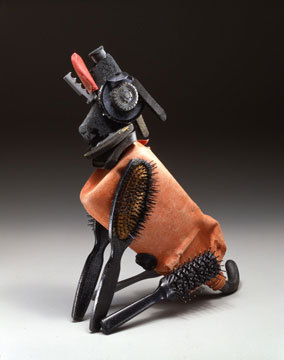 A sculpture of a dog made from plastic parts by Jerry Ross Barrish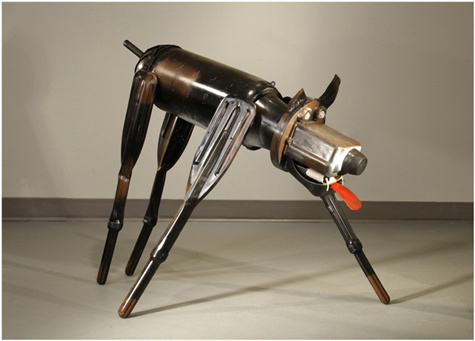 A sculpture of a dog made from plastic parts by Jerry Ross Barrish
William Farley's documentary (which received its Bay area premiere at the 2015 SFJFF) does a fascinating job of capturing a fairly humble artist whose work (though widely admired in the art world) never quite broke into the world of commercial galleries. Several of Barrish's friends insist this is because of the medium in which he is most comfortable: plastic.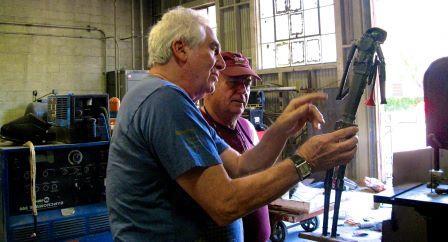 Jerry Ross Barrish discusses a bronze casting with a colleague
The second half of the film focuses on Barrish's attempt to follow a friend's advice by trying his hand with bronze castings. After being accepted as one of the artists whose work will be featured in an outdoor art project at Hunter's Point, Jerry is seen tackling a new artistic challenge. His sculpture of a 15-foot horn player (whose shape was inspired by the pieces of a disassembled gun) requires him to be able to work with others (as opposed to working alone in his studio).
Plasticman: The Artful Life of Jerry Ross Barrish is a touching film which not only demonstrates how someone from a home that was devoid of art can evolve into an acclaimed artist, but how he can do some of his best work by rescuing discarded pieces of plastic and transforming them into impressive and highly imaginative sculptures. Here's the trailer:
Calling all HuffPost superfans!
Sign up for membership to become a founding member and help shape HuffPost's next chapter