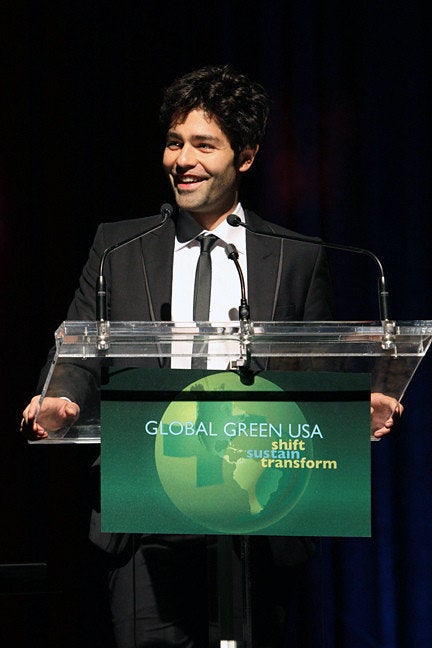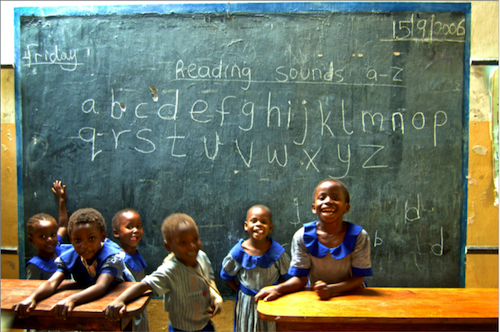 Just in time for the holidays, I find my inbox flooded with emails from foundations requesting money and invitations to charity drives and events. This year, thanks to Twitter, I can also count on my feed being jam packed daily with 140 characters or less of guilt, in the form of tweets by various filmmakers, institutions and individuals all looking for a way to fulfill their budget requirements by the end of the year. It reminds me of that marriage speech in Friends when Joey says "... and through this having and giving and sharing and receiving, we too can share and love and have... and receive."
But amidst all the invites, I found myself drawn to one by New York artist Alessandra DeLaCruz, who recently came back from a month-long stint in Kenya. She was there to teach art to primary school children at the Vutakaka Junior School, through a program set up by the East African Center for the Empowerment of Women and Children -- EAC for short.
I knew DeLaCruz could put her art background and business savvy to good use -- her previous event in April to benefit disaster relief for Japan was a resounding success -- and so I decided to give into the spirit of the holidays and attend this past Friday's installation of "Art for Soul: Kenya," at the Gallery Bar on Orchard Street.
The EAC is an organization spearheaded by just three women, and their mission concentrates on bringing education, heightened health awareness and helping to eradicate poverty in East Africa. With a low operating budget of $100,000 per year, they rely on donations and contributions to help the community of Takaungu, in Eastern Kenya, located on the coast between Malindi and Mombasa. Because of their constant work in the past 10 years, the EAC has helped the schoolchildren of Vutakaka achieve scores that rank consistently higher than all other national primary schools.
The evening at Gallery Bar turned out to be a resounding success, with artwork from over 35 artists being sold at $100 per piece, including an untitled charcoal and pencil abstract drawing by DeLaCruz, an ochre-colored glass box with a haunting face painted inside titled "Dreamer," by Chinese/American artist Pansum Cheng -- also the co-curator of "Art for Soul" -- and a red outline portrait on recycled board by favorite LES artist Anthony Zito, whom filmmaker Jim Jarmusch has called a "really fine and inventive painter."
DeLaCruz brought her abstract art background to Vutakaka, and she explained "the concept of abstract art is a largely subjective idea even for someone who has the context for it, so it was very interesting for me to see what the kids came up with who haven't been exposed to this kind of idea before." Her co-curator Cheng can't wait to go to Kenya himself, hopefully next year, but in the meanwhile was instrumental in getting the acrylic paint donated to the school by Alan McElroy of the Fashion Institute of Technology in NYC.
Behind the bar at the event were also half a dozen framed images of Kenyan schoolchildren by People photo editor Brenna Britton, conveying the spirit of these young minds which will one day perhaps help in bringing peace and prosperity to their outstandingly beautiful country. It was the East African sky that first captured my imagination and has stayed with me more than 10 years later and in Britton's photographs it looms above the smiles of the kids, busy at work or play, in their impeccable uniforms. The images nearly brought me to tears.
No soiree in NYC is complete without celebrity sightings, and actor/filmmaker Adrian Grenier provided the male eye candy. Grenier was in town for a talk titled "Live Long by Living Well" the night before, conducted by Deepak Chopra as part of his Deepak Homebase program. I found his film Teenage Paparazzo such an insightful, well-intentioned look into a world where one would expect a star to feel nothing but disdain and yet, in person, Grenier was not as good-natured as I expected him to be.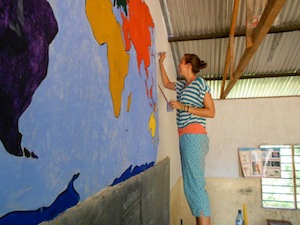 Jen Hill, the Program Director for the U.S. for the East African Center, said she was "excited that it is artists from this community supporting the art programs in Vutakaka." She continued "when Alessandra [DeLaCruz] was there, she taught the kids, spent time with them and painted a beautiful mural and we're looking forward to doing more of it in the future, which is why this evening was created, to help achieve that."
When all was said and done, "Art for Soul: Kenya" brought in more than $3,000 for the EAC, which goes a long way considering $24 a month is enough to school, house and feed a child in Vutakaka. Of course, much more is needed, and if this year's resolution for us is that 2012 be the year we begin making great investments -- and putting our money truly where our mouths are -- the holidays are a great time to give towards the future of a child.
For more information check out the EAC website.

Top image by © Brenna Britton, bottom image by © Alessandra DeLaCruz, all used with permission