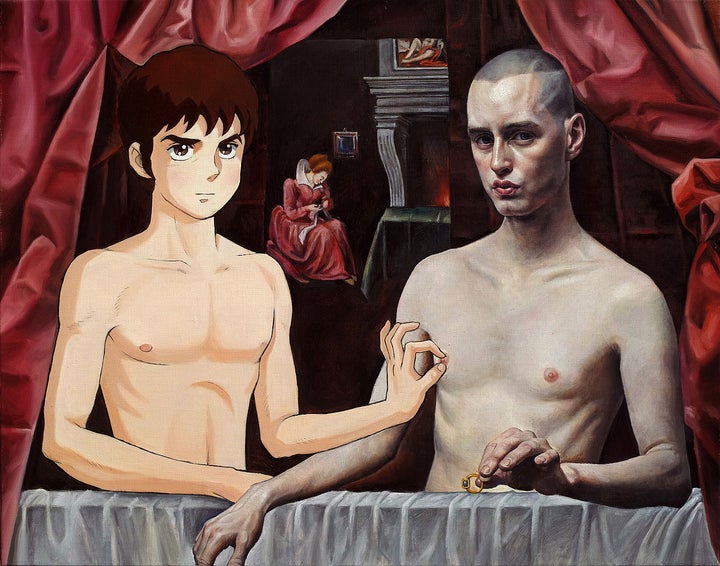 Alex Guerra, founder and curator of Art Gaysel, and I chatted recently. The free art show is held at the Miami hotel Alex and his husband operate, Hôtel Gaythering, from December 6 - 10. Check it out if you're in the area.
Phillip M Miner (PM): For people who've never heard about it, tell me about Art Gaysel?
Alex Guerra (AG): I started Art Gaysel because the artist struggle is reeeeaaaaalllll!!!! As a queer artist myself, I know what it's like to knock on gallery doors, trying to get your work to be seen in the hopes of taking your work to the next level. In the emerging art world, the highest level (before a Museum of course) rests in the hands of those galleries exhibiting work at art fairs like Scope, Pulse and Art Miami. Dream Big Girl! Everyone doesn't get that chance but they can at Art Gaysel. These artists get a fast pass into one of the most prestigious weeks in art in this country, Art Basel/Art Week Miami.
PM: Wordplay is my favorite.
AG: As a local every year I hear other locals and visitors refer to the week as "Art Basil." It's funny to hear and since I can't pass-up a good play on words, I decided that it would be great to name our event "Art Gaysel".
PM: Speaking of wordplay? Gaythering?
AG: When my partner Stephan and I opened "the Gaythering" Hôtel Gaythering in 2014, the mission was in the name. This is going to be a Gathering Place for the Gay Community and its allies. The mission of our space is to create a safe space that lifts and encourages not just the Miami Gay Community but also our extended gay community globally.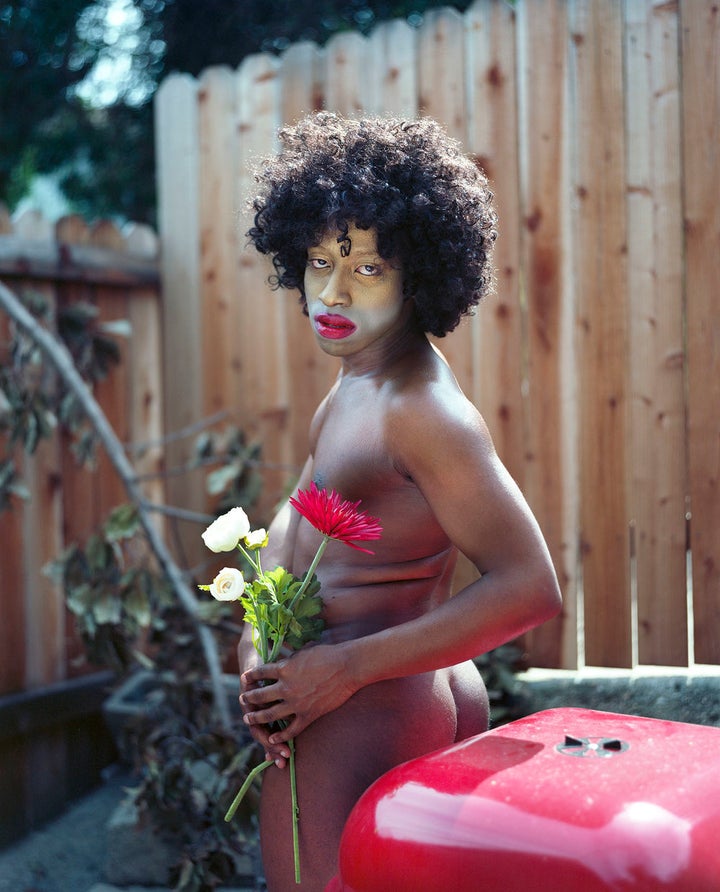 PM: I saw you highlight Spanish artists this year. Can you say more about that?
AG: I am a big fan of the work by "El Dibujo" and through getting to know him via Instagram, I was introduced to Bran Solo & Fran Munyoz. Instagram as a platform was and is crucial in the development of Art Gaysel. The platform has helped me find and reach out to many artists which I have become friends with and collectors of.
As luck would have it, these boys are all friends so I decided I wanted to take the event to another level and afford these guys the opportunity not only to visit this country (which they had not), but to expand our reach into Europe. Incorporating these boys and Pascual Rodriguez opens the door to the future queer artists living in other countries hopefully exhibiting at Art Gaysel 4 and beyond.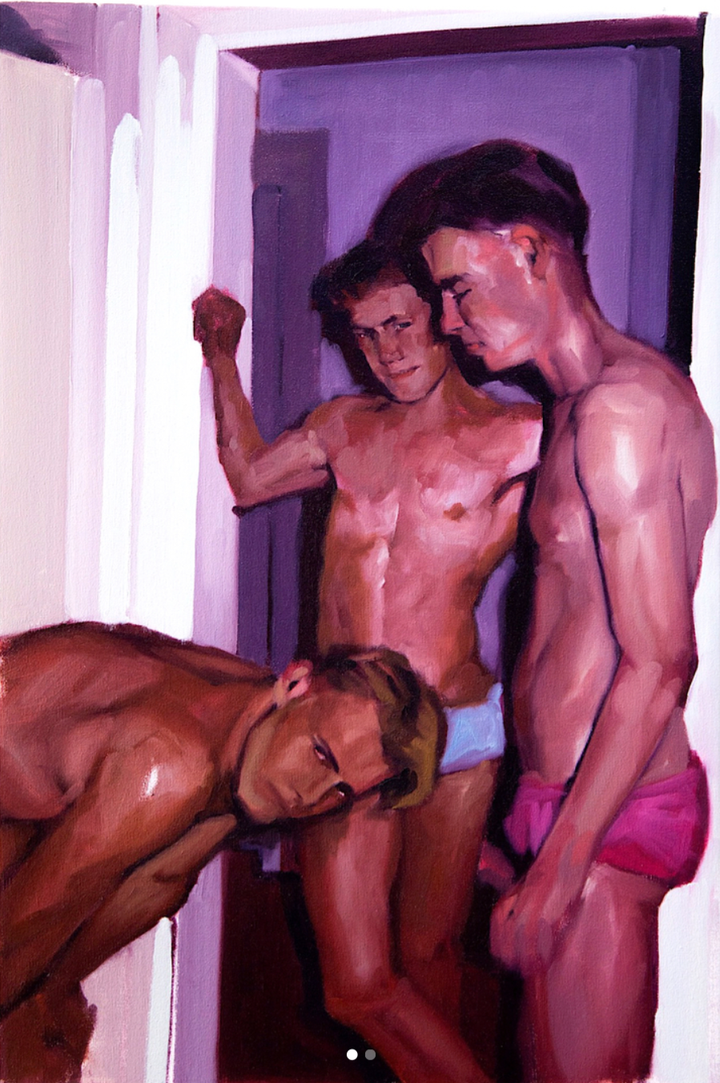 PM: Can you talk more about curating the show?
AG: Curating is one of the most rewarding and exiting aspects of Art Gaysel. The process results in an ultimate collage of artists and Art Gaysel is "the piece". The handpicked pieces to create one amazing work of art.
My goal in curating the main show is to entice the patrons/guests of the event to want to see more. It's simply a taste. I want work that excites the viewer, makes them want to know more and makes them want the ultimate engagement with it, taking it home.
A few artists were invited to be a part of the show with the requirements of exhibiting artwork in the main show located in our Library, and bringing enough work to exhibit out of their rooms. Each artist is also required to open their doors during the event hours and engage with guests touring the show. The rooms become like a studio walk through.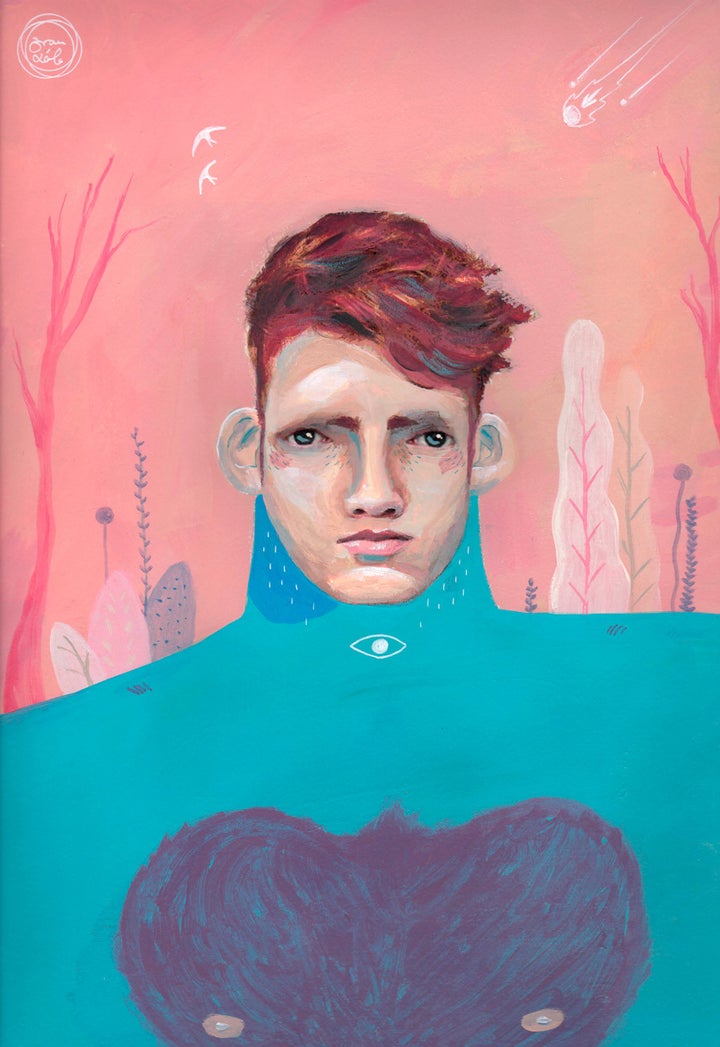 PM: Exhibiting out of their hotel rooms?
AG: In a sense it's an artist in residency on the most important week of Art in Miami. We as business owners get to showcase our "works of art" our guest rooms and also house these artists that have been invited to stay at no cost to them. We decided that this aspect of the show is important to us as we see it as a form of giving back.
As a side note, we have incorporated two of our revamped guests rooms into the mix so our patrons and visitors can experience our new look, which we are referring to as "Blush & Bashful" a new direction from our existing "Handsome Industrial" design.
PM: Blush and Bashful? Your colors are pink and pink. Note, I lied earlier, my favorite thing isn't wordplay. It's quoting Steel Magnolias. But, that's a smart business move. Can you talk more about the business side of running a queer business / selling queer art?
AG: As a business owner I can tell you that Instagram is where it's at. Instagram has created an environment that was lost with Facebook. A safe space to share your day to day without the negativity that engulfs other social media platforms.
Some of the most fascinating and engaging Instragrammers are those that have realized the potential to promote themselves and their art. They have learned to curate their posts in a way to showcase work and the process.
PM: Back to curation, I saw people of color have a special exhibition this year?
AG: There is definitely intent to highlight work by Queer Artists of Color. Simply incorporating their work would have not been enough in my eyes. The current social climate is appalling and that's not just referring to our country's social climate. I'm also referring to the social climate within the gay community. When Philly decided to add a Black and a Brown stripe to the gay flag I thought it was genius. Here is art in action. This moment was crucial in stating that people of color feel forgotten and ousted from the party. "No Blacks, No Asians, No Fems" is sadly a social norm in our community.
Had I simply sprinkled the work of Queer Artists of Color the message would end at those artists with accepting them personally. By featuring these artists and giving them a Q&A platform at the event, we are letting the Community of Color know that we see them. We see you, your talent, your struggle and we acknowledge your seat at the table.
Art Gaysel is an extension of our Gaythering mission and my passion for art. We created the event to encourage and lift queer artists on a week that is usually only dreamed about by many artists.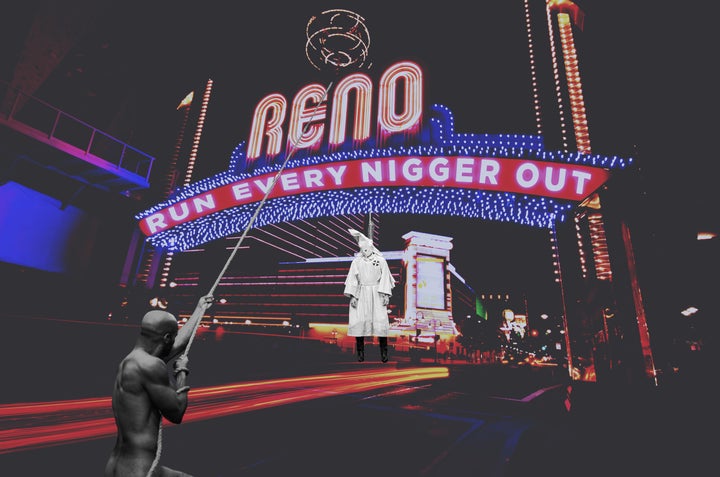 Popular in the Community