I recently heard an acronym for ART: Always Revealing Truth. As founder of the Million Mamas Movement, an organization dedicated to mothers and children throughout the world thriving, I believe arts are critically important to children's well-being and expansion. Every person on the planet has a creative impulse within them. To live well is to have the opportunity to express that innate creativity in our lives. All children are entitled to have the experience of exploring different sides of themselves artistically. Arts moves, inspires and transforms us. In times of great change, it is art that captures and preserves what is occurring.
In April 2012 I met Layla Love, an amazing visual artist who uses photography as her medium. I was shooting footage for a documentary on the Million Mamas Movement at the Agape International Spiritual Center's yearly Revelation conference, a gathering of luminaries in the areas of art, science, medicine and metaphysics. The booth that displayed Layla's photos was near me and I was struck by the depth, sensitivity, beauty, and artistry represented in her photos. Truly her photos reveal truth through the revelation of our connection with one another and with the amazing planet we live on.
I asked Layla about her passion for her work and she said, "Art is why I get up in the morning, change is the only constant, and, we are inescapably connected in this collaborative performance called LIFE." You can see and purchase her photos on an online auction, at http://www.artnet.com Proceeds will be donated to causes she support. Layla feels moved to contribute to women's and children's, environmental and transformational movements. Marianne Williamson curated Layla's photos for her forthcoming event, Sister Giant, http://www.sistergiant.com. Layla's work is deeply inspired by Gloria Steinem and Gloria's work with the women's movement. Here's what Gloria Steinem said about Layla's art, "Layla Love is an artist in all the best senses of that word -- in love with and filled with the energy of life, from suffering through miracles. Her work is universal and unique at the same time. You will always know it's hers -- and your own."
During a recent conversation, Layla shared that she is currently working on 2 projects that involve a collaboration with renowned spiritual teacher, Michael Beckwith, founder of the Agape International Spiritual Center in Culver City, Ca; Agape International Media and Hay House. One is called, "She of God," a set of 120 affirmation cards that fuse fine art and affirmation in honor of the feminine face of the often misrepresented divine feminine. The affirmation cards will feature Layla's original work on both sides accompanied with an inspirational quote from women all around the world, some well-known women such as Marianne Williamson, and some not. The intention with these cards is to activate a deeper appreciation of the "divine feminine" and to bring balance to the historical imbalanced perspective of the feminine in relation to God. Layla is writing a 300-page guide to accompany the cards." Rickie Byars Beckwith will be writing the foreward and Michael Beckwith will be writing the closing.
The other project is a New World Perpetual Calendar featuring 365 quotes from Michael Beckwith and other leaders in the transformational community, including members of the Evolutionary Leaders Council, founded by Deepak Chopra and Jack Canfield. Hay House will release the "She of God" affirmation cards and the New World Perpetual calendar simultaneously in Spring 2013.
Later in our conversation, Layla shared an experience that transformed her at a young age. It spoke to my desire for children to be exposed to various artistic mediums when they are children. When she was 21, her first photographer's assignment took her to West Africa, where she found herself holding children as they were dying. She said that most of her friends were thinking of Spring Break and she couldn't even entertain partying. Her heart was changed in a way that couldn't be undone and left an indelible impression on her about how art heals, transforms and is a bridge that provides meaning to people. Layla said, "there's a bliss that comes from ignorance and a bliss that comes from eyes wide open - seeing the divine in the details, in the service you do, in the love that we emanate - bliss that comes from contributing is much more beautiful when you channel it into service." This may have been a more extreme example of how art naturally evolves us, however, when our children are given the opportunity to express themselves through art, there is a confidence and clarity within about their own strengths.
To see some of the beautiful artwork of Layla Love, go to www.artnet.com. to view Layla's online art auction and article by Anthony Haden Guest. Currently, Layla's artwork is featured in numerous exhibits around the world. Go to http://www.lovephotography.org to learn more about her passions and her work.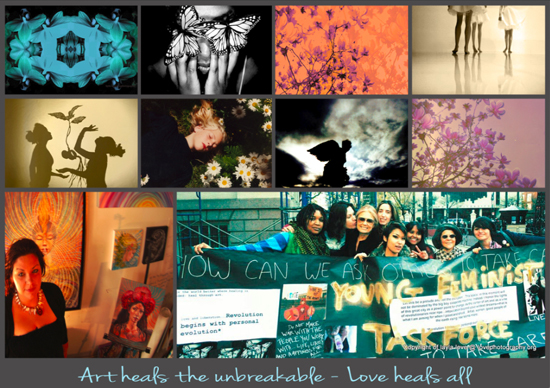 Related
Popular in the Community