For art historian, educator and curator Allison Thompson, the arts in general and the visual arts in particular, play an important role in society. "It is through art," Thompson maintains, "that we have a chance to think through and articulate what a society is aspiring to. Art comes together to make meaning, and is a forum to envision what is possible."
Although she is so passionate about the role of art in society, and has made major interventions in the visual art landscape of her island-home of Barbados and the larger Caribbean, Thompson did not start out wanting to be an art historian. In fact, becoming a serious scholar and educator of Caribbean art seemed to happen by chance.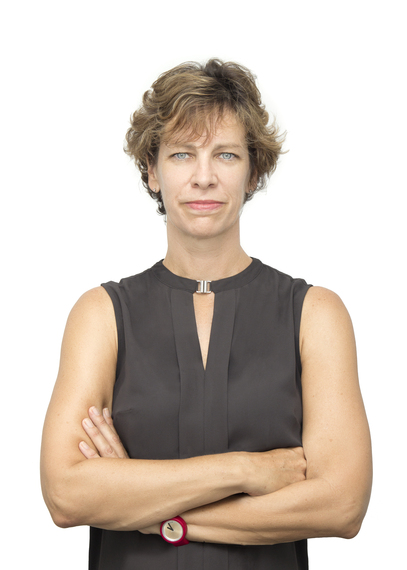 Allison Thompson was born and grew up in Canada. As an undergraduate student she had her heart set on becoming a lawyer until she ended up taking an elective in art history. Says Thompson, "I could not believe someone could get credit for this!" Thompson would go on to earn both a bachelor's degree and then a master's degree in Art History before moving to the island of Barbados. For her master's thesis, Thompson examined the Women's Art Association of Canada, detailing how a group of women with philanthropic interest were more forward thinking, and took more risks on artists than the art establishment of the country did.
This early research on women in the visual arts would put Thompson in good stead when she moved to Barbados in 1986. "How I ended up in Barbados," she told me, "was that I married a Barbadian that I met at college. He had to go home and work for four years as part of his obligations, and so I came to the island with him." She has pretty much been on the island ever since, except to get her doctorate in the United States on a Fulbright scholarship.
In Barbados, Thompson started working at the Barbados Community College, eventually rising to divisional head and senior lecturer in the Fine Arts Division of the College. Though she started out at the college teaching a course on French Impressionism and Italian art, that course soon gave way to more courses on Caribbean, Latin American and African diasporic art. And it was here that her master's thesis would prove quite useful because much of the early pioneering nationalist work on Barbadian art was done by women.
As she explains, "Beginning in the 1940s there was a growing awareness of something uniquely Caribbean and Barbadian that could be realized in the visual arts. Individuals in Barbados started organizing exhibitions of local artists and started holding classes. Typically, it was white women doing this kind of work, because those were the women with the time and the resources to dedicate to this type of activity. These women included the likes of Golde White, who was born in Barbados but lived and painted in Guyana for a number of years while her husband worked there before returning home in 1943. Other women who played a prominent role in the early development of the visual arts on the island included Eileen Hamilton and Kathleen Hawkins. What is so interesting about these women," Thompson continued, "is that they did not become mothers and so it was perhaps easier for them to transgress established social boundaries in becoming visual artists on the island."
Even so, there was a social divide within the visual arts scene on the island with race lying just below the surface of this early pioneer work. "In the early art scene", Thompson explains, "several black artists talked about feeling unwelcomed in the developing visual arts movement on the island."
Despite this, in the heady days of the 1940s through to independence, nationalism was propelling many of the artists in Barbados and the larger Caribbean and there was a feeling of optimism in the air. "From the 1940s onwards, artists played an active role in nation-building and institutions such as the Barbados Art Council was formed. By the 1960s and 1970s, a number of expats came to settle on the island and galleries were soon being established. The 1980s saw increased institutional support for artists in the formation of the National Cultural Foundation."
Yet, for all the progress that has been made in the visual arts, there is still one area which has been lagging, and that is the formation of a national art gallery on the island. For thirteen years Allison Thompson worked with Alissandra Cummins on a National Art Gallery Committee which was conceptualized to address "... the problem [of] scarcity of documentation, critical writing, writers and avenues for writing about art in the Caribbean ... For the National Art Gallery Committee therefore, a crucial objective has been to reach and recruit wider audiences for the visual arts and implement developmental objectives which will be of benefit to the widest community of visual artists in Barbados."
As Thompson further explained, "There is a lot of interesting work that has happened and continues to happen in Barbados, but there is no place to cull together all of these activities. There are acquisitions that should be made. The National Gallery, envisioned as regional in scope, and not confined to one particular space, was visualized as a platform to help the arts in the country develop."
Interestingly enough, Thompson maintains, the lagging ability to form a national gallery in Barbados is indicative of the predicament the Caribbean finds itself in today. For Thompson, "The 50s and 60s and even the 70s were a more dynamic time in the Caribbean as a whole. There was a lot more integration of the Caribbean then, and artists regularly moved around the islands sharing ideas. We are presently getting ready to celebrate the 50th independence of Barbadian independence and so there has been a lot of looking back to see how far the nation has come since independence. In the 1960s for example we had an art publication that literally was the size of the New York Times! Where did all of this enthusiasm go? The Caribbean seems less integrated now than it was then."
Still, Thompson takes great satisfaction in the work that she has done and continues to do at the Barbados Community College. "Working with young people is not fixed but rather is an exciting, dynamic process that is ever changing and challenging. At the Barbados Community College we have really great faculty and over the years there have been more and more graduates whose projects are increasingly ambitious. The artist Sheena Rose is a great example of the students we have graduated."
Another point of pride is that several years ago the College implemented a program, now government supported, where 18-25 art students travel abroad every two years to look at visual arts outside of the island. In addition, the college is bringing more international artists to the island. The British-based artist Sonia Boyce was one such artist invited to work on the island, and students (one of whom was Sheena Rose) interned with Boyce. "That is such a wonderful opportunity for our students!" Thompson effused. "To be able to work with a professional artist! In this way students learn - this could be me. It is the most profound thing. Another of our graduates, Versia Harris, is now teaching at the college and students see, through the work of Versia and other graduates who return, what it means to have a platform, to have a voice."
So, what advice would Allison Thompson offer to someone who wants to wear the multiple hats of educator, curator and sometimes art practitioner as she does? "For all the rational decisions that you can make in your life, if you can pursue your passion and work in an area you know to be important, that is a blessing." She pauses before continuing, "Do not wait for an opportunity to find you, but rather make the opportunity for yourself. I would say to a young person coming up, whether they want to be an artist, educator, curator or some combination thereof, that your job is to challenge people's conception and perception of what it is that they think they are looking at when they look at works of art."
Calling all HuffPost superfans!
Sign up for membership to become a founding member and help shape HuffPost's next chapter