If you've never heard or seen the phrase "art hoe" before, it might seem a little jarring. The term has been popular on the Internet and social media platforms for at least a year, but recently, it was introduced to a wider audience as a new movement in which women of color are revolutionizing the selfie as an art form.
Searching the phrase "art hoe" on Tumblr, Instagram, or Twitter, will bring up an array of brilliantly colorful, creative selfies by young people of color around the world. Many of these selfies feature their subjects posing in art museums and in front of important works of arts. Others feature the selfie-takers in front of superimposed images from pieces by Monet or Van Gogh. Others simply include a few well-placed Keith Haring-esque flourishes and squiggles. All of them are fly as hell.
According to Dazed Digital, the term "art hoe" was originally coined by rapper Babeo Baggins, while the art hoe aesthetic and movement was founded and popularized by teen artist and blogger Mars, in collaboration with fellow creator Jam. The 15-year-old Mars, who identifies as genderfluid, has described the art hoe movement as an opportunity to shift paradigms and redefine blackness by challenging stereotypes about people of color.
From just a few selfies posted to their Tumblr, "art hoe" has expanded into an entire movement and collective, consisting of young people of color from all over the world. For the collective, the art hoe movement is an opportunity to give power to marginalized groups.
"This isn't a popularity contest. I and a myriad of others don't have a mass following," Arthoecollective curator Sandra told The Huffington Post via email. "We have a personal understanding of what it's like to be excluded... and we made this movement to make a space for that."
Thus far the movement has supporters like Willow Smith and Amandla Stenberg, and is generating interest in both the art and music worlds. Naturally, anything cool and hop and different (and black) prompts curiosity and eventually imitation -- already, the art hoe tag now includes a growing number of participants who are non-black or non-POC. But it's important to remember the impetus behind the movement -- giving a platform for marginalized young people to express themselves fully and honestly.
Much has been written in the defense of the selfie as an empowering form of self-love and self validation. The art hoe selfie, then, is a kind of radical and revolutionary statement of acceptance of blackness and otherness, recontextualizing what is "art" and what is "beautiful" by giving people of color of all genders and expressions the ability to control their own images and identities. "Art-hoeism" has now gone beyond the simple idea of the selfie -- it's a political movement as much as an aesthetic one.
"Honestly my goals start and end with representation and self love/acceptance," co-founder Jam told The Huffington Post. "Seeing a disabled trans black woman superimposing herself over a white man's painting saying 'I am here, I have worth, and my existence and art matters!' is so wildly radical and revolutionary."
The Art Hoe Collective is an inclusive space for disabled, POC, non-binary, LGBT and other underrepresented communities. To submit art/stories/concerns contact arthoecoreps@gmail.com. For more info on the art hoe movement visit the collective's official Instagram: Arthoecollective.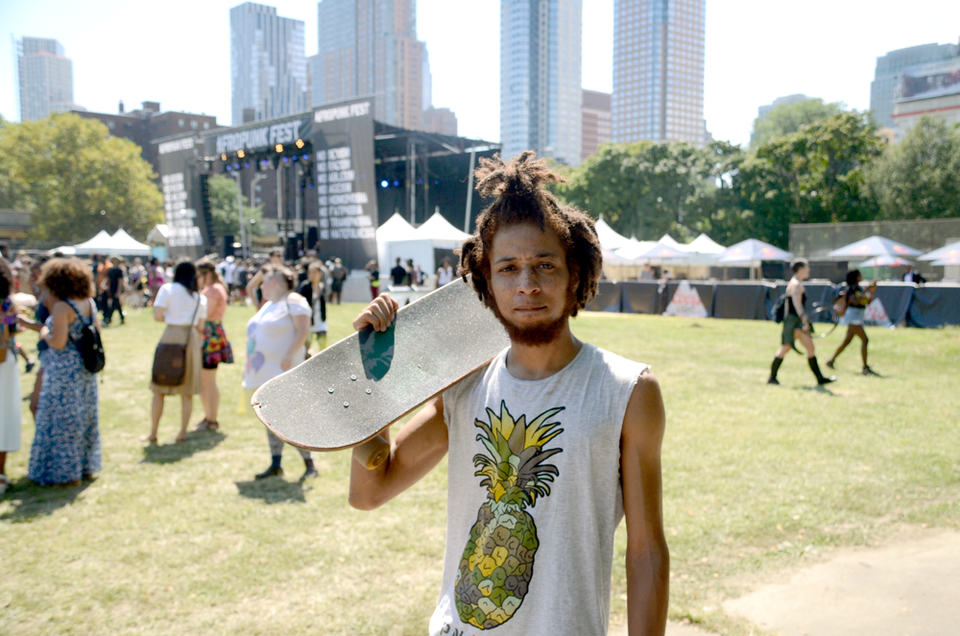 Afropunk Attendees On What The Alternative Music Festival Means To Black Culture
Popular in the Community