All the journeys have a secret destination of which the traveler is unaware -- Martin Buber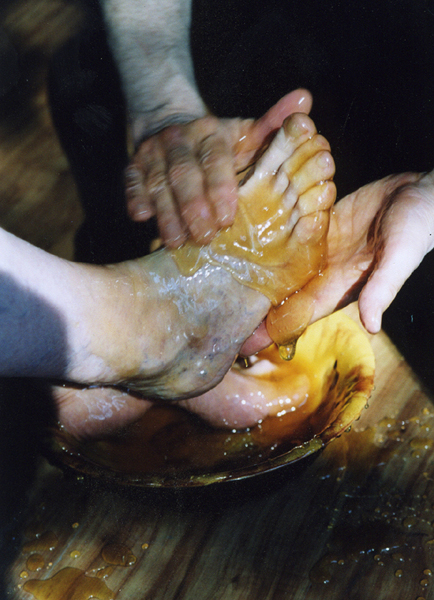 Photo by Rosemarie Padovano, 2006. From Salve series
One of the artist's jobs could be seen as to push the understanding of reality through exploration.
I was inspired by a project titled Honey by Rosemarie Padovano, a New York artist, as an example of that. At the same time I would like to use it as a challenge for you, my reader: you are an artist of your life and the depth of your exploration is creating your masterpiece. In Rosemarie's life, the boundary of the exploration can be described by the following question she asked herself: "Why can't I just come up with an idea for a @#$*ing painting instead?"
Celebrating the spirit of giving and human intimacy, Rosemarie developed a ritual of feet washing in honey.
She first introduced it by asking her dad to wash her mom's feet for a photographic series titled Salve -- among other intentions, to apply the healing qualities of honey to the varicose veins her mom developed after giving birth to four children and celebrate the work of a mother with a product of a tireless work of a bee.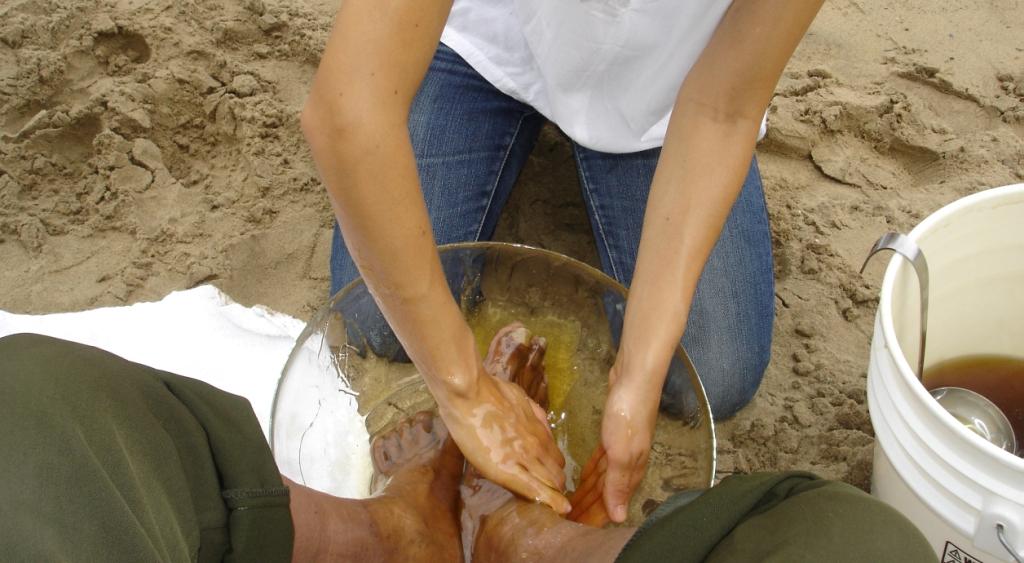 Photo by Muhammad Sorwar, 2011, Socates Sculpture Park, Queens, N.Y.
Later Rosemarie herself performed the ritual in public spaces to expand her own understanding of intimacy and reciprocity, by providing service with nothing received in return but the experience. In her words:
To perform such an act with a stranger becomes an exercise in the awkwardness, struggle, necessity and pleasure inherent in human connection. The viscous materiality of the honey is a metaphor for the interdependence of bees on one another, and ultimately how we all remain in a fragile balance of reliance and community in order to sustain.
The sticky quality of honey makes it a great candidate to be able to "catch" intimacy, an elusive concept that cannot be understood through dictionary definitions or others people's experiences; especially applied to feet, one of our more "private" body parts.
Thank you, Rosemarie Padovano, for getting your hands sticky with honey, for touching feet of strangers, for taking risks and not producing another painting.
The question begs -- what are you planning to explore this year? What boundaries are you ready to push open?
As for having your feet washed in honey -- it's nothing like you could ever imagine -- I tried it firstfoot.
Video by Dr. Mikhail Tis, 2011. Artist's studio, Brooklyn NY
Related
Popular in the Community