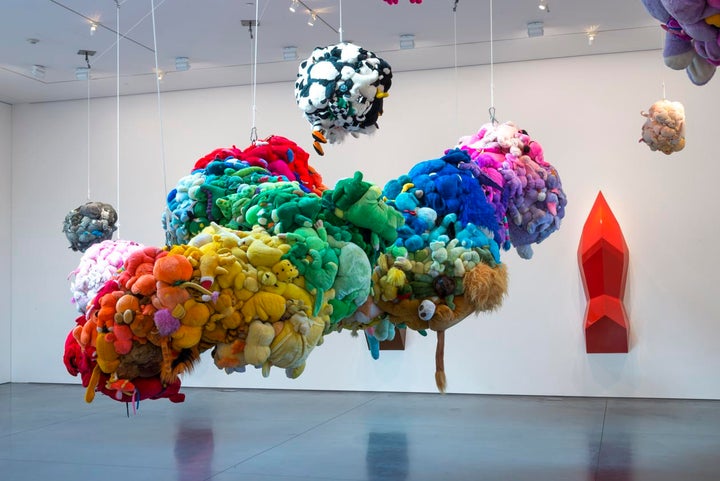 It was 1978. David Bowie had just released Heroes into the new world wave about to crest into the looming decade. The consummate disenchantment of the late seventies still lay curdled on everyone's palate and the world was indeed looking for heroes. At this very moment, at the decade's shapeless, molten transition into the next defining ten years, Mike Kelley emerged from his studies at CalArts and embarked on the artist's journey; that long expectant road winding into an unknown hopeful future, with all the intended stops on the line: from gallery representation to critical acclaim, to market acceptance and the ultimate inclusion into the permanent pantheon of contemporary artists.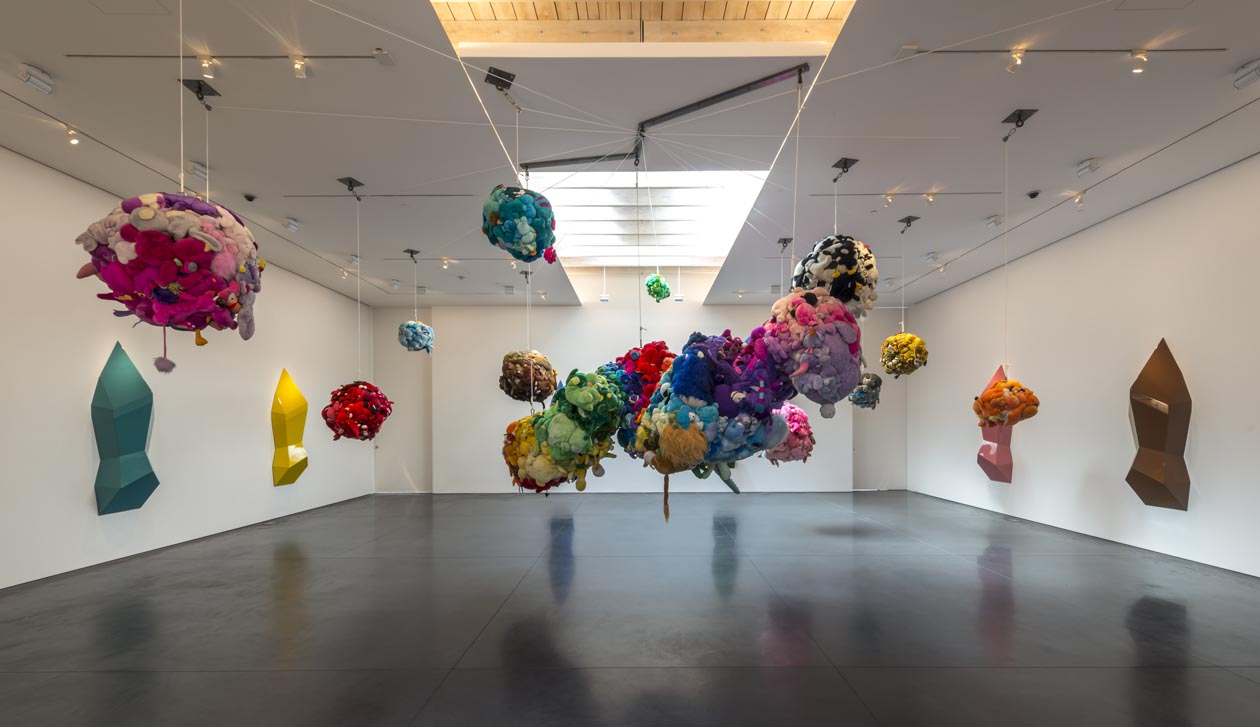 Deodorized Central Mass with Satellites
But the journey for Mike was long and winding; a trajectory filled with obstacles and detours. Though represented by Metro Pictures, he never moved to New York, but stayed in Los Angeles. While New York's critics and curators saw his voice as compelling, challenging and important, collectors and dealers remained unmoved. Mike's work was incisive, self-reflective, ironic, sentimental and deep. It exposed the underbelly of a culture that was already weary of itself, ready to escape rather than reflect. And New York buyers were not up for that challenge.
By the time the Zeitgeist exhibition opened in Berlin in 1982, and the lofting terraced walls of the Martin Gropius Bau were covered in the prescribed three by four meter sized paintings, a taste for large scale paintings was formalized with a call for the "heroic." Fellow CalArts alumni, David Salle, Eric Fishl and Jack Goldstein had preceded Mike Kelley by only a few years. They, along with Julian Schnabel and Robert Longo, and Europeans such as Georg Baselitz, Rainer Fetting, Francesco Clemente and Sandro Chia, were now providing the kind of large-scale heroic canvases the market was hungry for.
As the early 80's bled forward with a deep conviction of its own magnificence, the post oil-crisis boom fueled a generation of material boys and girls, and NYC's art scene exploded with its own sense of entitlement. By the mid 80's Julian Schnabel was summer surfing in Watermill, and David Salle was a regular guest at Larry Gagosian's in Bridgehampton for lobster and cocktails. Eric Fishl was also a staple in the Hamptons, embracing the life with his painted beach bodies. I was there myself in those sunny days where poolside afternoons were spent with Anna Wintour and Isaac Mizrahi, and dinners at Calvin Klein's with Billy Joel playing the after dinner tunes. But in this special world, Mike Kelley was nowhere to be found.
The largesse and pride of the abundance of the 80's made the me decade look like a time of noble self-sacrificing. Wealth became style and an existential vanity prevailed. Everything was heroic, from shoulder pads to the new wave of the permanent hair waves that inflated head sizes and egos. It was a time in art both enormously lucrative and limited by its often narrow, temporal influence.

All the while, Mike Kelley, an artist ahead of his time, remained living in Los Angeles and working in thrift store media. When everything was 80's shiny and new, Mike Kelley collected old rag dolls and fabric toys, used crocheted blankets and discarded stuffed animals and made works with titles of deep pathos and sentimentality such as More Love Hours Than Can Ever Be Repaid (1987). In his From My Institution To Yours (1988) he reflected ironically on the decade's obsession with the prosperity and lifestyle in the office with the mundane juxtaposition of office cartoons.
As the pervasive culture rode out the cocaine-injected decade, Mike Kelley had already grasped the decline of the culture itself and reflected it in every one of his works. But Mike Kelley understood the culture in a way that the culture couldn't understand itself. And he remained, though critically appreciated, unembraced by the art world at large, and by an unwilling public to see itself so reflected.
Then in 1990, a wall came down, a war went up and the art market went bust. Galleries were in trouble. Artists were in trouble. Whatever nevermind. Everyone had lost their religion. The best Salles and Warhols were selling for half or weren't selling at all. Backrooms were filling up with inventory that wasn't moving. No one was buying and no one knew what anything was worth. If you were an artist not yet established, you had no choice but to work the bust. Might as well do what you want. Take chances. There was nothing to lose.
Mike Kelley, who had sought recognition and understanding for over a decade, now found himself standing at the door of an art world that had suddenly closed. Once again on the outside, he took his journey to the one place where a creative freedom was fomenting out of the anarchy of the crippled establishment: Cologne. Here artists like Kippenberger, Albert Oehlen and Georg Herold were taking risks. And gallerists like Rafael Jablonka were willing to go along.
Europe suited Mike Kelley. It was a place that had a perspective on America that was as wide and distant as his own. And it was in Cologne that Mike Kelley began the construction of his most important work of art; a work that would span nearly the entire decade in its evolution, invention and inspiration: Deodorized Central Mass with Satellites.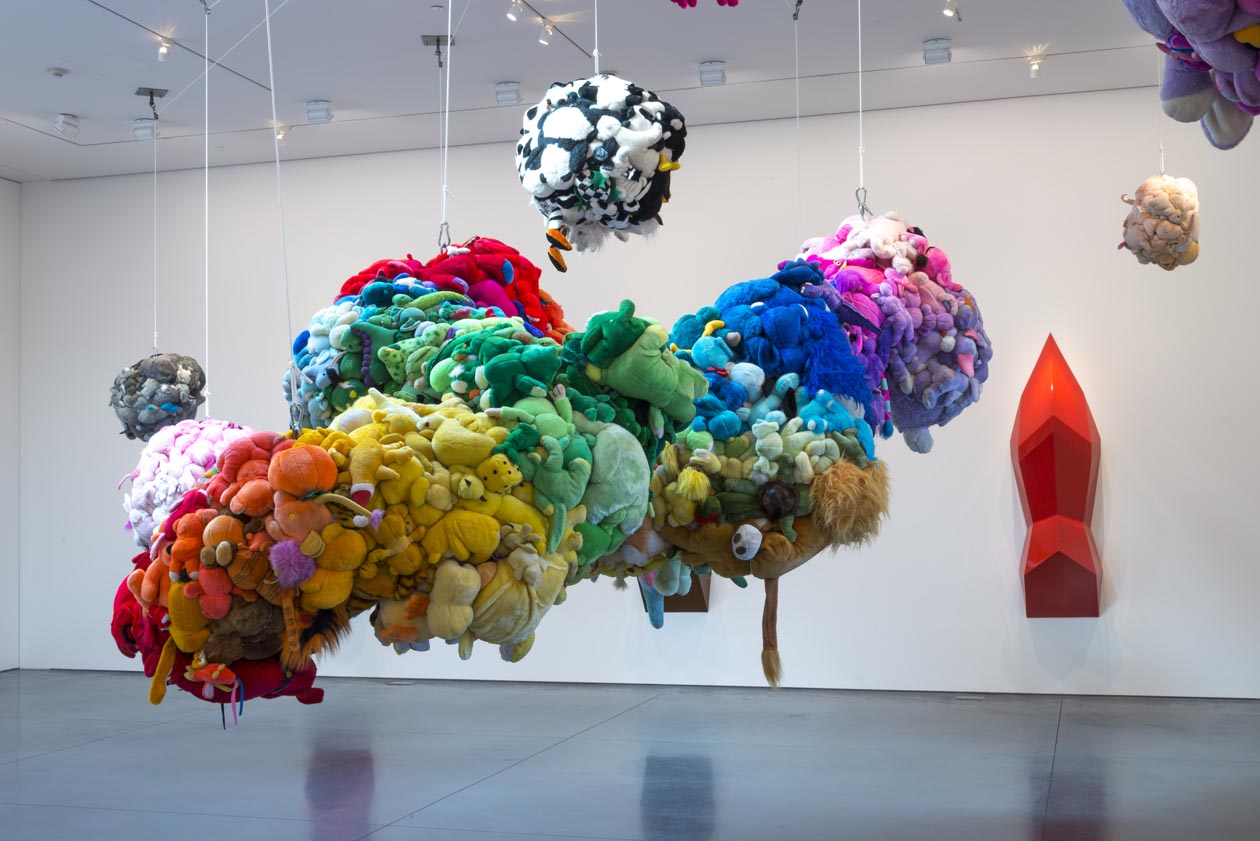 Deodorized Central Mass with Satellites
As the early 90's nursed its considerable hangover from the euphoric high of the new wave that had become the old wave, it did so crawling not only to the end of a bloody century, but the close of a millennium, the start of which would have never recognized its own end. The burden on the popular arts to capture and reflect its own time was like the gloaming twilight of consciousness before sleep: it was as if humanity and its artists were tired of the crush of time. Uncertain of what it was and would become, the culture vacillated. The century's last-gasp tech boom created the last big bubble to burst and injected the art world with much needed new capital, but no sense of a clear direction. By 1999, all that remained was the frantic looming Y2K disaster, as the absurd consummate conclusion of an entire civilization's millennial achievements.
Mike Kelley's work had always reflected his prescient sensitivity to the decline that lay both behind and still ahead. In 1999, Mike Kelley, our central hero, finally crossed the threshold and left the ordinary world behind. And the final completion of Deodorized Central Mass with Satellites came out of its shipping box from Cologne and emerged at the Kunstverein Braunschweig, where it was exhibited for the first time in its entirety.
Europe is quick to love and hate America for all it has and doesn't have. With Deodorized Central Mass with Satellites Mike Kelley had created a quintessentially American environment, and explored the American dream expressed through the excess of consumption, bulk buying, and the habit of collecting by a prosperous society that believed its own myth; a society obsessed with luxury and life-style, lavishly garish color coordination and the most transient objects of low quality, which ironically stand for quality of life. All of it scented and deodorized like the constant cleansing of a bad conscience. The European sensibility appreciated Mike Kelley's culturally reflective work, and Deodorized Central Mass with Satellites was critically and culturally embraced.
Every hero's journey has its tests and obstacles. Just as Mike Kelley seemed to have finally broken through, Deodorized Central Mass with Satellites did not sell. Glimpsed by only the special world willing to pay attention, it went back into a box, and remained in its box with Rafael Jablonka in the Jablonka Gallery in Cologne, unsold and unseen for many years to come.
It was the year 2000. If the nascent culture had any hope that it was on the brink of a trail blazing adventure into the future, it was quickly dashed. On September 11th, 2001, the newborn millennium hadn't even caught its first breath of life, before it retreated into its protracted stunned suspension.
Mike Kelley's work remained in its box, waiting for the ally that would help him to enter the special world in order to fulfill his heroic journey. In 2003, Deodorized Central Mass with Satellites finally found its ally. Curators and art critics had grown a new generation. Not raised on Warhol, they saw value in artists like Richard Prince and Mike Kelley. A brilliant art advisor by the name of Todd Levin counseled his New York client, Adam Sender, a young hedge fund millionaire and ambitious collector, to buy the massive piece. Adam Sender had procured a building and was planning to start a foundation for the arts. Levin advised Sender to buy Deodorized Central Mass With Satellites as an important piece for the collection. In those days you couldn't buy a drawing by Jean Michel Basquiat for $400,000. But Sender bought Deodorized Central Mass With Satellites for exactly that, and the work finally left Europe and made the journey across the ocean to its spiritual home in America, arriving finally at the hub of the art world in New York City. Still it remained in its box. The quintessential American work would not be seen by anyone for many years to come. The road of detours seemed endless.
In 2006, as the emerging culture had turned the word "security" into its own contronym, and Andrew Powter's Bad Day summed up the decade, Adam Sender put Deodorized Central Mass with Satellites up for auction at Phillips, de Pury & Co. Auction House, never having once taken it out of its crate. But something had changed in the three years that had passed. The work had a presale low estimate of 3,000,000. It sold, under asking and under expectation, but nonetheless for 2.7 million. Suddenly there was a market for Mike Kelley. Signaled not in the least by the buyer: one of the smartest, most influential collectors in art, Peter Brant.
A generation of art students had become art critics, art advisors and curators. They had caught up to Mike Kelley's sensibility. And they were talking. Peter Brant had acted on the new understanding of Mike Kelley and was collecting his work, signaling that a significant collectors market actually did exist for Mike Kelley. Larry Gagosian showed Mike Kelley from 2005 through 2011, with larger and more important works and exhibitions with every show. And the recognition for Mike Kelley grew. Bolstered by the New York exhibits and the auction sale, Mike Kelley was finally cresting the consciousness of a market that had been slow to wake up to his artistic accomplishments.
Validated and valued, Deodorized Central Mass with Satellites still remained in its box. And though, after twenty years of struggling, the trend was finally climbing in his favor, the reward of the hero came too late for Mike Kelley.
Mike Kelley's last Gagosian Gallery show on 24th Street, just steps away from his first home, Metro Pictures, had a title with more than just a tinge of sad irony, named Day Is Done. For reasons he alone could ever truly know, the road back for the hero proved to be too long and too arduous. Mike Kelley committed suicide on January 31, 2012, in Los Angeles, and ended his personal journey in this life.
But his greatest achievement still sat in its box waiting for the promise of its own fulfillment. With its master now gone, the call of the hero went up. It was up to Deodorized Central Mass with Satellites to become the phoenix to rise from the ashes of a tragic ending to a brilliant artistic life that never saw its full promise realized and to deliver its redemption.
Later that same year, Perry Rubenstein embarked on his own journey's call and moved from his West Chelsea, New York location to open a gallery on the left coast, in the growing, vibrant new art center of Los Angeles. The exquisite space, designed by Kulapat Yantrasast, opened in the fall, as though designed just for the resurrection of the hero and the completion of the myth. By collaborating with Peter Brant, Perry Rubenstein Gallery, interested in embracing the Los Angeles artist in the new Los Angeles location, scheduled an exhibition for the last show of the year.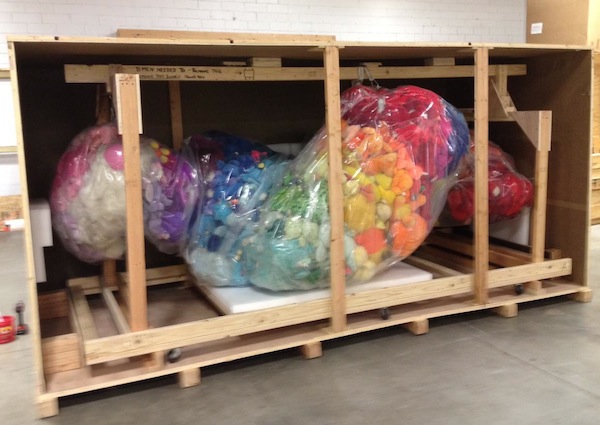 Art in a Box arriving at Perry Rubenstein Gallery
Like a soldier returning from battle, Deodorized Central Mass with Satellites finally made its way home to Los Angeles, and into the Perry Rubenstein Gallery, where the work finally came out of its box. As the heavy wooden crates that housed the "central mass" and "satellites" were pried open, they revealed the multi-colored elements of the installation like the bonbons of a long held promise. Mike Kelley was finally home. And Deodorized Central Mass with Satellites was finally, and for the first time, shown in its entirety in America, in the creative and spiritual home of its master.
Out of the resurrection of the hero comes the completion of the journey, and the return of the hero with the elixir gained through his perilous path. The work was installed and celebrated at an opening dinner with many of Mike Kelley's fellow artists and friends in attendance such as Barbara Kruger, Paul McCarthy, T. Kelly Mason and the legendary curator, Paul Schimmel. I was there on that glowing, candle lit evening, having long made my own journey from my Chelsea days to LA, a city in the process of its own resurrection.
As Deodorized Central Mass With Satellites revolved and scented the gallery for an appreciative audience, Perry Rubenstein opened up talks with MOMA, arguing for the museum's acquisition of the piece. Without hesitation, MOMA agreed, eager to embrace the Los Angeles based artist. Mike Kelley, who had walked the artist's perilous path, would finally enter the pantheon of America's most significant artists. MOMA validated the brilliance and importance of the work of Mike Kelley and acquired Deodorized Central Mass With Satellites for a significant price, significantly higher than its last auction sale.
It is 2013. The world has survived its latest Armageddon, and David Bowie has released his first album in a decade appropriately called The Next Day.
The journey of the artist and his work is complete. Deodorized Central Mass With Satellites is permanently out of its box. Rather than stowed away in obscured storage rooms, languishing in the recesses of galleries and the homes of collectors who tried but could not give the work its due, MOMA will now bring Mike Kelley and Deodorized Central Mass With Satellites to its full revelation in the art world's sacred city that Mike Kelley himself never reached: New York. And a day's public of 5000 visitors will be able to view and appreciate the masterpiece and its master, and Mike Kelley is a hero for more than just one day.
Images are courtesy of Perry Rubenstein Gallery.
Calling all HuffPost superfans!
Sign up for membership to become a founding member and help shape HuffPost's next chapter