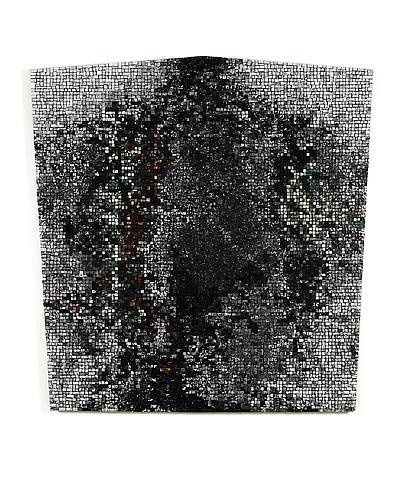 You've just been greeted by a stunning abstract, in front of which to sit down and steep your thoughts: "Black Monolith III: For Barbara Jordan" (1998), acrylic collage on canvas, 69h x 65.5w in (175.26h x 166.37w cm) by Jack Whitten. Your feet are in Dakar, Senegal, May 2001, at the residence of Hon. Ambassador Harriet Elam-Thomas.
This is America, legally so, but, more importantly, America in essence and in the form of a physical outpost for carrying out critical conversations with the world. I wish this sort of welcome were more common, overt and thought about. [Robert Albro makes excellent work of that argument here.] But the diffusion of the full cultural range of art is often as difficult as the inherent travail of the artist to achieve something that can be called art -- the stuff that endures, challenges, respects people, commands presence, urges dialogue.
The context for our purpose here is diplomacy. Many think of art as diplomacy. That's romantic and untrue. Diplomacy is diplomacy. But art has unique ability in the hands of the diplomat as shepherd and producer: It also creates context. It goes where neither weapons nor smiles are more effective. I think of it as an olive branch but with two "business ends" -- one being sharpened, as art pricks in its singular way, the other end, with fruit, healing the wound. Enough poor-man's metaphors...
What is this art in the theater of diplomacy?
We must start this conversation with the diplomat: Ambassador Harriet Elam-Thomas, retired with the rank of Career Minister, the Foreign Service equivalent of a three-star military rank. Ambassador Elam-Thomas is currently the Director of University of Central Florida's Diplomacy Program.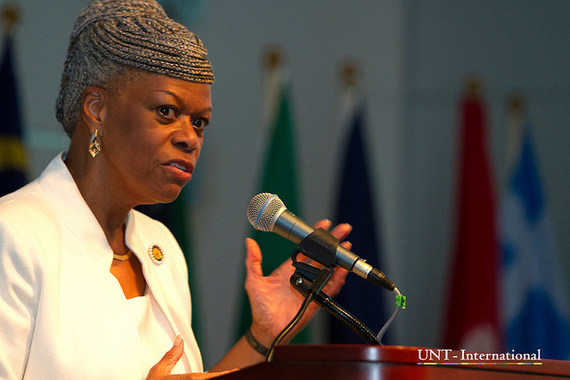 This post continues the career of distinguished diplomat: U.S. Ambassador to Senegal (1999-2002), Acting Deputy Director of the U.S. Information Agency, Public Affairs Counselor at the American Embassy in Brussels, Belgium, Cultural Attaché at the American Embassy in Athens, Greece, and Director of the American Press and Cultural Center in Istanbul Turkey.
The Wikipedia entry for Ambassador Elam-Thomas is on point but too short, highlighting yet another "ungoogleable" reality. That's another reason why I write, but also a story for another time. (Suffice it to note that worldwide web is one that depends upon just 34 percent global penetration.) We'll go in some detail here to learn a bit more, joining the ambassador in her work via an abbreviated tour.
You're in the Cold War Soviet Union, in the mid '70s through the late '80s viewing "the centerpiece of America's cultural exchange agreement with the Soviet Union," one of the blockbuster exhibits which was sent only to the former USSR and Eastern Bloc nations: The Bicentennial, Photography USA, Information USA, Design USA. With a team of guides all fluent in Russian language, Soviet leaders and general public were able to engage in conversation about American values and begin a more constructive relationship with Americans while the "Iron Curtain" was fully intact.
Let's go from there to Greece, 1986, a country for which the Ambassador has a special affection from using art to build lifelong relationships which began when she was Cultural Attaché from 1983-1987. Here, we'll see The Dance Theater of Harlem. It was the dance form itself, ballet, that captivated the audience of over 1400, not the fact that the company was black, the art form itself resonating more deeply than the enduring politics of the American race context. Their performances in the ancient Odeon of Herodes Atticus Theatre were telecast across all airwaves of this NATO ally as a counter to the anti-American fervor which existed at that time.
Now, take a step into "I Dream a World: Portraits of Black Women Who Changed America" by Brian Lanker," 1992, Istanbul and Izmir, Turkey. The exhibition, debuting at the Corcoran Gallery in Washington D.C. then going on the road, presented a fresh, American story in the photographs of unheralded pillars.
Moving on to North Korea in 2008, we'll see the New York Philharmonic bring a totally unexpected view of Americans in a country where we have no embassy, no diplomatic relations; nevertheless, we were able to communicate an important message. Americans have a genuine appreciation for and cultural identity in classical music even while our pop culture simultaneously floods the world.
There are too many more examples to name. The point is that art has proven to be an irresistible means of entry, even into the toughest diplomatic theatres. Ambassador Elam-Thomas-Thomas confirms that: "Art highlights the heart and soul of America -- a message far more powerful and humane than our military might."
Art has power, but not if we don't carry it into the theatre, if it is not experienced. Suppression of artistic activity is perhaps the greatest testimony to its power. The less talked-about suppression though, happens when we don't include the works of artists from the full scope of Americana, that beautiful and messy mix of folks who continue to shape this experiment in democracy. When we deploy the breadth of our art, the context for diplomacy changes as new pathways for discussion are opened and the diplomat takes a turn at docent.
Ernest Wilson, Dean of the USC Annenberg School of Communications notes the relevance to diplomacy by calling diversity of people and presentation a mission-critical component for anyone carrying out American policy, highlighting the need for a culturally competent force of people in all branches and occupations, people who are able "to think, move and act easily across borders." We can't do that by exposing a limited view of American culture.
Let's go back to where we started, -- Senegal, 2001:
The work of each of these artists represents a particular depth of understanding and sensitivity about the history of our nation. All of them are representative of ethnic groups that, in making the United States their home, have helped to shape it into the human mosaic from which our nation derives its greatest strength. -- "Dakar: Places in Our Lives" catalog, Art in Embassies Program, United States Embassy, Dakar, Senegal, 2001
Thank you, Madame Ambassador.
Calling all HuffPost superfans!
Sign up for membership to become a founding member and help shape HuffPost's next chapter