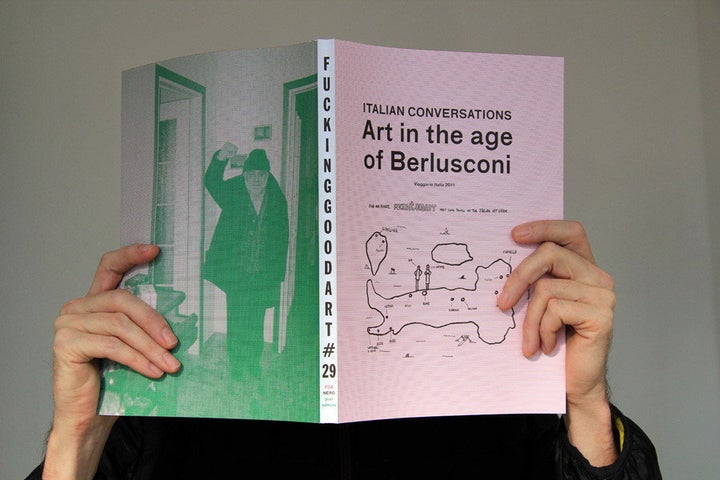 What do you know about the current Italian art scene? (And no, the fact that Lady Gaga is Italian-American doesn't count.) To brush up on what good Italian art looks like now you might want to refer to "Italian Conversations -- Art in the Age of Berlusconi," a handy guide that maps out the cultural landscape while providing a critical eye on the political one. The authors write, "The aim of our journey was not to expose ourselves to the famous cultural legacy of classical antiquity and the Italian Renaissance, but to explore ... Italy's contemporary artistic, social and political scene through active witnesses –- the many people we met and talked with." They continue, "We started in Rome and ended in Palermo, passing through Florence, Bologna, Lugo, Milan, Viganella, Turin, Rivoli, Lecce, Matera, Bari, Santa Maria di Leuca, Naples and Gibellina. The structure of the book echoes our route, and has the form of a travelogue in seven chapters."
This is the 29th book from Dutch collective "F**king Good Art," also known as Rob Hamelink and Nienke Terpsma. The two artists reported from Italy as outsiders, observing the complex economic and political situation with their unique point of view. The Dutch duo is committed to participatory research and new modes of aesthetic journalism that engage culture and counterculture through art, activism and history. As a result, the book contains 26 conversations with artists, curators, critics and gallerists who play an active role in the Italian contemporary art world, along with seven artists' contributions and nine texts. Say it with us: "Che bella!"
Distribution in the US and Canada is by Ram Publications, Santa monica www.rampub.com. "Italian Conversations" is published by NERO and post edition is a project by Fucking Good Art commissioned by Nomas Foundation.
We know you're interested. Go on, take a closer look at the book in the slideshow below:
REAL LIFE. REAL NEWS. REAL VOICES.
Help us tell more of the stories that matter from voices that too often remain unheard.