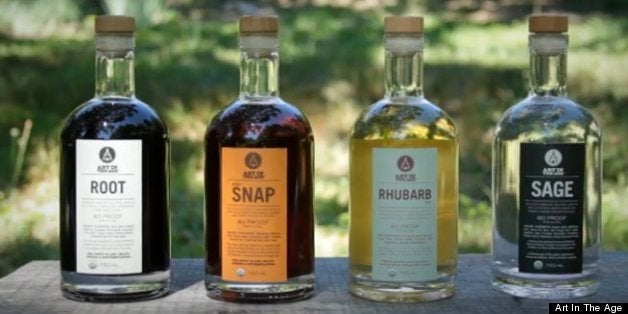 Does this sound a little bit like a hipster booze collective to you? Well, we guess it sort of is. But don't let that put you off before you taste their product. There is no way we could describe the history or mission of Art in the Age better than its creator, Steven Grasse, so we'll let him take care of that for us in the below video.
"I think people in the spirits industry are obsessed with 'what is the legal definition of rum, gin, whiskey?' We really break into new categories, and we do it by going back in time. Root, Sage, Snap, Rhubarb tea, these things are pre-pre-pre-Prohibition. We innovate by being historic."
Art in the Age is careful to note that none of these spirits are flavored vodkas or "sickly sweet liqueurs," these are assertive, 80 proof spirits, distilled using the ingredients they get their names from. Since we don't, as a drinking culture, currently have anything like them, they're a little hard to describe. So, obviously we had to taste them all.
Some of us had tasted Root before, so knew what to expect, but one of our tasters was very surprised, noting, "I don't like root beer, but this is great and I would love it in a cocktail." Rhubarb was a little trickier to taste on its own, leading more than one of our tasters to note that it would probably be great with prosecco or cava. The herbaceousness of Sage led a few of our tasters to compare it to perfume or soap -- but the heavy sage aroma and gin-like flavor had more than a few of us craving a martini. Snap was significantly less sweet than we were expecting, and lent a warm spiciness that we can't wait to try in a hot toddy this fall.