Galleri 2, Stamsund, Lofoten Island. Scott Thoe and Vebjorg Hagene Thoe are both artists and founders of Galleri 2, in Stamsund of the Lofoten archipelago. On the first floor, Scott Thoe's paintings depict moon-eyed sheep beneath aurora borealis, along with portraits of children, reindeer, sea lions, etc. Scott is a Norwegian-American born in Minnesota. On view on the second floor of Galleri 2, is the exhibition The Sound of Art (Lyden Av Kunst), which was previously at the National Museum of Contemporary Art, in Oslo. The Sound of Art includes Camille Norment's microphone and light installation, Triplight. Norment's piece is soundless (with the use of light-waves instead of sound-waves), as light is cast upon an old-time 1955 microphone, leading to an exaggerated, monstrous shadow upon the wall that looks like hollowed ribcage bones, where one can feel the empty rattle of time. Also on view is Sophie Clements' black and white video sculpture, Bicycle Samba along with Tallervo Kalleinen & Oliver Kochta-Kalleinen's The Complaints Choir, a global collection of sung complaints which dramatically articulate specific public woes (some grave, some playful). These complaints were collected from the local inhabitants of Birmingham, Helsinki, Tokyo and Chicago, rotating on loop on four separate screens, one after the other, with each screen facing each other north south east or west.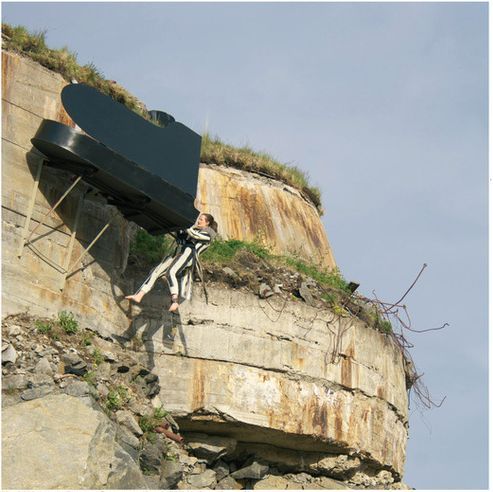 Tori Wrånes, Performance still, LIAF Lofoten International Art Festival, 2010. Photo: Kjell Ove Storvik.
The Sound of Art also includes photographic documentations of Tori Wrånes' past Lofoten International Art Festival 2010 cliffhanging piano performance, Loose Cannon, along with her three videos, The Opposite is also True 2, National Enough?, and Spin Echo. Spin Echo (2012) is a four minute video of a performance that occurred in an emptied Disney Concert Hall Parking Structure, in Los Angeles, in collaboration with LAXART, involving a spinning accordionist on a trolley and bicyclists. Wrånes often involves local participants recruited from public venues or even right off the street; these participants are thrust into her performance with belonging precision and her tightly choreographed sequences allow the happenstance to collide with cosmic structures of order.
Wrånes' performances typically entail stunt-like bodily suspensions of various heights off the ground, and she has banshee-like vocals that prevail even when she's tethered by rope, aerially following whatever ellipses gravity has in store for her. Her thrilling performances unfold with a dependency on natural forces such as gravity and momentum, and the spectator must give forth both captivation and concern, in equal parts. I was blown away by her Performa 13 performance, Yes, Nix, involving bicyclists that encircled with headlights cutting through the fog as the riders' operatic voices sung slow, long notes. In Yes, Nix there was also a pagan-like procession of fifteen elderly flute-players (Wrånes told me that one performer she recruited was 91 years old). And of course, there was Wrånes body in sway, high off the ground and upside down. During the 2014-2015 year, Wrånes will be in residence at the International Studio and Curatorial Program (ISCP) in New York, so hopefully we'll see more of her transatlantic performances in the coming year.
KaviarFactory in Henningsvær, Lofoten Island. An old caviar factory reopened in 2013 (originally built in the 1950s and bought by Venke Hoff, in 2006). Venke Hoff and her husband, Rolf A. Hoff, are prominent art collectors based in Norway, and they are among the first to collect Bjarne Melgaard's work; the door handle to KaviarFactory was created by Melgaard. Venke and her husband have been collecting work internationally for more than twenty years, and she told me that they "collect with passion," across international borders; she emphasized this international scope, stating that "in the art world, there are no borders, you connect with people." They've also invited international artists to stay with them in Lofoten, including Amar Kanwar, Angela de la Cruz and Dearraindrop. And even though the location is quite off the grid, Venke said, "In wintertime, you never know who is knocking at your door." Venke said she hopes to engage more with the history of the caviar factory, delving into its past vital role within the community.
The KaviarFactory's second exhibition, Speak Through Art, focuses on the freedom of speech. KaviarFactory seems bound for the international limelight, and its current exhibition includes an impressive roster: Ai Weiwei (China), Shirin Neshat (Iran/USA), Gilbert & George (Italy/England), Douglas Gordon (Scotland), Kjartan Slettemark (Norway/Sweden), Bjarne Melgaard (Norway), Meredyth Sparks (USA) and Gardar Eide Einarsson (Norway).
On the second floor are sculptures made from a massive amount aluminum mackerel cans by Pål Vigeland, arranged in interconnecting, geometrical formations that evoke calcium carbonate deposits of shells or honeycomb structures. Also on view is a series photographs by Rune Johansen, titled When I was in America. In 2007, Johansen traversed the Midwest of the USA, photographing Scandinavian displays of heritage, such as a Minnesotan Sons of Norway Lodge, a country log cabin, a visitor information center on Lake Superior, a kitchen portrait, along with interior shots of ornately cluttered walls and spirited living room spaces. The titles are all in Norwegian but taking on the task of a Google translation led to some narrative clarity: "One Green and White Church Somewhere in North Dakota," "Dilapidated Farm With a Caravan and Norwegian Flags," and "From the Sons of Norway's Banquet Hall in Duluth."
Johanne Seines Svendsen at Svolvær Art Association, Lofoten Island. Johanne Seines Svendsen's summer exhibition at the Svolvær Art Association (Svolvær Kunstforening) has a simple title of "I Am." Her wet plate collodion photography is anachronistic and she welcomes the imperfections that arise from the tiny specks of dust or the slightest movements from her subjects. The resulting ghostly photographs capture stillness and being, and she presents a series of images that each embody variation and sameness, depending how the light and moments were captured; the title speaks to this presence. Some of her subjects suffered from dementia, and Seines Svendsen spent time in a nursing home for a few months to acquaint herself with the lives and rhythms of her photographic models.
REAL LIFE. REAL NEWS. REAL VOICES.
Help us tell more of the stories that matter from voices that too often remain unheard.