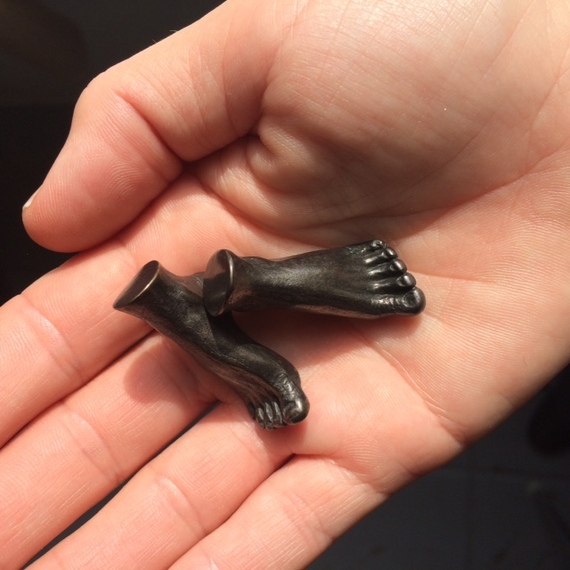 "i sculpt because i have to.
i love to create something out of nothing.
i do it the old fashioned way.
my finished piece actually ends up how i see it in my mind.
i can't say that about much else.
when you hold a piece i have made in your hands i held it in mine first."
-Sculptor, Anne Ricketts
I have always found miniatures to be intriguing. There's just something about teeny tiny versions of things that is utterly captivating. So when I happened upon the bronze sculptures of Anne Ricketts in the OK store in Los Angeles, I stopped in my tracks.
As I held a diminutive foot in my hand, I thought about how powerful a miniature work of art is. A painting on a wall, or a sculpture on a pedestal, is art that is typically viewed at a distance. A miniature quietly beckons to be held close for examination. Like a talisman, it seems almost magical. What must it be like to sculpt in miniature? There was only one way to find out, so I tracked down the sculptor, and she was nice enough to answer my questions.
Here is my interview with sculptor, Anne Ricketts.
What, or who, inspired you to become a sculptor, and what inspires your work?
My grandfather was a sculptor, and I have always been particularly moved by sculpture. I grew up around art. I love the classics: Michelangelo, Leonardo da Vinci, later Henry Moore, and art from the Expressionist period. My taste is very eclectic, from Russian icons to ceramics from the 60s.
I am inspired by modernist design objects, mementos, old postcards, a leaf, a dried bone. I love nature, artifacts, antiques, ceramics. I marvel at the work of artisans past.
What was your first sculpture, and how old were you when you made it?
Ha! I haven't thought of that in years... a cat, when I was eleven, sculpted out of clay. I began in earnest in my mid-20s. I used to be an actor. I was visiting my mom (a writer who also sculpts) and she was teaching my nephews how to sculpt at the kitchen table. I sat down and gave it a go. I made three over-sized heads all leaning back on each other in a circle. (Think Stonehenge.) I know, don't ask, clearly I was feeling a lot of pressure then!
Anyway, I was hooked. I started sculpting every day. It was such a relief to express myself without having to wait around for someone to cast me in a show.
You were an actor? Were you in anything of note?
Ummm, "of note" might be stretching it. I did one of Jet Li's first films, which was supposed to be his big break. Clearly it was not. I ended up getting dubbed in Chinese -- that was my acting highlight!
Briefly describe your process of bronze casting.
If I'm making a realistic piece I prefer to work from images, or drawings. If it is objects in nature, like a leaf, then I actually gather leaves. If it is a modernist piece, I work mostly without an image. I try not to think too much, and come at it more from a desire to pare down the form, and also focus on the feeling I want to express. I work the form over and over until I am pleased with the aesthetic of it.
I carve sculptures and jewelry in wax, clay, or foam, depending on the shape I want to create. With any sculpture, when it reaches a midway point, I work with a mirror, carving the piece by looking at the reflection. The mirror shows the imperfections I cannot see with my naked eye. I then run the piece by one or two people whose eyes I really trust, and I make adjustments.
When I'm happy with the form, I take it to one or two local foundries to be molded and cast. I approve the casting and pick the patina, and the piece is then finished, per my approval.
I use foundries in the area, because the environment, and keeping jobs local, is important to me. I try to make conscious choices, following the words of the bumper sticker slogan, "think globally, act locally." I've watched many foundries close over the past twenty years, with business moving to China. It impacts the environment of the world and deeply impacts our economy. So I am a big supporter of the mom and pop businesses here at home.
You can see my process, from start to finish, in this video. (My 11-year-old son made the video.)
Where in the world do you feel most at home and inspired? This could mean an actual place or a type of landscape.
The beach! Or in my tiny little studio. I like small spaces with all my sculpting tools around me, and some good tunes.
What are the tunes that are the soundtrack for your work?
I listen to country music mostly, or folk or Van Morrison.
You're in L.A., so I have to ask, are there celebrities that have bought your work!
I will throw down a few: Jakob Dylan, Annette Bening, Jamie Lee Curtis, Portia de Rossi, Jeff Goldblum, Jennifer Grey...
Have you ever shown your work in a gallery? 
I have, but honestly I like the idea of more commercial venues that offer affordable art and objects and are more accessible and less intimidating to the everyday person.  It's one of the aspects of working in miniature that I love. It's art that people can afford.
How did you first sell your work -- was there one deal with a store that led to others?
Larry Schaffer, the owner of OK, first carried my work years ago, even before he had his own store. He has been a mentor, and my biggest supporter. I often run ideas or mock-ups by him, and he suggests directions I should go in. I trust his eye, and his opinion, implicitly.
Do you have a favorite piece, or a piece you are most proud of, among your sculptures?
I have two favorites, actually... "Seated Woman with Child," which I made after my daughter was born. (She's nine years old now.) To me, it really expresses the protective and nurturing feeling of being a mother.
My second favorite is "Waiting," a portrait of my dog, Kali, just before she died. I had her for fourteen years and when I was told by the vet that she was sick, I took a series of pictures of her in what was her favorite way to lay waiting for me. I started carving her before she died, and finished shortly after her death. I have one by my fireplace and it is still a comfort to me.
What are you working on right now?
Candlestick holders inspired by Finnish silversmith and designer, Bertel Gardberg, and some jewelry pieces. I am sculpting jewelry and hands as part of a meditation series.
Name three things you can't live without. (Family not included.)
-Jalapeño flavored Kettle chips
-Nighttime earplugs
-20 pairs of CVS reading glasses... I lose everything
PHOTO GALLERY
Anne Ricketts, bronze sculptor
Calling all HuffPost superfans!
Sign up for membership to become a founding member and help shape HuffPost's next chapter