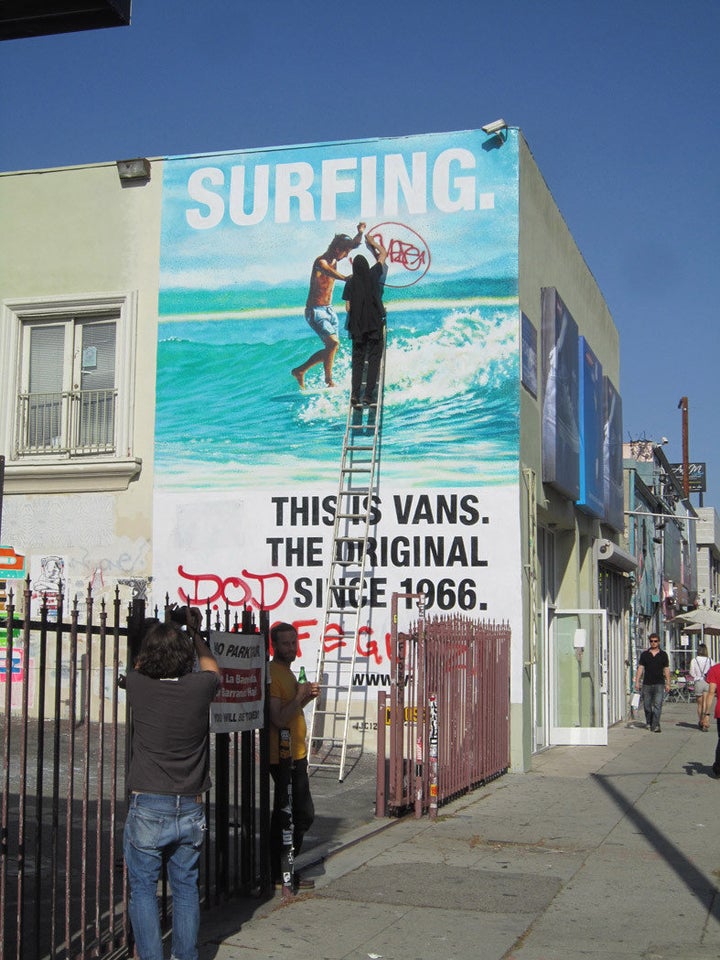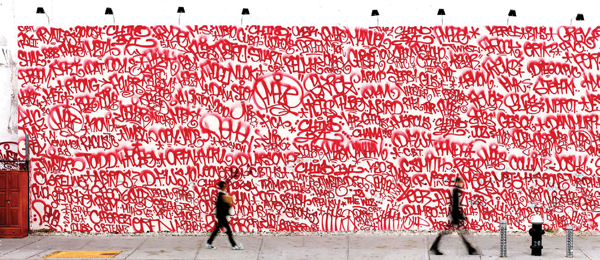 Art in the Streets is the first major U.S. museum survey of graffiti and street art. Curated by MOCA Director Jeffrey Deitch and Associate Curators Roger Gastman and Aaron Rose, the exhibition traces the development of graffiti and street art from the 1970s to the global movement it has become today, concentrating on key cities such as New York, Los Angeles, San Francisco, London, and Sao Paulo, where a unique visual language or attitude has evolved.
Art in the Streets showcases installations by 50 of the most dynamic artists from the graffiti and street art community, including Banksy (London), Fab 5 Freddy (New York), Lee Quiñones (New York), Futura (New York), Margaret Kilgallen (San Francisco), Swoon (New York), Shepard Fairey (Los Angeles), Os Gemeos (São Paulo), and JR (Paris). MOCA's exhibition emphasizes Los Angeles's role in the evolution of graffiti and street art, with special sections dedicated to cholo graffiti and Dogtown skateboard culture, with works by influential local artists such as Craig R. Stecyk III, Chaz Bojórquez, Mister Cartoon, Robbie Conal, RETNA, SABER, REVOK, and RISK.
A special emphasis has been placed on photographers and filmmakers who documented graffiti and street art culture including Martha Cooper, Henry Chalfant, James Prigoff, Steve Grody, Gusmano Cesaretti, Estevan Oriol, Ed Templeton, Larry Clark, Terry Richardson, and Spike Jonze. A comprehensive timeline illustrated with artwork, photography, video, and ephemera will provide further historical context for the exhibition. more
Through August 8 at Geffen Contemporary at MOCA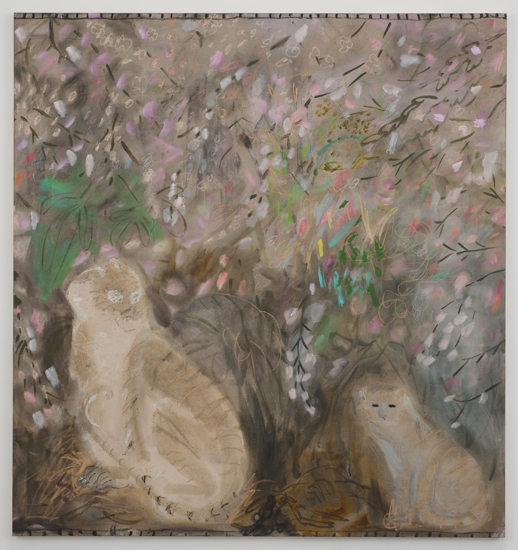 Mari Eastman, Tiger Mother with Cub Under Cherry Blossoms (Joseon Dynasty), 2011, Flashe, ink, Prismacolor, oil, glitter, White-Out and Swarovski crystals on canvas, 85 x 80 inches. Courtesy of Cherry and Martin, Los Angeles. Photo credit: Robert Wedemeyer
Mari Eastman: Objects, Decorative and Functional
Mari Eastman's paintings, drawings and sculptures willfully engage the fictions of the world around us. Where that world is consumerist, her art is consumptive. Where that world is filled with fantasy, her art produces images of ponies and kittens. The hiccup in Eastman's work is her suggestion that we absorb these fictions in their entirety. Caught in an intoxicating bind between mass-media representation and the stutters of its construction, Eastman's art takes us down a logical path that easily segues from images of pets and models to images of the appartniks of money and power and the destructions of war. Thrilling and amorous, earnest and conflicted, her works are rooted in traditional subject matter and technique turned upside-down with additions in glitter, sewing, jewelry, and cut canvas.
Through May 7 at Cherry And Martin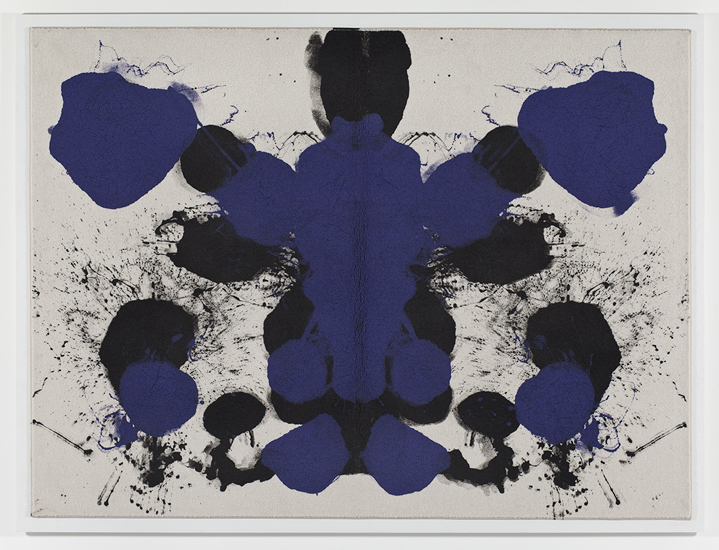 Migraine II, 2010, acrylic on carpet, mounted on board, 72 x 96 inches, (182.9 x 243.8 cm). Courtesy of David Kordansky Gallery, Los Angeles, CA
Mai-Thu Perret: Migraine
A re-imagination of the possibilities of the painting exhibition as seen through an expanded critical lens, Migraine features paintings made on carpet supports and both wall- and floor-based ceramic sculptures. The exhibition's title evokes the auras that accompany the onset of migraine headaches, regarded as moments when the brain's optical processing reveals itself, and hints at the neurological origins of abstraction and visual patterning.
As Perret explores the intersections between modernist form and applied genres such as craft, fashion, and theater, she creates work that often relates to an ongoing narrative she calls Land of Crystal. This fictional text-as-artwork describes the life and work of a group of women who have created an autonomous, utopian community in the New Mexico desert. The resulting sense of implied utility lends Perret's works a mysteriously tactile presence, and the women who populate her imaginary community become stand-ins for both viewers and makers, consumers and producers. By using fiction as a generative artistic tool, Perret engages histories of feminism, revolutionary societies, and modern design. She thereby raises questions about how objects function within (and also influence) the social systems they inhabit.
Through May 7 at David Kordansky Gallery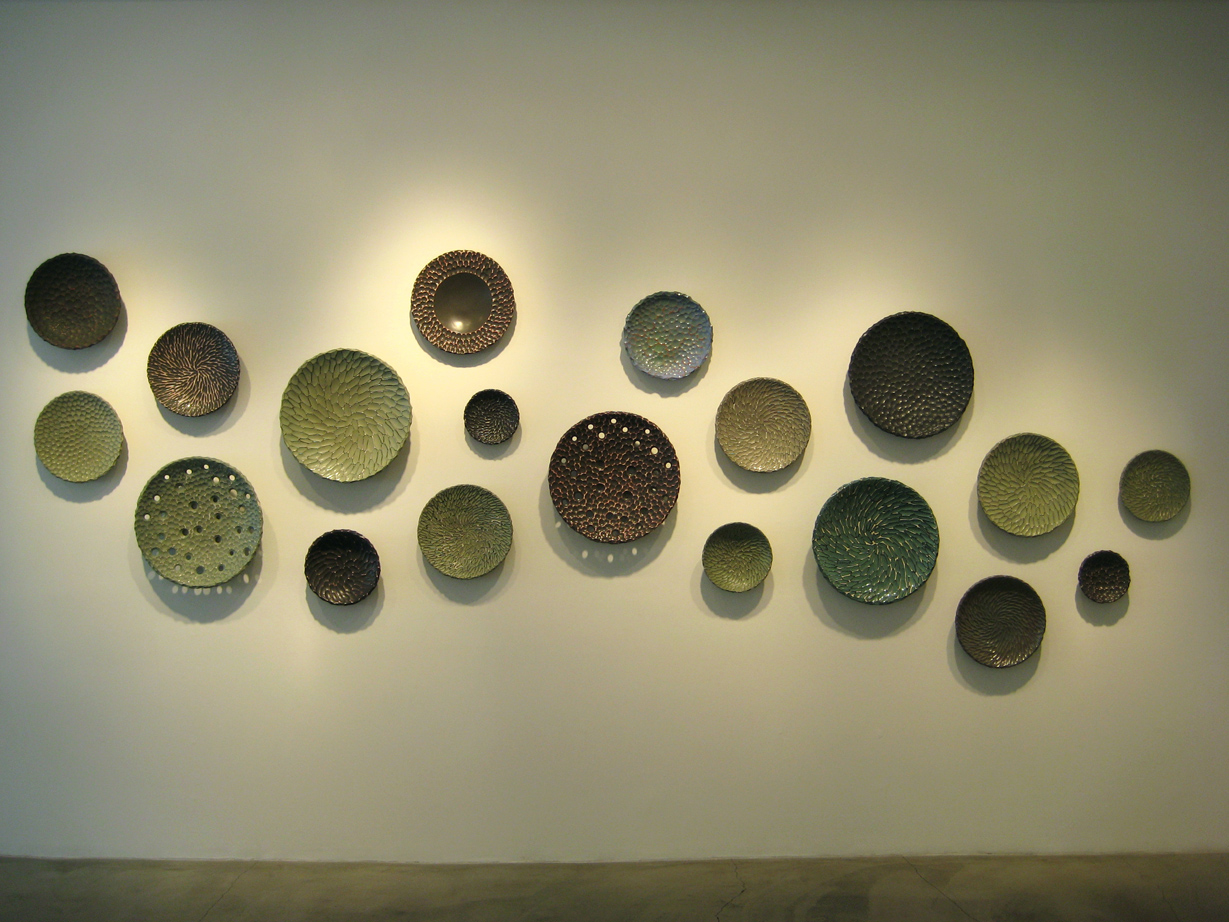 Brad Miller, Gallery Installation of Primordial Algorithms, Carved Ceramic Vessels, Dimensions Variable. All Photographs, Courtesy Edward Cella Art+Architecture
Brad Miller: Primordial Algorithms
Using the elements of clay, wood and fire, Miller creates three interconnected yet discrete bodies of work that suggest the life generating systems found in nature. His installation of branching porcelain sculptures, burned wood panels inscribed with bisymmetric forms, and carved clay vessels evoke the cellular patterns that are the very genesis of life
Miller transforms the gallery into a laboratory to construct and present his insights into the fundamental mechanisms of existence. A naturalist at heart, Miller continues to build upon these universal relationships which have appeared in various contexts throughout his career. Immersive in scale and yet all together new in form; Miller engages the viewer in an experimental journey traversing fire, water, earth and sentient cells. Offering compelling evidence of his own evolutionary theory, he juxtaposes sultry and bisymmetric patterns on burned wood panels against a reef of coral-like porcelain branching forms. Opposite these are polished clay vessels that call to mind cellular or atomic structures.
Opens April 23 at Edward Cella Art + Architecture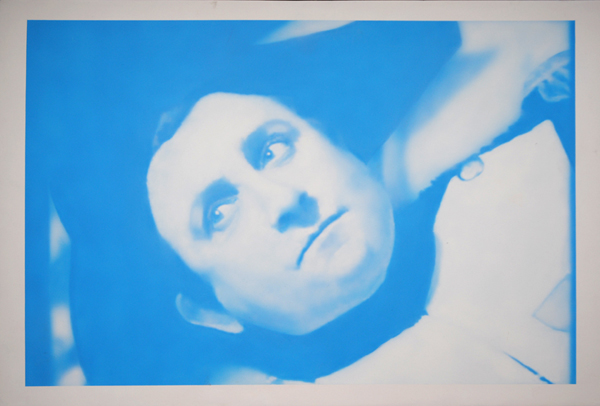 Napoleon (Blue) II, 17 ¾" x 25 ¾", Acrylic on Panel, 2011. Courtesy Rosamund Felsen Gallery.
Andrew Falkowski: Heroes and Villains
An exploration of the relationship between several types of images that convey conflict and authority. Ranging from photo-realistic portraiture to abstraction, Falkowski aims to create associations that develop into broader suppositions about the potential for painting and how it relates to the influence of conflict that seems to be consuming the world today.
Throughout, smooth surfaced paintings use photographic precision, depth of field and collage techniques as recurring formal motifs. Falkowski's crown paintings start out as three-dimensional crowns made of cheap craft paper. Those are transformed into a kind of photogram painting. Areas of graphic clarity are intertwined with various blurs throughout the picture, pushing representation to the point of abstraction. Continuing the examination of false signs, Falkowski presents photo-realistic portrait paintings of several different actors playing the role of Napoleon Bonaparte. These pictures, derived from various fictional and biographic YouTube videos, elicit cinematic montage as they exhibit the similarities and differences among actors as they attempt to embody the rhetoric of a Napoleonic personage. Examining the mythology and transformation inherent in re-contextualized historical icons, Falkowski considers the effects of these icons have as they are reconsidered through time and media.
Opens April 23 at Rosamund Felsen Gallery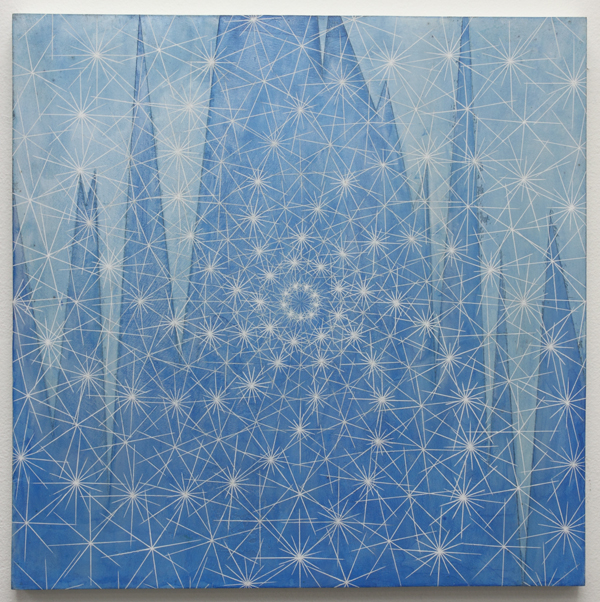 Carl Smith, Winterwhirl, 2009, Acrylic and ink on board, 18 x 18 inches. Courtesy of the artist and Sam Lee Gallery, Los Angeles
Cries & Whispers: a group exhibition
What makes painting a cry and what makes painting a whisper? Or could a painting be both? Cries and Whispers--not a survey show by any means--probes these questions and looks at abstraction from a multi-faceted perspective, exploring the different ways in which visual devices are employed. The utilization of line, color, content and form is paramount. Each artist brings his or her own signature method to this genre through various strategies and ideas. Such notions intersect throughout the show, creating an engaging dialogue among the pieces. These works honor the solitary journey of art-making and the longing for communication.
Included in this exhibition, co-curated by Paul W. Evans, are Jakob Christmas, William Conger, Jeff Gambill, Glenn Goldberg, Joanne Greenbaum, Hadley Holliday, Andy Kolar, Andrew Masullo, Douglas Melini, Robin Mitchell, John Pearson, Carl Smith, Andrew Spence, Misato Suzuki, and Laura Sharp Wilson.
Opens April 23 at Sam Lee Gallery
REAL LIFE. REAL NEWS. REAL VOICES.
Help us tell more of the stories that matter from voices that too often remain unheard.