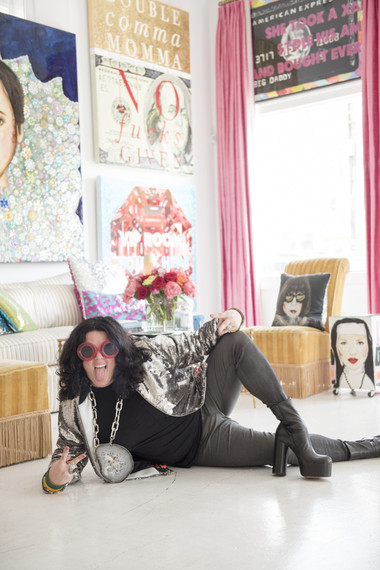 Ashley Longshore, a New Orleans-based artist and Instagram sensation, has made international headlines for utilizing Instagram to gain direct access to her clients and is shaping the future of the primary art market. In an interview with Arthena, Longshore explains:
"As an artist twenty years ago, sending paper work to galleries, thinking that the gallery was the only way to make it, knowing that right off the cuff I would have to give up 50% and praying to god that some snob could really tell clients about me and tell them about me in a way that was really accurate, felt wrong at the beginning of my career."
Longshore's work is vivacious, outspoken and wildly colorful- much like her. The artist is influenced by her role in society, status, greed, and a handful of beautiful, powerful women that Longshore considers "apart of her squad." Though the beauty of her art stands alone, Longshore offers firey passion for her work that makes the peices so desirable. Unfortunately, 20 years ago when she first became an artist, galleries were instrumental to selling art and self-representation was not an option. When the internet came out, her business expanded in ways previously unimaginable. Longshore developed a post-internet business model that accessed the market directly through social media platforms. Longshore recalls her thoughts when these platforms started becoming popular:
"Just running numbers through my head, it only made sense to self-represent, and here we go with the internet. Next thing you know we have Facebook, there is Twitter, Instagram, Snapchat and all of these tools are free. They are free and so for me being able to connect with my clients in a world that is so visual and putting myself out there in that way where if someone likes it they can follow, if they don't they can unfollow and on another level being able to freely explore on the internet was a game changer."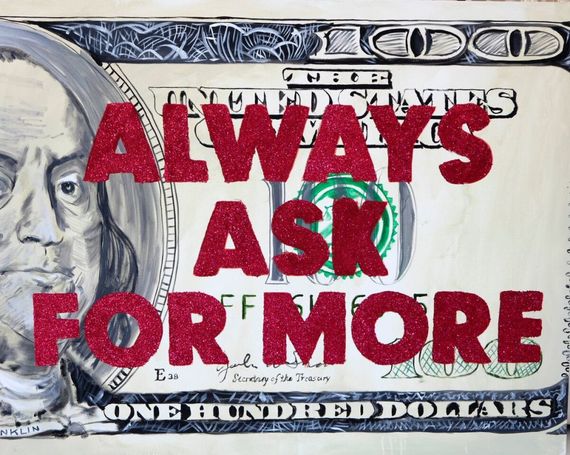 Running her own business with these developments, Ashley became an inspiration to artists and entrepreneurs of the post-internet era. Ashley Longshore art hangs in the homes of her local New Orleans fans and international celebrities alike. Ashley's clients all know her, if not in person, than via Instagram. This is key to the artist's brand, and her work has nearly doubled in value in the last few years. Ashley expands:
"I think its amazing to think two years ago you could have gotten one of my paintings for half what it is worth today and its not just a number I got from my ego, it's a number that I come up with because if I continue to paint those paintings at $4500, I can't keep them. They sell before the paint is dry. The basic laws of economics have been driving the cost of these paintings. This is absolutely an investment because the idea is that buying my paintings could have accrued more value then money could have in the bank or money in the stock market. It is a very exciting thing. There is a demand to have beauty in people's lives when the world is upsetting. This happy thing that I am doing is a hot commodity- absolutely an investment."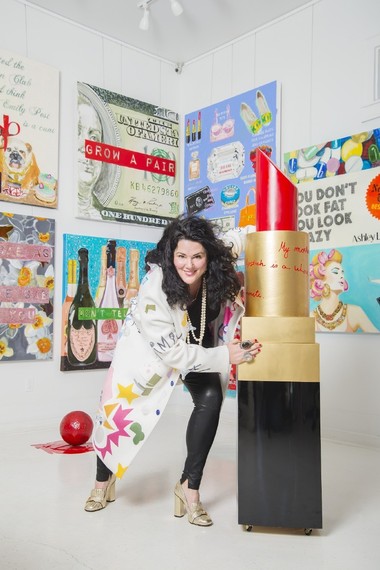 For Longshore and many other artists of the post-internet era, the business end of art is inexorable. However, the greed that inspires Longshore's art and the greed that drives up her pricing can be divorced. The artist clarifies:
"I think it is smart to be ambitious and no one wants to be broke. I love making money, I love making money more then anything, but there is also a fine line as an artist between producing things that are only going to keep making you money and things that are soulful."
This fine line is shrinking as the art market becomes the most fertile investing grounds of the decade. Ashley Longshore predicted the upsurge of participation that the internet brought the art market and reinvented the role of an artist by connecting with people in this way. The artist's Instagram is quickly creeping on 40,000 followers. Along with an upcoming book titled "You Don't Look Fat, You Look Crazy," Longshore continues to establish highly sought after collaborations with companies like Veuve Clicquot.
Ashley Longshore reminds us that the new way to participate in the art market is to explore it on the most personal level, on your phone or computer. Interacting with the art market in this way encourages unprecedented transparency and inspired Arthena's online investing platform that offers true art investments that curate funds with the most discerning eyes. The online access to Arthena's funds provides openness to art investments that makes partcipating in the art market unchallengeable.
To learn more about art investment, sign-up for Arthena's Art Investment 101 newsletter series.
Related
Popular in the Community