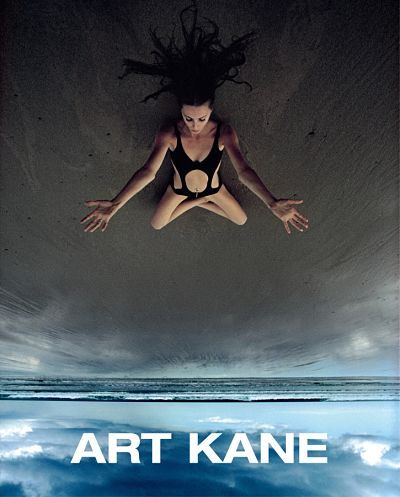 "In the turbulent cultural climate of the 1960's and 70's Art Kane's images informed, educated and illuminated as much as any published essay. Looking at an Art Kane image dealing with social issues such as civil rights, the war in Vietnam, apartheid ... could teach you as much as reading a book on the topic because of the laser focus he brought to his image making." Jonathan Kane/ Holly Anderson
One of the joys of my middle age is the thrill of discovering the identity - dare I say "existence" - of an artist who had an everlasting impact on my psyche. Someone who shaped the way I interpreted the world beyond the conformist suburban geographic and conservative blue collar socio-economic boarders that I was raised in by way of a body of work that, incredibly, was borne of the genius of a single person. Someone whose canon beautifully cut through the misinformation that was the staple of the educational system which I endured in the late 1960s, all of the 1970s, and the early 1980s.
Someone whose vision outmaneuvered the mainstream information I was exposed to, and the religious, political, and professional institutions which did not serve my best interests after all. Someone whose images also resonated with the masses long before the digital era afforded fifteen minutes of fame to characters so frivolous even Andy Warhol would have raised his hands in frustration.
That artist and teacher, for me, is photographer Art Kane. And I intone of his name in the present tense because even though Mr. Kane passed two decades ago, his work continually brims with life. For the first time, Art Kane's photographic legacy has been collected in a singular volume by his son; renown musician, recording artist and composer Jonathan Kane, and Jonathan's wife, Holly Anderson, an acclaimed lyricist and poet whose work is in library collections at MoMA, Brooklyn Museum, Victoria & Albert Museum, The Downtown Collection at New York University and Harry Ransom Center Austin, Texas.
"Innovative, pioneering, enigmatic, self-assured, highly disciplined, and paradoxically cavalier" are among the myriad of descriptives Jonathan uses to portray his father in one of the illuminating essays in the book, which also include informative missives penned by Peter Doggett and Michael Somoroff.
Says Jonathan and Holly: "Art Kane was a star photographer of his time. It was a big deal to be shot by him and everyone knew it. Add to that he had great ideas that these creative people responded to and knew they were going to be part of an amazing image. Finally he was a very charismatic man who could capture the attention of anyone from a single superstar to a group of fifty-seven jazz musicians, or hippies or Native American revolutionaries. He was globally recognized in his lifetime as one of the most significant photographers of his generation. Some of his subjects were pop stars but others were iconographic, historical figures like Duke Ellington, Louis Armstrong, Lenny Bruce, Andy Warhol, Ingrid Bergman, Joe Louis, and Robert Rauschenberg to name a few. These were people who made history."
True, Kane indeed was a "big deal" and "globally recognized" however akin to the millions in Art's worldwide audience who did not study photography, nor have the chance to attend galleries and art shows in major cultural centers - I only saw the final products of his labor: in my local library, stuffed in the magazine racks in the homes of older relatives (writer's note: in those days, youth did not mingle with adults and bore the responsibility of occupying their time without disturbing the grown-up power structure ), and in the innumerable waiting room periodicals among other places long before the digital revolution.
I never knew of his esteemed status within the jet set of his generation; nor did I take note of his name in the bylines; nor was I remotely attentive of the groundbreaking techniques he employed. I only know Art's pictures that have stayed with me my entire life.
To which the authors reveal to me with great clarity: "one of Art Kane's greatest innovations was what he called a 'sandwich' image, a technique that prefigured Photoshop by more than thirty-five years where by using a loupe and a light table he would layer 2 to 4 and more transparencies on top of each other, sometimes inverting, reversing, book matching and then painstakingly aligning them. When he achieved exactly what he wanted he would tape them all together on the sprockets with scotch tape. The result was an image rich with metaphor that possessed a deep ability to tell the story."
The" deep ability to tell the story" is the aspect of Art's artistry that spoke to me at a time when my young ears were filled the scornful distain of my elders who saw the "hippie" generation, the sexual revolution, and various civil, social, and human rights activists as a dangerous affront to America's values of freedom, democracy, decency, morality, and equality. As I absorbed Kane's pictures in my formative years - including Songs of Freedom (1965), Apartheid (1965), Our Environment (1966), Hiroshima (1970), Alcatraz Occupation (1971), and later in my teen years, Ruben "Hurricane" Carter (1975), among others - I saw the truth. The oppression, the vulnerability, the injustice, the humanity of Art's subjects - be it in the portraits of the heroes and the villains- emerge from the pages of this book.
Every picture Art rendered remains personal. "His work means so many things to so many people," notes Jonathan, "but to me, it would be the face of the young black man behind a security gate. It's a serious image about a serious issue, it's an image that spoke eloquently to the depth of the civil rights crisis in America in the 1960's, it's a prime example of the Art Kane sandwich technique, haunting and beautiful to look at. It's also as pertinent today as it was when it was created 50 years ago."
Among Art's most enduring images of music artists includes Harlem 1958 - a singular photograph which is the subject of a riveting documentary entitled "A Great Day in Harlem" (1994). Art's stunning pictures of Bob Dylan, Aretha Franklin, the Who, the Rolling Stones, Frank Zappa, Sonny & Cher, Cream, Janis Joplin, and Jefferson Airplane, to cite a few, remain fresh. I recall seeing Art's impressions of these artists taped on the walls of bedrooms, school lockers, and in my later years as a musician, in rehearsal and recording studios. When I think of these artists, when I hear their music; my mind flashes to Art's photographs.
"We've been waiting for the right publisher for 20 years," notes Jonathan and Holly, "Tony Nourmand and Reel Art Press was the first publisher who agreed with our vision not to break a book up into categories or genres but rather to create a comprehensive overview of Art Kane's vast body of work."
I'll never meet Art Kane, but I think if I had the chance to tell him what his pictures mean to me, and that I never knew his name or how he did what he did - he would be most flattered.
Art Kane is available on Real Art Press books (2015).
Related
Popular in the Community